By Art Martens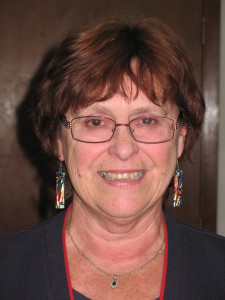 It would not be an exaggeration to say last Friday was a Red Letter day for Ruth Woodin. The people of the community arrived in droves to celebrate her 20 years as Hedley Postmaster. The town's organizations and many individuals brought cards and stayed for coffee and cake. Her body may have been sore at the end of the day from numerous warm hugs. It was the culmination of many years of smiling at customers and providing efficient, courteous service.
"I'm really fortunate to have so many nice customers," she said. "A lot of people are very loyal to their local post office. They won't buy their stamps anywhere else. They know that helps keep the service in town."
The importance of supporting the Post Office is a message she feels everyone needs to be aware of. Occasionally she reminds a local citizen of this. "Several years ago a man came in with 75 Christmas cards," she said. "They already had stamps affixed to them. I mentioned I didn't recall him buying the stamps here. He told me he had bought them in Princeton. I explained to him it's important to support the Hedley Post Office so the service isn't discontinued. He understood immediately and promised me it wouldn't happen again. A number of people in town have committed to buying stamps and other services here."
At this time Ruth is Hedley's second longest serving Postmaster. She hopes to overtake and pass the 22 year record held by highly respected Thomas (T.C.) Knowles. Knowles was a decorated member of the Canadian Armed Forces and served in World War I. Although no longer living in Hedley, his daughters Bev and Ann have valued roots and friendships in Hedley. The Knowles family sent Ruth a congratulatory card.
The Hedley Post Office was opened in 1903, initially located in Schubert's General Store. Ruth said it is one of the oldest in the province. For years the Postmaster's first duty in winter was to get a fire going in the wood stove. She is grateful she doesn't come into a frigid office in the morning. The premises were last renovated 40 years ago and would benefit from another face lift, but no one is complaining. People are just grateful to have a Post Office in town. Without it, buying a stamp would entail a lot more effort.
Canada Post provided several door prizes for the occasion, including a 2011 book containing every stamp issued that year. Fittingly, this was won by local historian, Jennifer Douglass. The chocolate cake was baked by T.J. Bratt of the Hedley Country Market and received numerous positive comments.
Local MLA Linda Larson sent a letter congratulating Ruth on 20 years of serving her community faithfully as postmaster. Pat, who works in the constituency office had read about Ruth online. She spoke with a local citizen and said, "It sounds like a very friendly Post Office. I wish I could pick up my mail in Hedley." Judging by the happy buzz in the place on Friday, the people agree with this perspective.
The post 20 Years As Hedley Postmaster appeared first on Living Significantly.
Source:: Living Significantly