By Art Martens
When Ingrid Percival of Keremeos, BC was 42, she received the surprise of her life. Recalling it in a conversation with Linda and me last week, she smiled, still experiencing a touch of euphoria at the memory. "I became a teenager again," she said.
Ingrid was born in Germany in 1941, when Adolph Hitler's Wehrmacht was trampling Europe. "My father was in the military," she said. "I never really got to know him. After the war my parents divorced and my mother married a British soldier. When I was 8 years old, we moved to England."
For Ingrid it was an early event in a series of challenging life circumstances. Her face grew serious. "My childhood wasn't happy. When I told my mom what my stepfather was doing, she didn't believe me." This didn't change when the family emigrated to Canada in 1953.
Some youths retreat to a street existence to escape the emotional quagmire at home. Ingrid possessed the staying power to complete high school, an early manifestation of the spunk and resilience she would require to survive future daunting circumstances. Upon graduating at age 17, she immediately fled from home, a young woman seeking sanctuary and happiness.
She believed the sun was finally shining on her when she fell deeply in love with Bill, a man serving in the navy. Although he loved her, he wasn't ready to settle into a longterm relationship. He moved away and she was devastated.
Wanting stability and love, at age 19 she accepted a marriage proposal. The promise of happiness was short lived. She soon realized her husband had a serious alcohol addiction. "It wasn't a good marriage," she said. "Eventually we got a divorce." Her face relaxed. "It didn't leave me bitter. God has always given me the ability to forgive. The marriage did give me 4 good children." In the midst of turmoil, she had that rare capacity to see a blessing.
She had a stable job with B.C. Electric (now B.C. Hydro) and became a purchasing agent. "I wasn't dating," she said, "but I did ask God if there would be a man for me again."
Her life unexpectedly took a positive turn when she attended a seminar for purchasing agents in Vancouver. "Everyone was already seated when a man walked in," she recalled. She looked at him and thought, "It can't be!"
It was Bill, the navy man she had fallen madly in love with as a young woman. At the coffee break she went to him and said, "Hello Bill. Do you remember me?" He said, "How could I ever forget you, Iny?" It was at this point in her account that she said, "I became a teenager again."
Their lives had been on a parallel track, she told us. "Like me, Bill had married an alcoholic. He was a purchasing agent. Also, at that time he was in the midst of a divorce."
They again fell in love and this time he was ready. Ingrid and Bill were married and, in spite of a disastrous joint real estate venture, were happy together.
"We had 19 wonderful years," she told us. "At Christmas 2005 Bill died of lung cancer. He was the love of my life."
Once again her life was in turmoil. "It was tough," she said, "but I decided to carry on. I went into volunteering. I began working in the kitchen at the Senior Centre when they put on dances. I drive for Volunteer Drivers. I also work at the Food Bank. In the beginning, I did it because I didn't have to think. Now I do it because I like helping people. It's satisfying."
Ingrid found strength to move on emotionally. "I used my mower to cut the sage and weeds on the vacant lot across the street," she said. "I tried to give away some irises, but no one wanted them so I planted them on the lot. I painted 2 rough benches and placed them there. People began noticing. An old hydrant and a lamp pole were dropped off. Also owls and figurines. It isn't just my project anymore."
When people walk by now she sometimes hears them say, "I didn't know about this garden. It's beautiful!"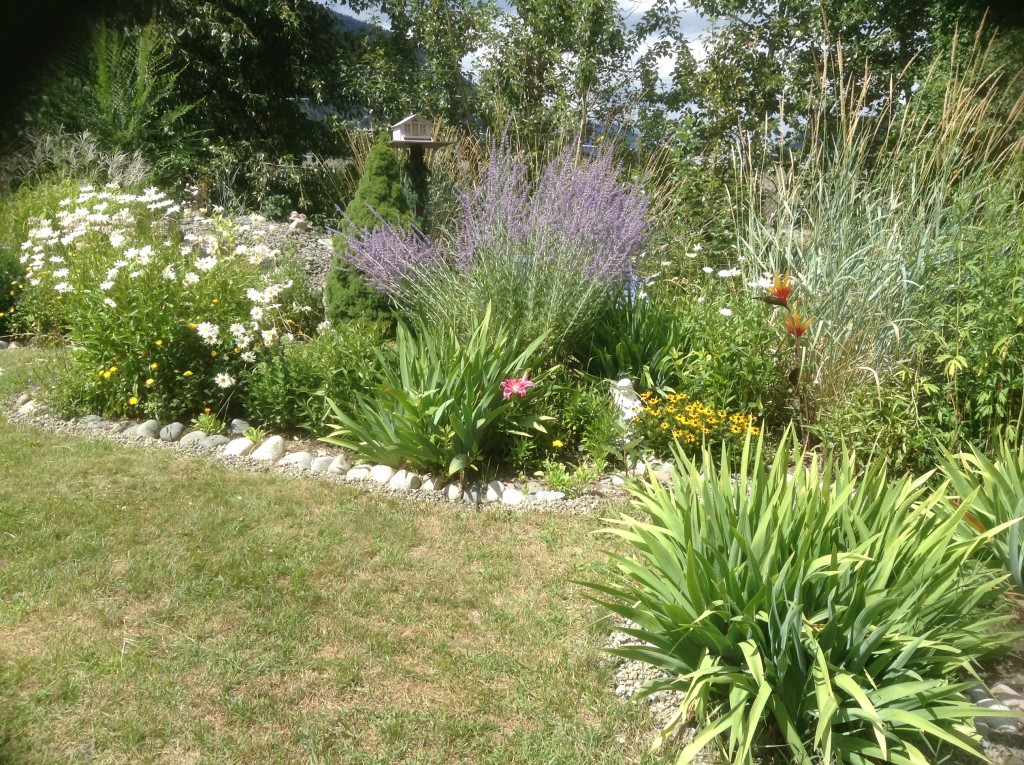 The midlife surprise is still a deep well of joy for Ingrid. Now she also derives meaning from "our secret garden," which gives pleasure to others.
The post A Surprise In Midlife appeared first on Living Significantly.
Source:: Living Significantly