By Art Martens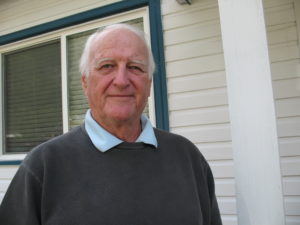 When former Similkameen Valley veterinarian Allan Gill expressed enthusiasm for the beauty of slugs, I thought I had misunderstood him. "You didn't say slugs, did you?" I asked. He assured me he had. For me that was a novel concept. In the course of our conversation I was to learn he is not a conventional thinker.
Allan was 4 when his family moved to Princeton in 1943. His father, formerly a member of an elite unit in the police force, had been appointed as the local game warden. He is still fondly recalled by area seniors.
Standing at 6 feet, 4 inches, Allan has the height and robust physique of a big league quarterback. "My brother Carl and I are identical twins," he said. "Most people can't tell us apart." It occurred to me that seeing 2 very tall men of identical appearance might result in a sensation of double vision.
At UBC, Allan became interested in comparative physiology, but along with 8 others taking a first year biology course, he failed. Fortunately, he had several mentors. "The registrar, CB Wood, kind of tucked us under his wing," he said. "Sometimes he took us to his home. I stayed in touch with him after graduating."
Allan obtained a doctorate in veterinarian medicine at the University of Saskatchewan. Then, in the mid-eighties, he didn't hesitate when he had an opportunity to take over a 2 day a week small animal practice in Princeton. "My base was in Kelowna where I had a full service animal hospital. I had a plane. That made it possible to serve people in a number of British Columbia communities. I also flew to the Yukon 2 times a year and went from town to town treating animals. Sometimes, especially in rural areas, people asked for advice concerning their own medical issues. Often people in out of the way places were lonely and just wanted to talk. Getting to know these people gave me a lot of joy."
He wasn't a small thinker. A 1-800 line enabled him to practise animal medicine across Canada. In one case a hunter deep in the bush asked about removing porky pine quills from his dog. "He knew he had to get the quills out," Allan said, "but he hadn't thought of checking inside his mouth and ears."
As he talked, it became evident Allen continues to have a special place in his heart for people in the Similkameen Valley. "Diane, my partner of 4 years, and I visit as often as possible. We stay in contact with about 15 people here, most of whom became friends when they brought their pets to the clinic."
It's probably fortuitous they enjoy visiting this area regularly. Recently Allan became aware of a rumour making the rounds in Princeton that he has Alzheimer's. Another rumour suggested he had died. Apparently he's one of those larger than life individuals people like to speculate about.
Animals, like people, are drawn to him. Bill Day, a part-time resident of Hedley said, "one day I took Toby (a small black Terrier Cross he shares with partner Lynn) on a walk with Allan. When we returned, Toby was so enamoured with Allan he wanted to go with him, not me."
In time, Allan became intrigued by the faces of his elderly clients. "I began asking if I could photograph them," he said. "Then I started inviting people I spotted in town."
Among those he has photographed is Joe Bell, a sniper in the U.S. army in Vietnam. He also photographed Rollo Ceccon, a local contractor who many times moved the Princeton caboose. Last year he featured 16 of his portraits at a showing in Princeton.
Now in retirement, Allan's curious mind continues to embrace new opportunities. One of these is x-ray floral photography. With technical assistance from collaborators who have expertise in radiology and photo manipulation, he is able to create exquisite images.
At this point he shared one of the secrets of his success in life. "I've had lots of help," he said. "Over the years I've learned that to accomplish things, I need to find people with skills I don't have."
At the end of our conversation Allan Gill said, "I'm surprised that at my age I'm still fascinated by things that interested me as a 12 year old. I'm grateful I can still do things I love. I feel very, very lucky."
The post Allan Gill, Not A Conventional Thinker appeared first on Living Significantly.
Source:: Living Significantly