By Art Martens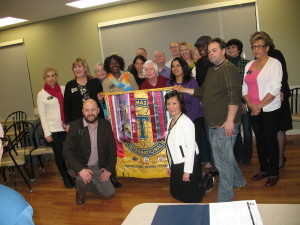 When Linda and I were still members of Abbotsford Sundown Toastmasters, I often said to visitors, "Other than obtaining a university degree, joining a Toastmasters club is the best career move you can make. For some people, it's even better."
Last Thursday evening Sundown celebrated 30 years as a club, and
we drove to the Coast for this. It was an opportunity to renew friendships and also marvel at the growth of members we have known for many years. Jack Sweeten, who joined during our time, is now Area Governor. Lois Boughton, another recruit during these years is Division Governor.
Phyllis Kotyk opened the meeting as Sergeant-at-Arms. She joined the club at about the same time as Linda and I. Her confident, welcoming voice and demeanour gave us a surge of joy. This wasn't the timid Phyllis we knew in the early years. Caroline Cesar surprised us with vitality, wonderful vocal variety and an abundance of confidence. As President, she chaired the meeting.
David Hobson, my personal mentor for a number of years,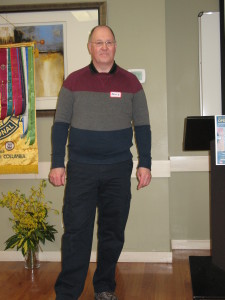 delivered the keynote address. He is a professional presenter, trainer and coach. Also the most committed Toastmaster I have known. He has given considerable thought to the subject of Evaluations, key to improving speaking skills. David shared specific, helpful insights to enable T.M.'s to provide substantive evaluations.
One of the great benefits of Toastmasters for virtually everyone who joins a club is a tremendous growth in confidence. This comes from performing a variety of roles in the club. Each role is evaluated, usually with an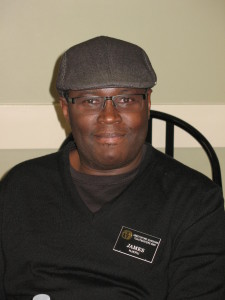 observation as to what went well, and also a suggestion for improvement. The club provides a safety net for the terrified novice speaker. Even if a performance is considerably less than stellar, it will not be criticized. By being shown how to improve, the Toastmaster gains the courage to speak outside the club. It's an encouraging environment.
Although there is no club within reasonable driving distance of Hedley, Linda and I continue to benefit from the encouragement and evaluation we received at Sundown. It gave Linda the confidence to accept the position of Vice President of the Hedley Historical Museum Society. As a columnist for two small town newspapers, I approach people virtually every week to request an interview. Whether they agree or not depends a lot on my initial, very brief "pitch." Toastmasters taught me a well thought through, effectively presented request is more likely to produce a positive reception.
Linda and I are deeply grateful to the members of Sundown Toastmasters for many positive, often wise evaluations. With your help, we have been able to move on and accomplish more. We are delighted with the enthusiasm of the members and the strength of the club. It is definitely built to last.
The post Abbotsford Sundown Toastmasters appeared first on Living Significantly.
Source:: Living Significantly