By Art Martens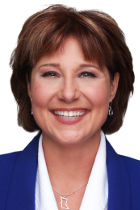 A few days ago I received an e-mail from the B.C. Liberal party. It began as follows: "We're honoured to invite you to the 2017 Vancouver Leader's Dinner on April 10 in support of Premier Christy Clark and Today's B.C. Liberals."
Naturally I felt flattered that they'd think of me, a little white haired guy living in an obscure community, far from the centre of provincial power. Before I could even briefly savour the moment or make plans to attend, Linda read the rest of the message. Her words quickly doused my euphoria. "Listen to this," she said, a tinge of regret in her voice. "I don't think you'll be able to attend. Single tickets are $500. For a seat at the Premier's Circle Table, where I know you'd like to be, it's $10,000. This is for people in the big leagues. They're looking for high rollers, like Jimmy Pattison."
I suppose, even after many years, I'm still hoping those holding the reins of power want to hear from average people like me. I should have known immediately though they weren't really enthusiastic about having me there, unless I came with pockets full of high denomination bills.
Lately there has been much discussion by political pundits and members of the opposition concerning Liberal fund raising. The party has attached a hefty cost to the privilege of access to the Premier and elite members of her cabinet. Certainly this dinner is not for average citizens striving to feed children, pay rent or property taxes, maintain a vehicle, contend with constantly rising government fees and a plethora of other expenses.
It isn't surprising that polling suggests the connection between ordinary citizens and governments is in serious disrepair. An Ekos poll revealed that at the national level, the proportion of Canadians who trust their government to do the right thing decreased from 60 percent in 1968 to 28 percent in 2012. In 2013, participants in a Leger poll rated politicians as the second least trusted professionals. Only psychics ranked lower.
In Tragedy in the Commons, Alison Loat and Michael MacMillan state "there is a growing sense among Canadians that conventional politics are not working quite as they should." They add "for well over a generation, in election after election, voter turn out has declined."
Compared to the NDP, the Liberals are already lavishly funded. (In one recent week, London Drugs, Copper Mountain Mine, Ernst & Young LLP, among others, each contributed $10,000.) The fact that it will be primarily the wealthy who attend the fund raising dinner suggests the party will be under a huge obligation to corporations.
Having at times expressed the belief that one individual can make a difference, I have sent the following note to Premier Clark.
"Dear Premier,
I feel honoured by the invitation to your Party's 2017 Leader's Dinner. Unfortunately, I will not be able to attend, due to the cost.
My wife Linda and I would certainty like to meet you, however, and undoubtedly would enjoy a conversation with you. We'd like to invite you to our home in historic Hedley when you are campaigning in this area. We'd be happy to serve lunch, or any meal.
I write a column for two Black Press papers, the Similkameen Spotlight and The Review (Keremeos). Often my focus is on individuals doing important things in the Similkameen Valley and in our country. I'd be happy to write some positive things about you. Stopping in Hedley would almost certainly attract the attention of big city media.
Linda and I look forward to hearing from you."
If you're thinking this is a "long shot," I won't argue with you. If you consider it silly, I won't argue with that either. I realize Christy Clark's campaign bus may not even pass through our community, and if it does she isn't likely to visit Linda and me. I do feel though she needs to hear from average citizens.
As I'm writing this, Linda has just informed me the Premier's Circle Table is already sold out. Don't despair though, for a mere $500 you may still be able to sit close to Mike Dejong or Rich Coleman.
My hope is not that Christy Clark will visit, even for a few minutes. Rather, I feel a responsibility to remind her she needs to govern for the benefit of all people, even quiet folks hidden away in the Similkameen Valley.
The post Can't Afford Christy Clark Dinner appeared first on Living Significantly.
Source:: Living Significantly