By Art Martens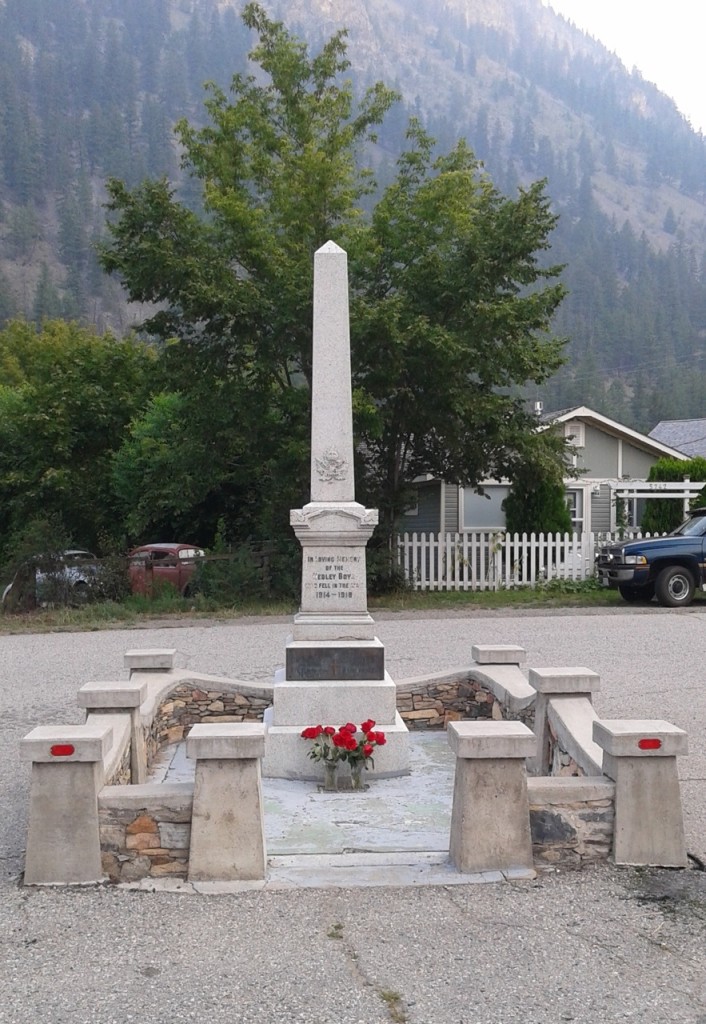 I've many times passed by the Cenotaph on Scott Avenue, Hedley's main street, almost invariably without thinking about what it represents. This began to change in the winter of 2013 when our neighbour Andy English became keenly interested in it. His fascination developed into an intensive research project. In the spring of 2014 Jennifer Douglass, another local historical researcher, joined him in his quest for knowledge about the names on the Cenotaph.
Andy's excitement about their research findings developed into a passion and he talked about it almost incessantly. One day his wife Kim said to him, "Andy, can we talk about something other than war for a change?" Jennifer's enthusiasm matched Andy's.
Because of their research we now know that the Cenotaph is situated at the very place where 17 Hedley men gathered on August 24, 1915, prior to leaving for Penticton to enlist in the Canadian Armed Forces.
These men were in the prime of life and all passed the physical exam. The youngest in that contingent was Dan Dollemore, age 17. For me even the thought of our son going to war at that age is disquieting. Several of the men, like Blair Mills and Tom Corrigan were 19. Tommy Knowles, future Postmaster of Hedley was 22. Alec Jack was 24. At the other end of the age spectrum were Joe Rotherham and Dan Devane, both 44.
The younger men were at a time in their lives when they were observing the young ladies, wondering which one would make a good life partner.
Hedley at this time was a bustling gold mining centre. There were parties and dances to attend. They were all single and all gainfully employed. There was money to have a good time.
They set this all aside and voluntarily enlisted. Some men had already gone before the 17, and others followed somewhat later. It's easy to think they were looking for adventure. They must have heard or read about war conditions though, and it is doubtful they made their decision based on a thirst for excitement.
They must have realized they'd probably spend time living and fighting in trenches. These trenches were often muddy, sometimes at least partially filled with water. Snipers would be constantly watching, ready to shoot. At times there would be poisonous gas in the air, and enormous shells exploding around them.
This past Saturday at 1:30 pm, August 22nd the people of Hedley, and also approximately 56 descendants of the recruits, came together at the Cenotaph. This is the place where the recruits stood 100 years ago. Corporal Chad Parsons, a Princeton Mountie in red serge was present. There was also a colour guard consisting of veterans from the Princeton and Keremeos Legion. A rose was placed for each soldier at the foot of the Cenotaph. Many of the roses were placed by descendants. A couple of elderly vets respectfully saluted after placing a rose. Tears were in evidence, especially on the faces of family members.
Jennifer Douglass and Andy English. They did the research and organized the events to commemorate the recruits and the ceremony honouring the 17 men who had volunteered to enlist at that time. The men departed in 5 vehicles bedecked with banners that read "Recruits from Hedley, the Machine Gun Town."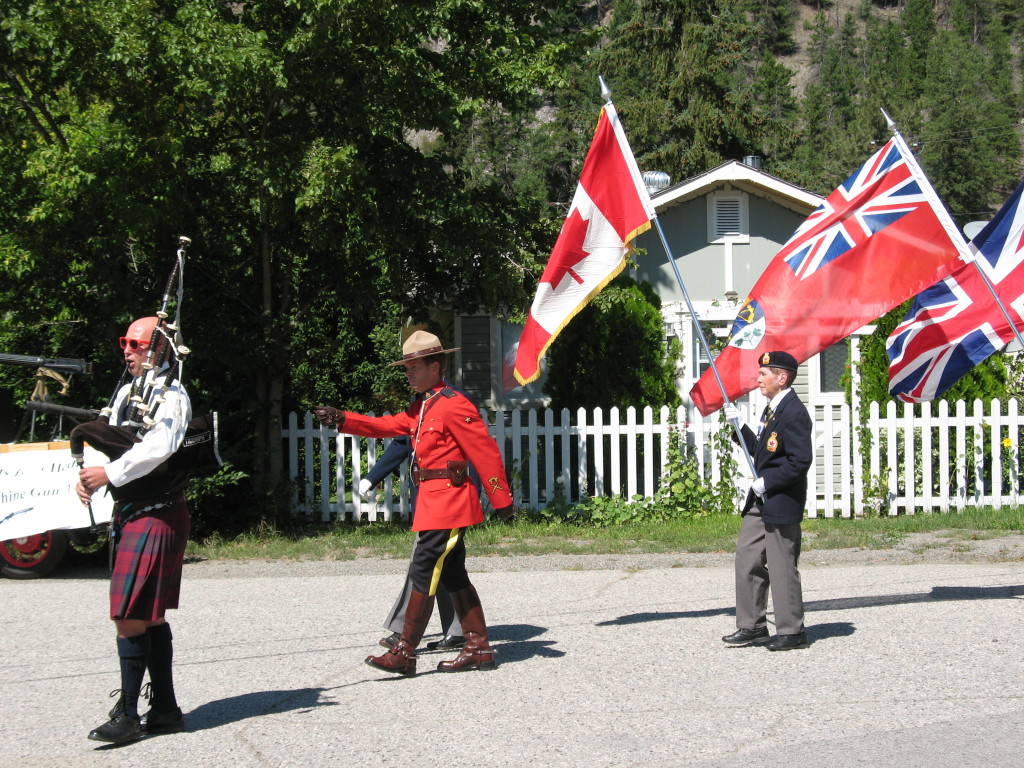 Bag Piper Dave Thorpe, Corporal Chad Parsons, and a Flag Bearer leading the Colour Guard.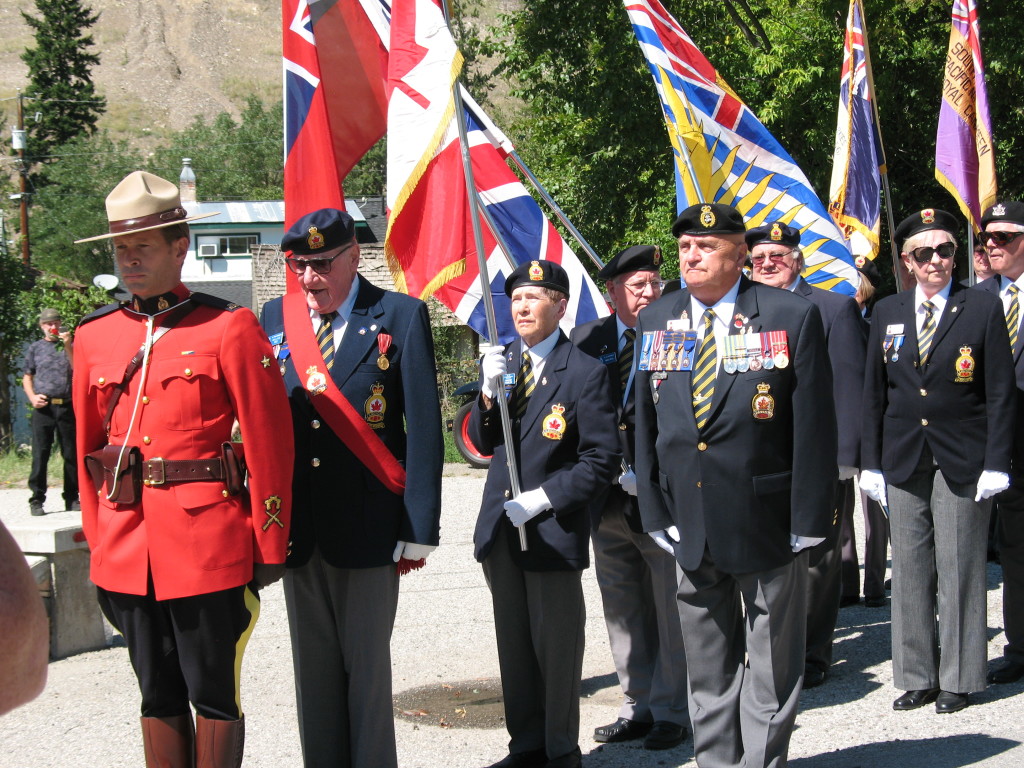 The Colour Guard facing the Cenotaph. Corporal Chad Parsons with veterans from the Princeton and Keremeos Legion.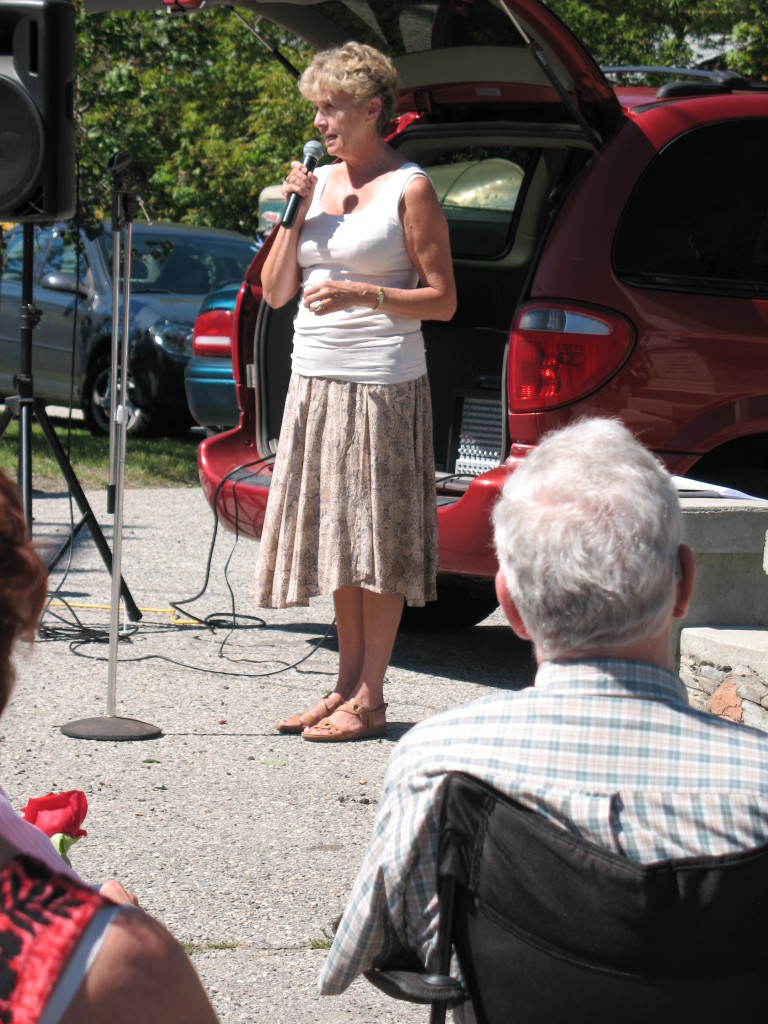 MLA Linda Larson speaking about her grandfather who participated in the taking of Vimy Ridge in WWI. Several years ago she traveled there, and found it to be a very moving experience.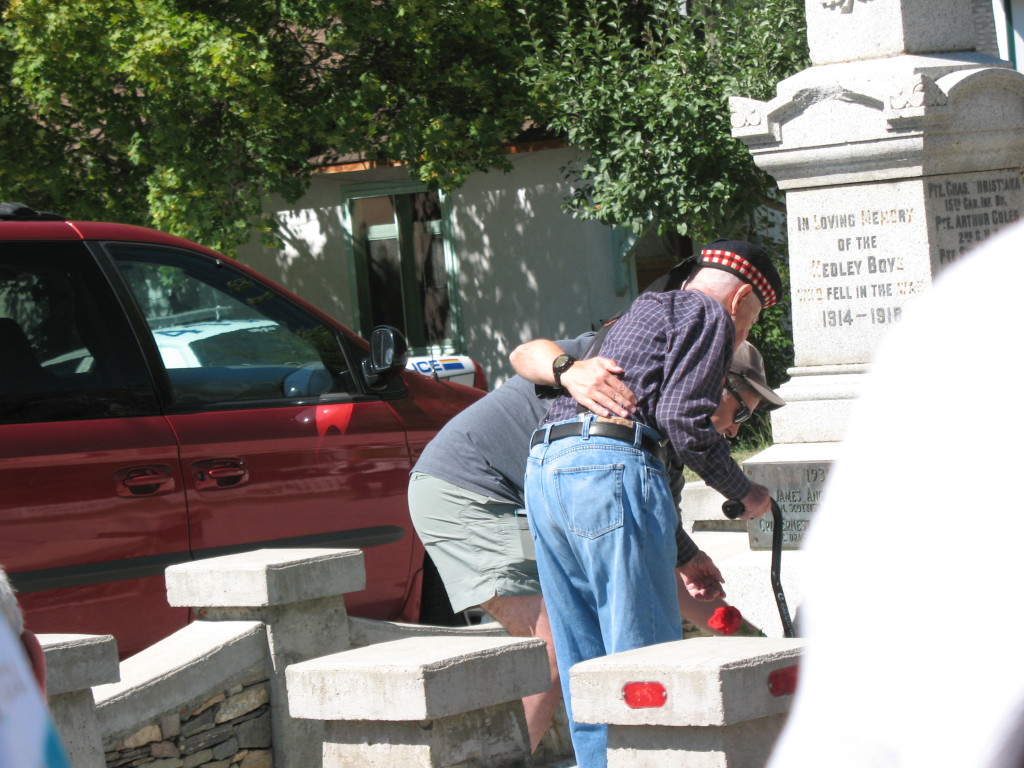 Art Liddicoat laying a rose for his father, Bill Liddicoat, who was 28 when he volunteered.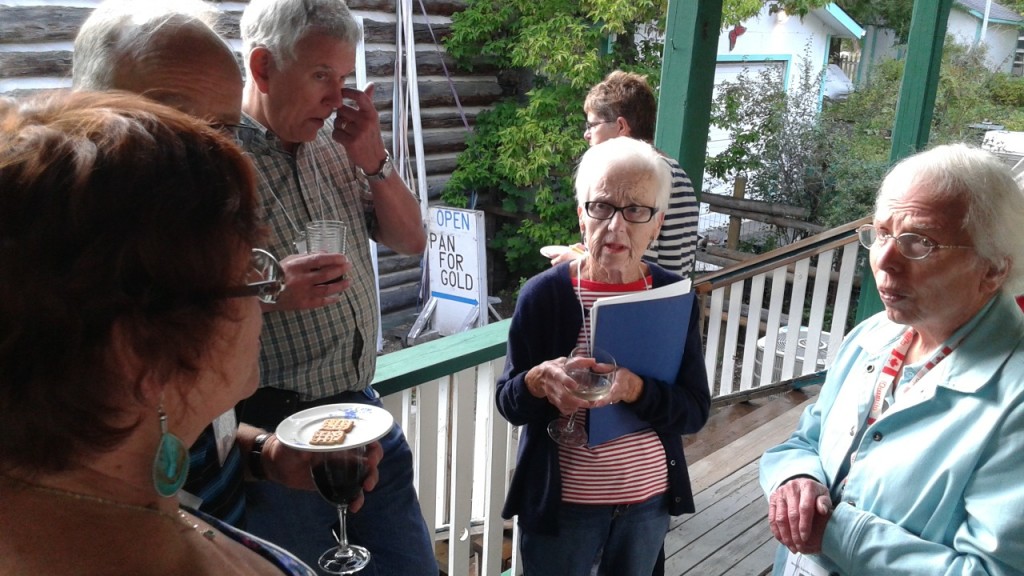 Moira Herold (in centre of photo), daughter of Alec Jack. She placed a rose for her father.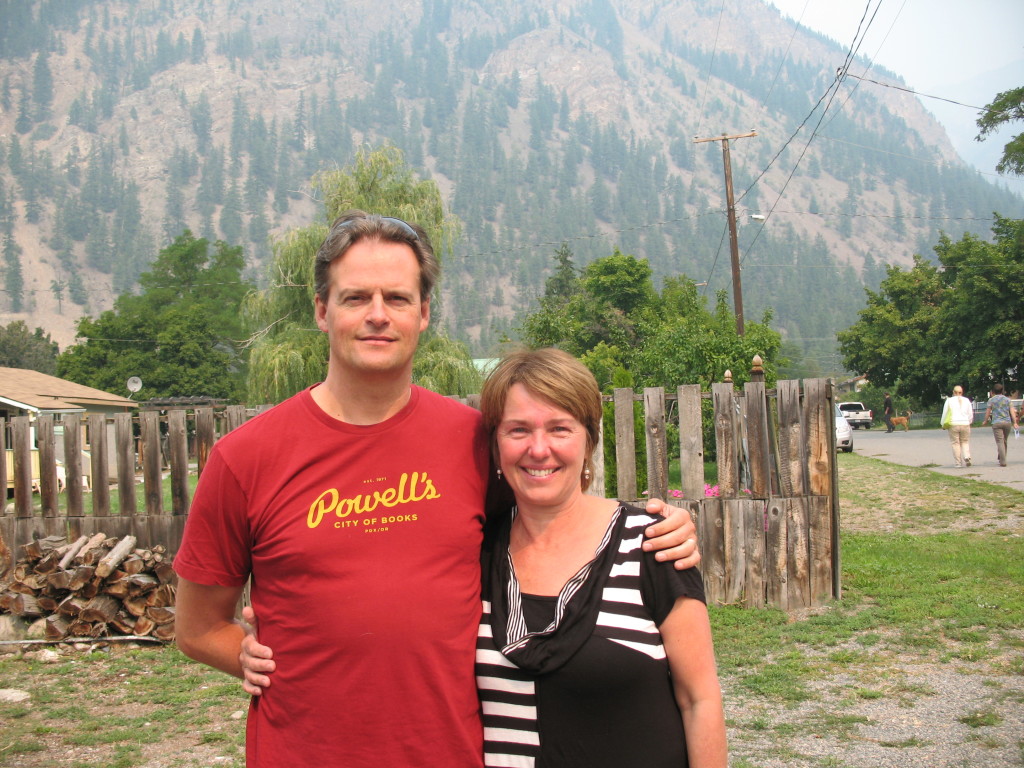 Chris Fraser and Stephanie Malahoff. Stephanie is the granddaughter of Alec Jack. He was 24 when he enlisted. Stephanie said when he arrived here from Scotland, he threw his bowler hat and long johns in the Similkameen River. He developed a strong interest in the history of B.C.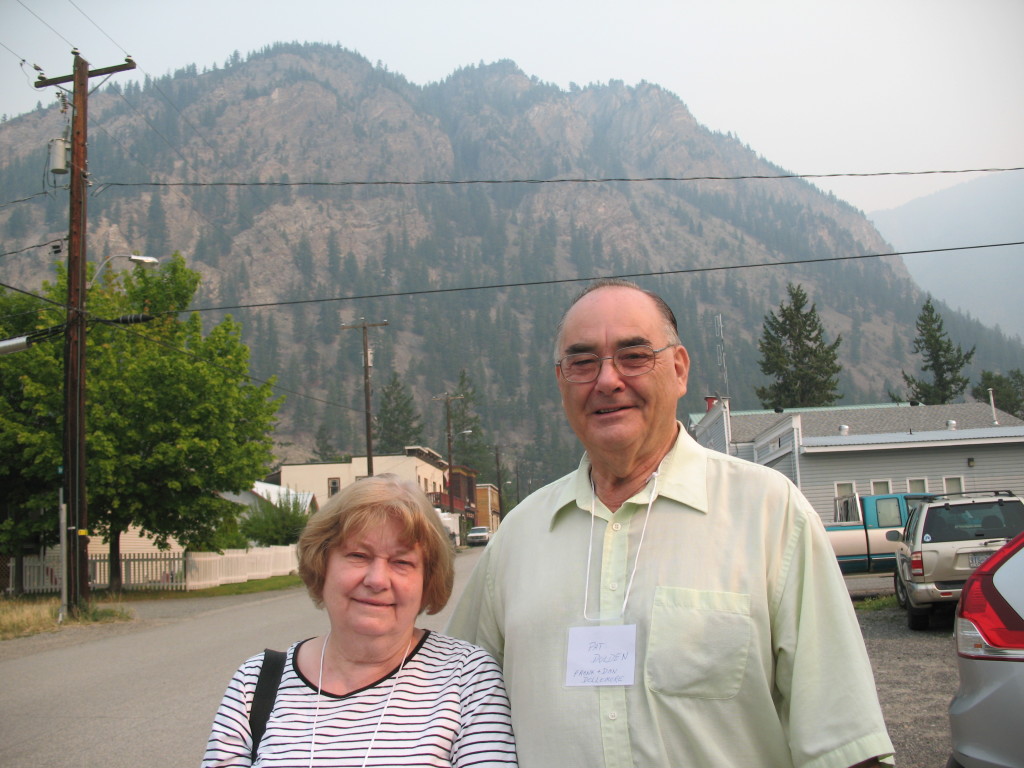 Pat and Grace Dolden. Pat is the grandson of Dan Dollemore who enlisted at age 17. He was working as a Teamster at the time he enlisted.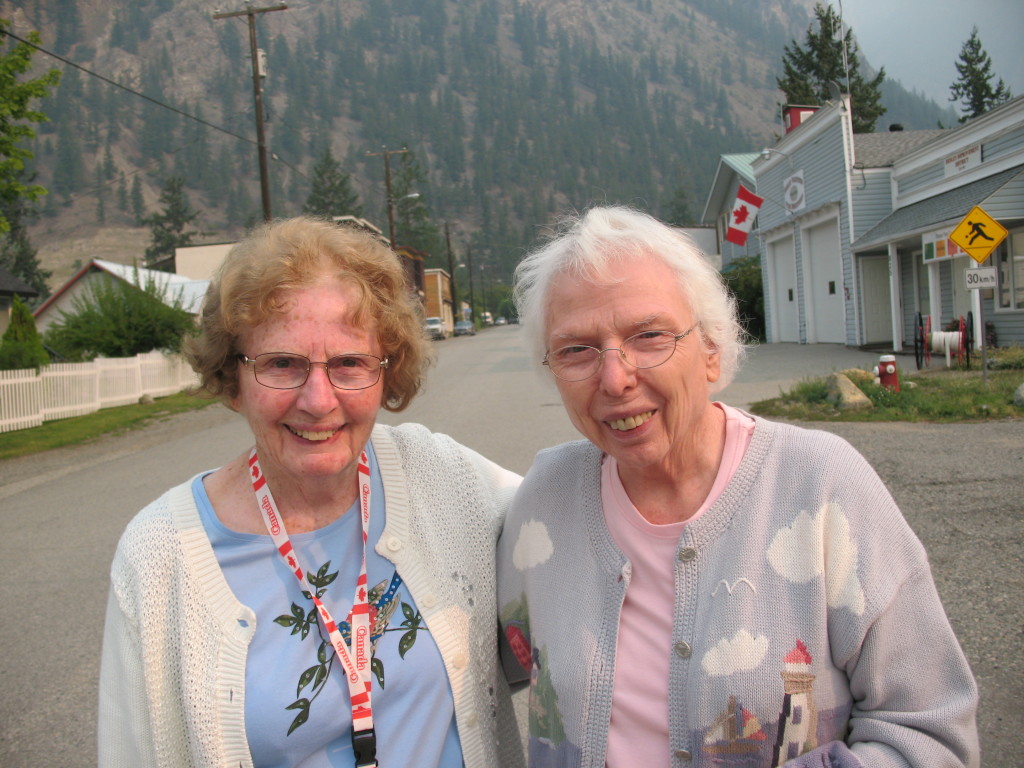 Ann Lloyd (nee Knowles) and Beverly Knowles. Daughters of Tom Knowles who enlisted at age 22 and won an award for Bravery in the Field. He later became Hedley's longest serving Postmaster to this time.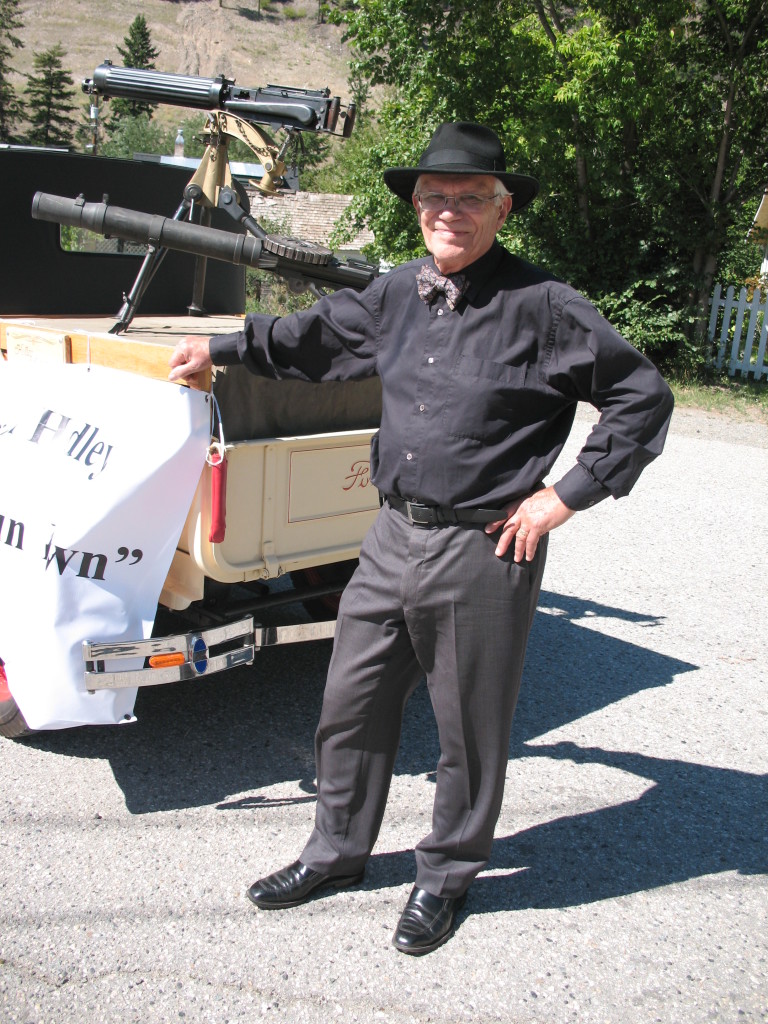 Bill Day managed to find and borrow two authentic WWI machine guns in Vancouver. The one on a higher frame is a Vickers. The frame is extremely heavy to ensure stability when firing. This gun required a team of 6 men to move it. It was intended to be stationery. The Lewis required 3 men. Two carried the ammunition and one did the shooting. Being lighter, it was intended to be mobile.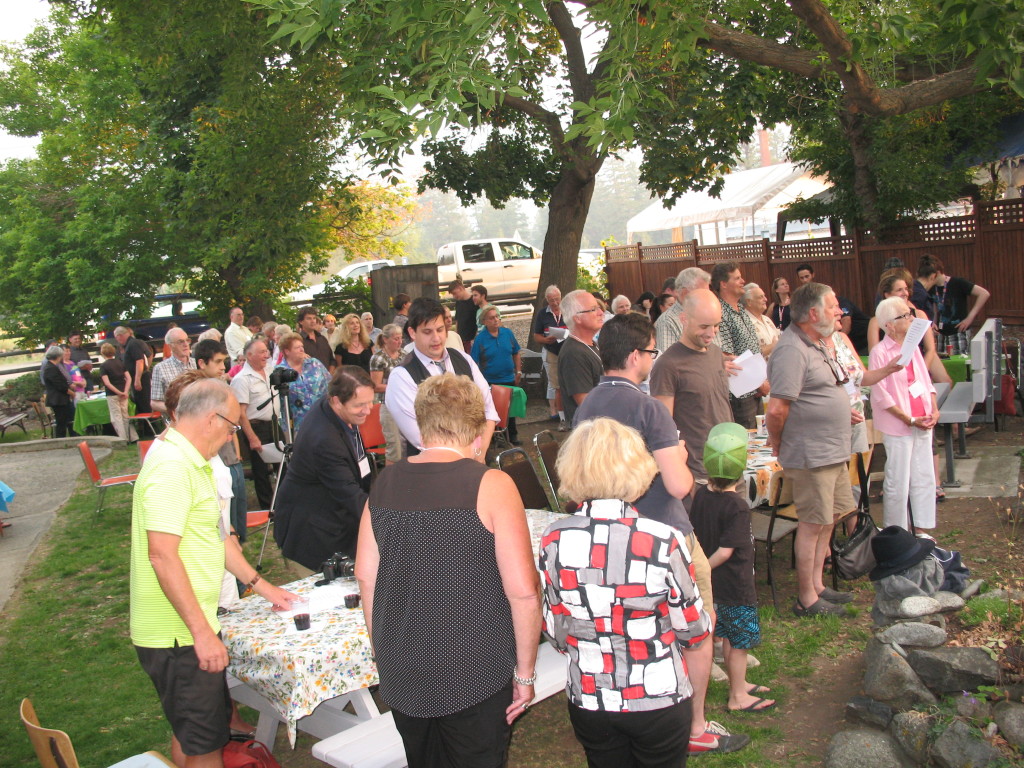 Preparing to sing O Canada at an event in the back yard of the Hedley Heritage Museum. Almost 100 guests were present for dinner and a program.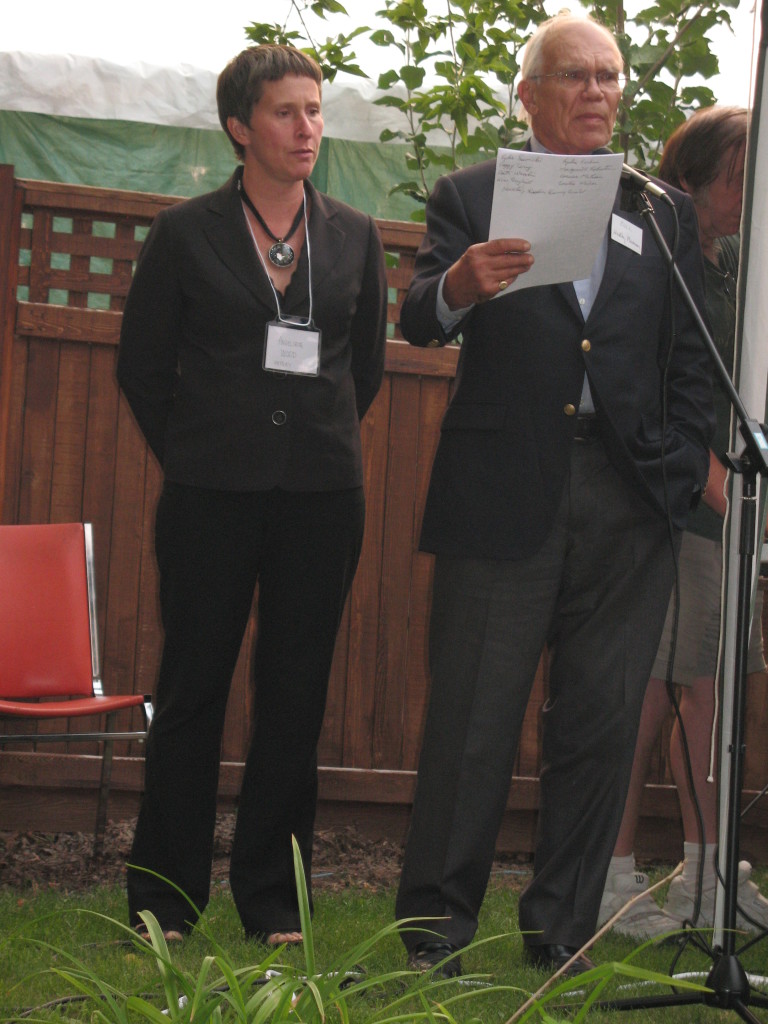 M.C. Angelique Wood accompanied Bill Day as he led the singing of old time tunes popular during the WWI years.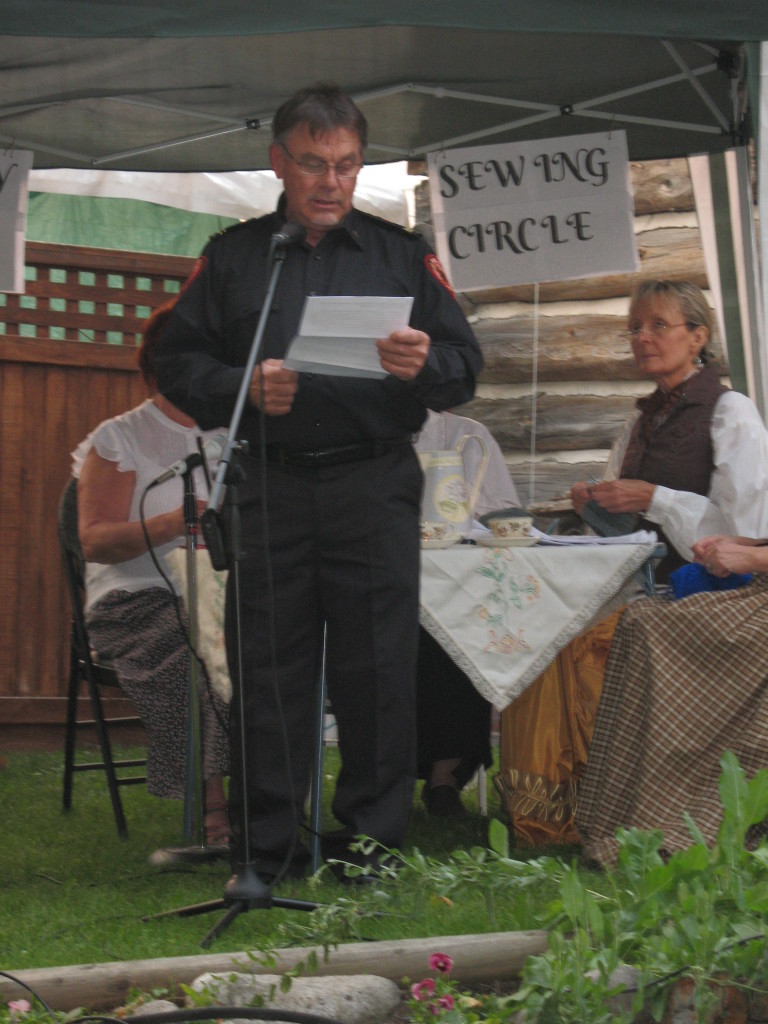 Derek Lilly reading the speech delivered by W.A. McLean at a "Smoker" the evening prior to the men leaving for Penticton to recruit. Before the speech, 6 men had volunteered. It was a rousing, inspirational speech. When he sat down, 23 year old Bert Schubert was inspired to join the 6 volunteers at the front of the room. Then others rose from their seats and joined the original group until there were 17 men declaring their intention to enlist. The program featured letters written by Hedley men from the Front.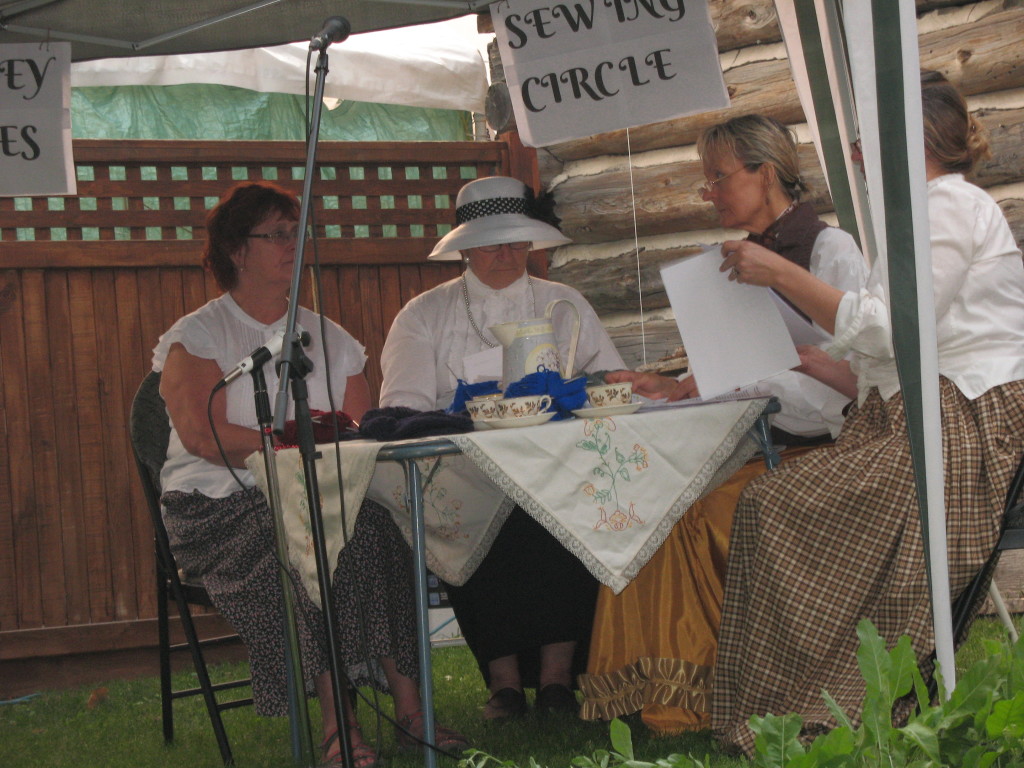 Letters were read by the Hedley Heritage Ladies. Censorship prevented a full account of the war experience, but readers did receive some understanding of the dangers, discomforts and difficulties at the Front. The men expressed great gratitude to the people of the town for their support, especially the socks knitted by the ladies. It was evident in these letters that the excitement they had experienced at the send off from Hedley was now only a memory.
The post Ceremony at Hedley Cenotaph appeared first on Living Significantly.
Source:: Living Significantly