By Art Martens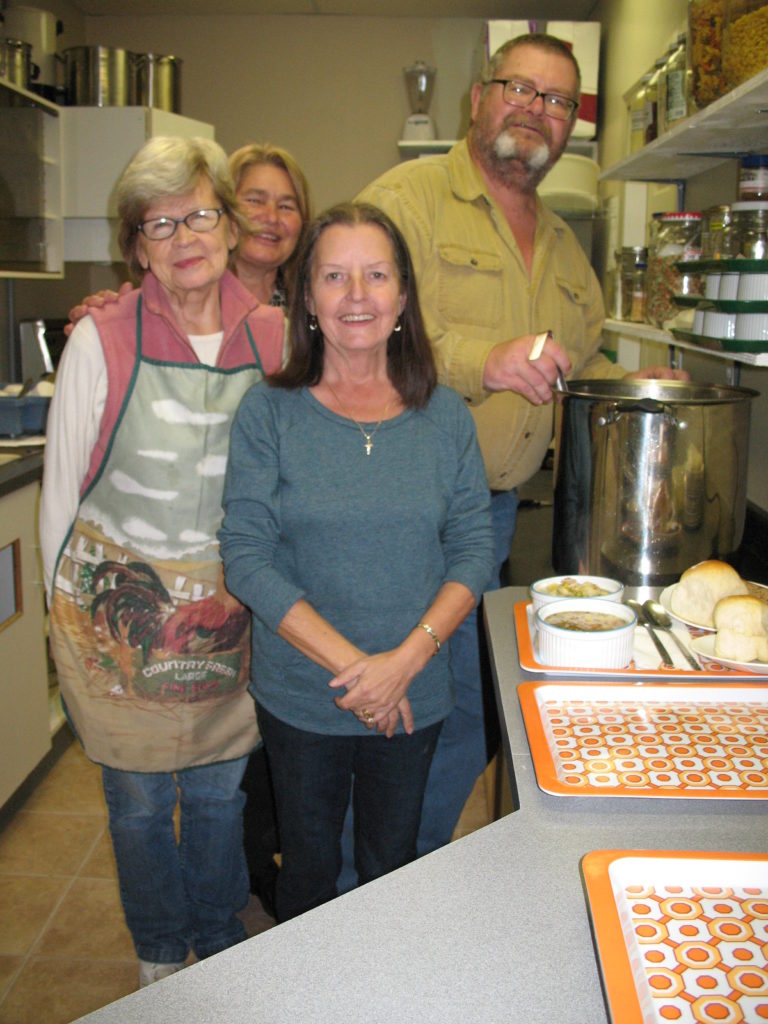 Last week Linda and I visited the soup kitchen run by the Keremeos Community Church. We were sitting at a table with Mike Andersen, a man with the physique of a heavy weight boxer, but not the intimidating demeanor. "The 4 men on the other side of the room wouldn't have eaten today if they had not come in," he said. He smiled and waved to a couple walking through the door, then turned back to us. "We serve soup to the community every Thursday. Some come because they're hungry. Others hope someone will accept them and listen to them. People also come to support us in showing a friendly face and outreached hand to the community. We're happy to feed them all."
Looking around, I saw microphones along one side of the spacious room, an indication that on Sundays this is a worship area. Today casually dressed people of all ages were sitting at 4 long tables, chatting animatedly and laughing. A few men wore caps, suggesting the dress code is relaxed. People seemed at ease, enjoying the company and the soup.
I had sensed the welcoming atmosphere the moment we walked through the door. Kathy greeted us warmly and guided us to a table. She returned with bowls of steaming chicken vegetable soup. Also a bun, coffee, and dessert. She rises early each soup day and bakes the delicious white buns.
Mike, a farmer for 20 years, has broken horses and trained trail horses. He still rides his large sturdy mule. This morning he had arrived at the kitchen at 8:00 to prepare the soup. "The vegetables we use are fresh," he said. "We comply with all Health Branch regulations." Noticing that my bowl was empty he asked, "would you like a re-fill?"
The volunteers running the kitchen are a committed and diverse lot. Joanne said, "I've been where some of the people are. The church rescued our family. Now I want to give something back. It's good to see people low in life feeling loved and accepted." It was her first day in the kitchen.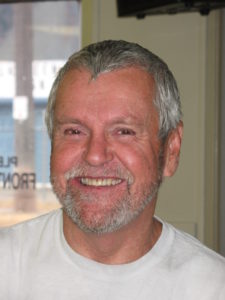 Like Mike, George Spencer has been there from the beginning. Before Keremeos, he worked 40 years as a bartender and waiter in a Vancouver hotel. "Alcohol, crack cocaine and crystal meth ruled my life those days," he told us. "I had tried recovery programs without success. It was God who delivered me. I came to Keremeos to escape that scene. I agreed to come to this church only if my dog was allowed in. That was ok with the church." Once introverted, he laughingly gives slinging beer credit for preparing him to interact easily with the people who come for soup.
"There's a story behind each person who comes in," Mike said. "Some have serious needs.
Today a young man walked out with a jacket that was donated this morning. Some rarely get out of their home, except when they come here. Everyone needs to feel accepted and loved."
A donation box is placed in the opening to the kitchen, not where people will easily see it. "There's no requirement to put anything in," George said. "Those who can usually do. Also, some ladies from local churches contribute desserts. We get financial help from individuals and businesses. Valu Plus donates food. Our costs are pretty much covered."
The emphasis seems not to be on proselytizing. "We just want to reach out to people and touch their lives," George said. "It's by our example we want to show them the love of Jesus." I noticed a couple wave at him as they were about to walk out the door. He smiled and waved, then turned his attention back to us. "Sometimes people are dealing with difficult situations and they ask us to pray for them."
They've been serving meals to 40 to 50 people between 11 am and 1 pm two days a week since February of this year. Mondays it's sandwiches and Thursdays it's soup and a bun. For Christmas Day they will move their operation to the more spacious Seniors Centre and serve a special meal to individuals who need a place where they will feel welcome and not be alone.
We found the excitement of the soup kitchen volunteers contagious and uplifting. Judging by the ebb and flow of voices and laughter, they are providing much more than just physical nourishment.
The post Church Kitchen Serves More Than Soup appeared first on Living Significantly.
Source:: Living Significantly