By Art Martens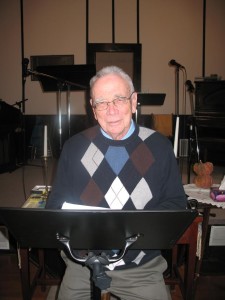 When Graham and Myrtle Gore moved to Hedley in 2002, he
harboured no vision for involvement in the community, certainly not in church work.
"I've been a pastor," he told his neighbour Rick, "but I'm here to retire." He had been a pastor in Kamloops, a missionary in Nicaragua and an associate in a nation wide evangelistic tent ministry.
Sitting at our kitchen table with him and listening to him talk about his life, I sensed that Graham's emotional energy had been at a low ebb when they arrived here on September 20 of that year. He was 63 and the years of working with people had exacted a serious toll. Plus their converted Greyhound bus had been smashed the previous month and their daughter had passed away.
Since that time he has regained his passion for life. He is guiding a small flock in the town's only church and is also manager of the Hedley Fire Department. Many see him as the "community officiant" in rites of passage ceremonies. He dedicates babies, conducts marriages and guides the community through Celebrations of Life. He has become a pillar in the Hedley community.
His spiritual journey began early, but was seriously derailed. "When I was 17," he said "I was reading the Bible late one night in the Anglican church in Penticton. God very clearly impressed on me that I should enter the ministry."
He kept God waiting. At age 20 he entered into a difficult marital union. "I didn't have the maturity to work through the issues. I was 28 when we divorced."
In 1968 Graham married Myrtle. This matured into a stable and deeply satisfying relationship, an example to the community of a committed life partnership.
Initially however, a dark cloud enveloped them. He was manager of the auto parts department in a dealership. "When we moved to Revelstoke," he said, "I began drinking too much." Alcohol became a potent force in his life and nearly destroyed him.
"Everything changed in 1974," he said, "when I found the Lord (became a Christian). I stopped smoking and drinking". He describes himself as a "delivered" alcoholic. He and Myrtle have developed a good relationship with his ex-wife.
When I asked one parishioner what makes Graham an effective pastor, she said "a good heart," then added, "and life experiences." Graham agrees life experiences play a crucial role in his ministry. "Our blended family gives me greater understanding when I'm counselling blended families."
Having observed him in his roles outside the church walls, I agree with those who say he is pastor to the community. Volunteering with the Fire Department might be viewed as "ministering". When the community purchased a new fire truck some 5 years ago, Graham joined the Fire Department because it needed members with an air endorsement. Since then he has come to be a mainstay of the department. He has taken courses such as Incident Safety Officer and Incident Command. He attended seminars taught by Larry McIntosh, former Assistant Fire Chief. "Much of my learning has come by sitting down with the books and studying." Until a year ago he did most of the theory instruction. He still runs fire practises at times.
In the Fire Hall and church Graham is a mentor, encouraging and training future leaders. Concerning the Fire Department, he says, "I want to continue to raise the level of professionalism here."
His work and influence constantly spill over into the community. In his view, sending children to camp is one of the most important things the church does. "This year we sent 14 children and young people," he told me. "A number were from homes not associated with the church. We don't turn anyone away, regardless of whether they can contribute to the camp fees."
Graham is gratified by the help of the community in the bottle drive that provides a portion of the funds for camp. "People bring bottles to my home almost everyday," he said.
Graham and Myrtle minister to a diverse congregation and a diverse community. It is evident they have a love for Hedley. It is equally evident many in town respect and appreciate their positive leadership and unstinting work in the community.
The post Community Pastor and Firefighter appeared first on Living Significantly.
Source:: Living Significantly