By Art Martens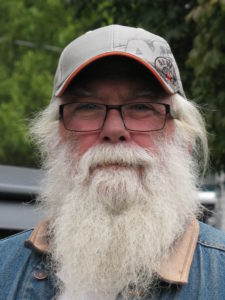 At the recent Harvest Dinner in Hedley I introduced myself to a man with a luxurious, white beard. He said, "My name is Dan Twizell. I'm the owner of that 1929 Dodge parked across the street."
A week later Dan came to our home for coffee, driving the Dodge. In response to my question he said "I chased the car 10 years. The owner didn't want to part with it but I called him every 6 months. Finally he agreed to sell. It came with only the body, windows and wheels. No motor, running gear or interior."
"I had never done painting, upholstery or body work. My friend Leroy Fague and I spent 13,000 hours over 5 years. I drive the Dodge everywhere. I don't want it to be a garage queen."
Dan was born near Prince Albert, Saskatchewan where his parents were homesteading a small acreage. Family income was meager and at an early age Dan began learning the importance of making sound decisions and being independent. "There was always a 30-30 Winchester at the back door," he recalled. When he was 5 his father instructed, "don't fool around with it. If you're going to hunt, be sure you don't need to use more than one shell."
One day his father said, "we're going to starve to death here. I'll have to go west to look for work." Two months later he sent train tickets for the family to join him in New Westminster, BC.
"For me it wasn't good timing," Dan remembers. "I was just completing grade one. The school made me repeat the grade. They considered us farm kids who didn't know much."
For a kid who supposedly didn't know much, he had a lively and practical mind. "On my 8th birthday I was given a wristwatch." he said. "I went upstairs to my bedroom and took it apart." Like many boys, myself included, he wanted to know what was inside. However, unlike most boys, he put it back together and it worked!
At the senior secondary level he opted for the trade school, an indication of his preference for a career that didn't require sitting behind a desk in an office. "I heard they placed students in practical work assignments, like a tire shop and a dairy farm. I wanted the experience."
When his parents bought the popular take-out Snack Shack near Aldergrove, he got plenty of cooking experience. "My parents worked there all day," he said, "so when I came home, I needed to prepare supper for the family. My dad told me to make meals from scratch. Even now I do most of the cooking. I'm a throw it together cook."
Upon completing high school he demonstrated he was a "roll up your sleeves and go to work" type of guy. He went to a garage to apply for a job. Seeing that the owner was busy, he removed his jacket and began pumping gas. Two hours later the owner said "o.k. you're on the payroll as of a couple of hours ago."
As a young man he drifted into beer drinking associations. "In time, I saw that the crowd I was with was becoming dependent on the pub. I wanted to get away from the pub so without telling anyone, I moved to another town."
In his mid 20's, he applied for a job as a heavy duty mechanic. "I was the happiest guy in the world when they made me a field mechanic. Often I'd come to work and there was a note telling me a float plane was waiting to take me to a job. I'd ask the pilot where we were going. I stayed with the company 30 years until I retired at age 56."
Asked about his greatest success, he replied, "my wife Judy. We attended the same school but I didn't meet her until we were both at a mutual friend's Christmas Eve party." They've been together 36 years, enjoying lots of camping, hunting and fishing.
In 2004 they moved to their present property, which they named Crazy Goat Acres, on Old Hedley Road. It was here he rebuilt the Dodge. Regrettably, the goats needed to be sold recently. Judy has MS now and walks with a cane. Even so, with chickens, ducks, 3 dogs, a horse, a donkey, and the Dodge, they're pretty content.
The post Dan Twizell And His 1929 Dodge appeared first on Living Significantly.
Source:: Living Significantly