By Art Martens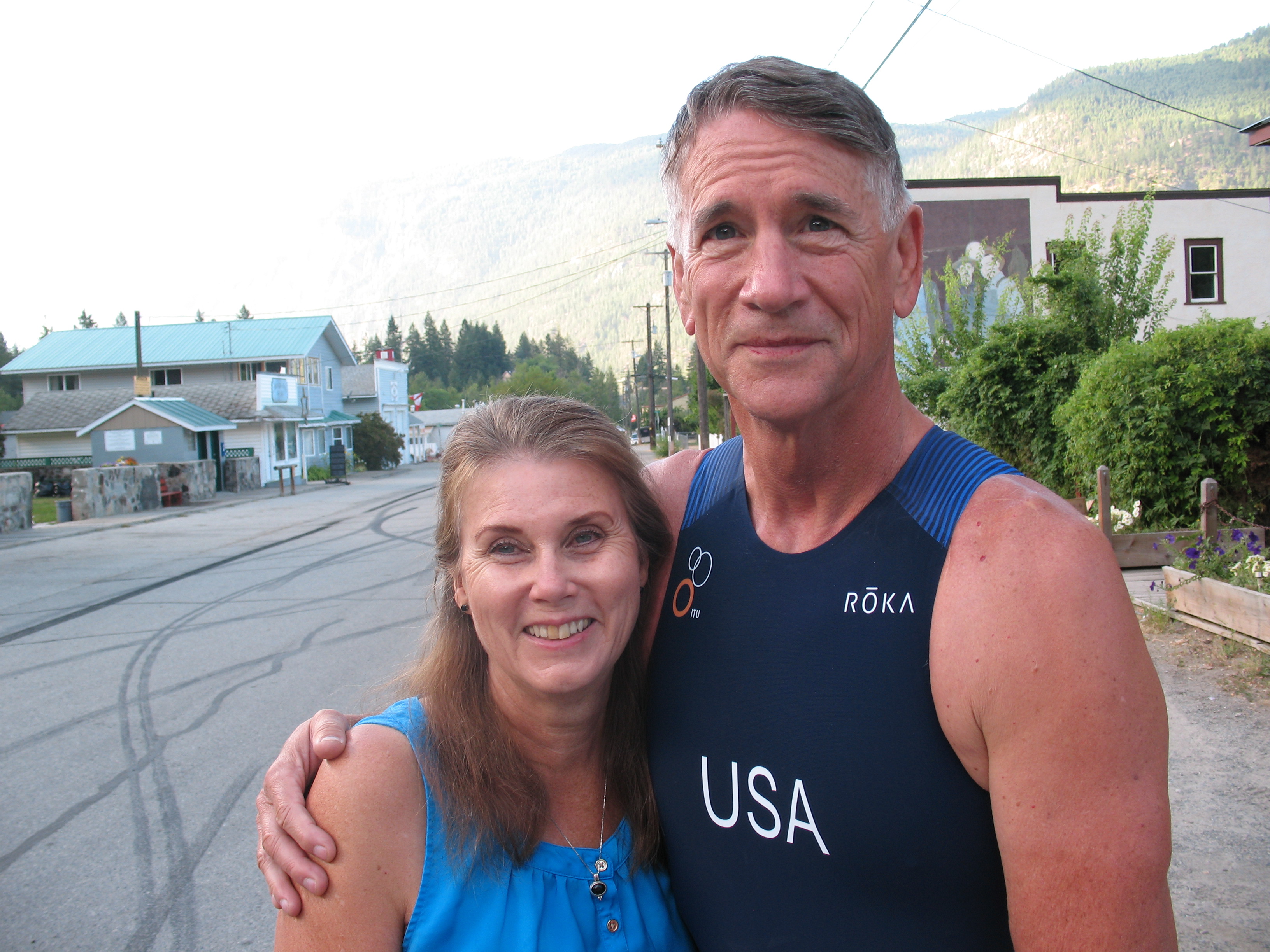 I suspect a lot of macho males have cast envious glances at Duane Fritchie's Triathlon sculpted physique. It's the type of body men's magazines delight in featuring on their front cover. When I first saw him, for a fleeting moment I actually wondered what I would need to do to achieve that trim waist and V shaped torso.
Linda and I met Duane, a World Champion Triathlon competitor, and his wife Mary in Hedley last week. They had driven from Lee's Summit, Missouri so he could compete in the prestigious 2017 Penticton ITU (International Triathlon Union) Multisport World Championships this past weekend. We liked them immediately and invited them to our home.
Duane began his triathlon adventure after watching a man from his community compete in a race. "I felt it was something I could do," he said. "I was already riding my bike and running. I wasn't a good swimmer though, and at age 31 it was a bit late to become great. Fortunately the swimming coach at the high school where I was a teacher offered to help."
Now 67, Duane's rigorous commitment has produced gratifying results. "My first triathlon was in Hawaii in 1982," he told us. "At that time you didn't have to qualify. Since then I've participated in about 200 competitions in places like Australia, New Zealand, England, the U.S. and Canada." In response to my prodding he said, "In 2001 I won the World Triathlon Championship in Edmonton. My whole family was there. It was fantastic."
I asked about his training regimen. "When Mary joined Weight Watchers," he said, "I noticed she was shedding pounds. Following her eating pattern, I cut back on carbohydrates and added protein, mostly lean meat. My mental preparation includes visualization. I mentally see myself doing the swimming strokes just right. I set goals. I try to stay positive and always believe I'll do well."
In regard to what he hoped to achieve in the weekend event he said, " My goal in the Penticton race is to place first overall, not just in my age category. I know it's a long shot, but I'm strong in windy conditions. If there is wind, it's not impossible." He is definitely a believer, but also pragmatic. "I'll still be pleased if I finish in the top 3 in my category."
Until recently, Duane raced mostly in triathlons. With the introduction of the aquabike event, 3 km swimming and 120 km cycling, he dropped the running. "Aquabike is geared to individuals 50 and over," he explained. "A lot of men aren't eager to run after hitting 50. It's hard on the joints. Aquabike makes it easier to continue competing. This event in Penticton is the first World Championship in Aquabike."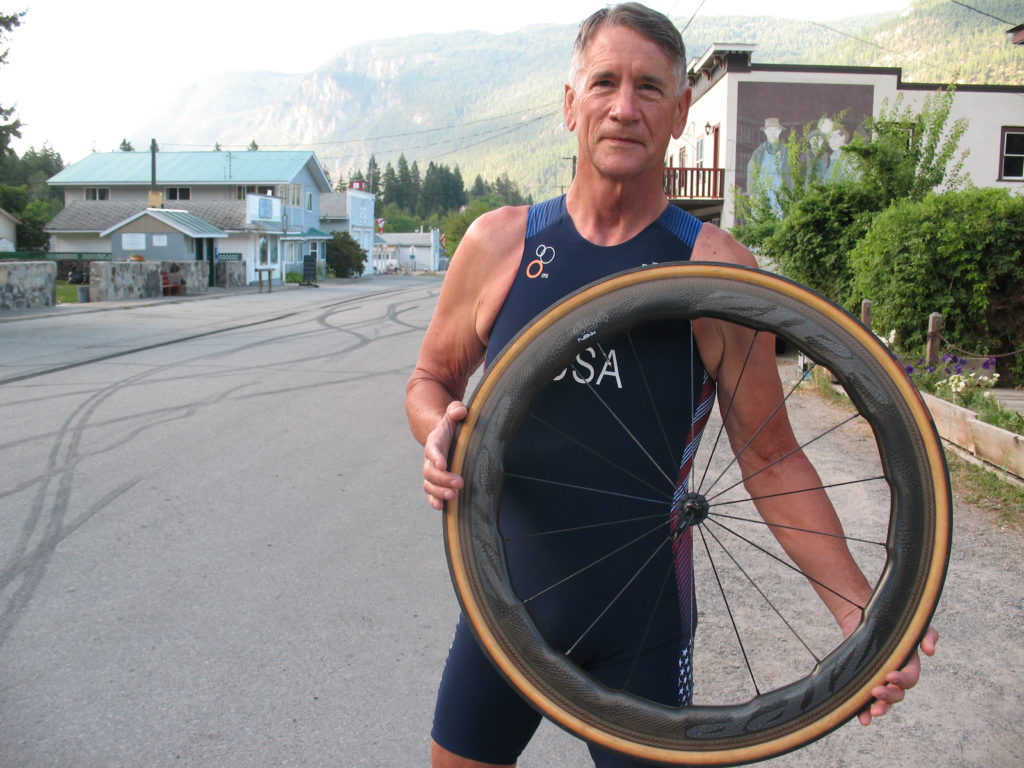 Talking about his bike, Duane said, "Competitive racers use deep dish wheels. They're designed to shed wind. These wheels alone cost $4,000. I have about $10,000 invested in this bike." I observed with chagrin that the wheels on my old mountain bike bear little resemblance to the wheels on his bike.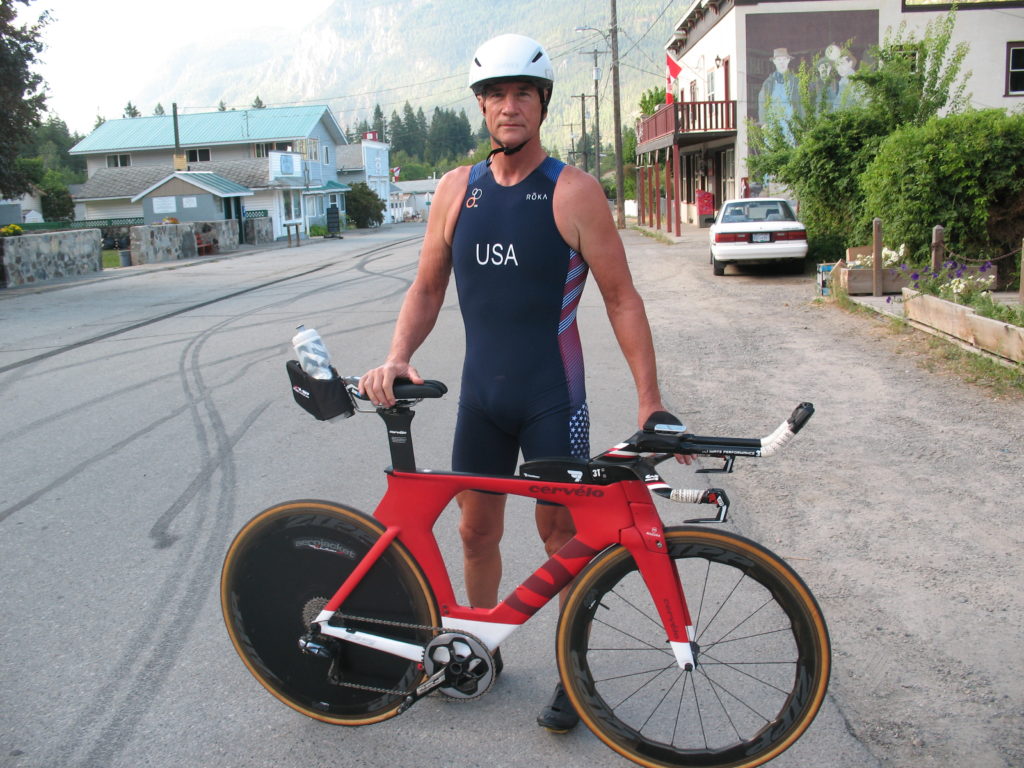 "A good bike is essential," Duane said, "but you need people to support you. Mary is my greatest source of encouragement. When I'm riding with others, she drives the support vehicle. Also, our 3 daughters urge me to train with them. I ride 200 to 400 miles a week. Along the route, I watch for places to swim."
For Duane and Mary, their efforts are not just about being fit, racing, or winning world championships.
"We hope our example will persuade young people and older ones to believe for more," they agreed. "And," Mary added, "we're involved in enabling people with MS to ride."
The MS involvement began when Les Gatrel, a champion wrestler and businessman, was diagnosed with Multiple Sclerosis. "The wrestlers supported him and we worked together to get Les on a bike," Duane said. "Initially he rode tandem with me. Now he rides his own bike, 4,000 miles in the last 3 years. Along the way, Wrestling MS was established. Now the organization provides MS patients with bikes, hope and support to help them regain balance, strength and freedom. All at no cost to them.
When we talked with Duane and Mary last Wednesday, their close bond was evident. On Saturday he finished strong overall and captured first place in his age category. We are proud to have had these world champion partners in our community.
The post Duane Ritchie, Aquabike World Champion appeared first on Living Significantly.
Source:: Living Significantly