By Art Martens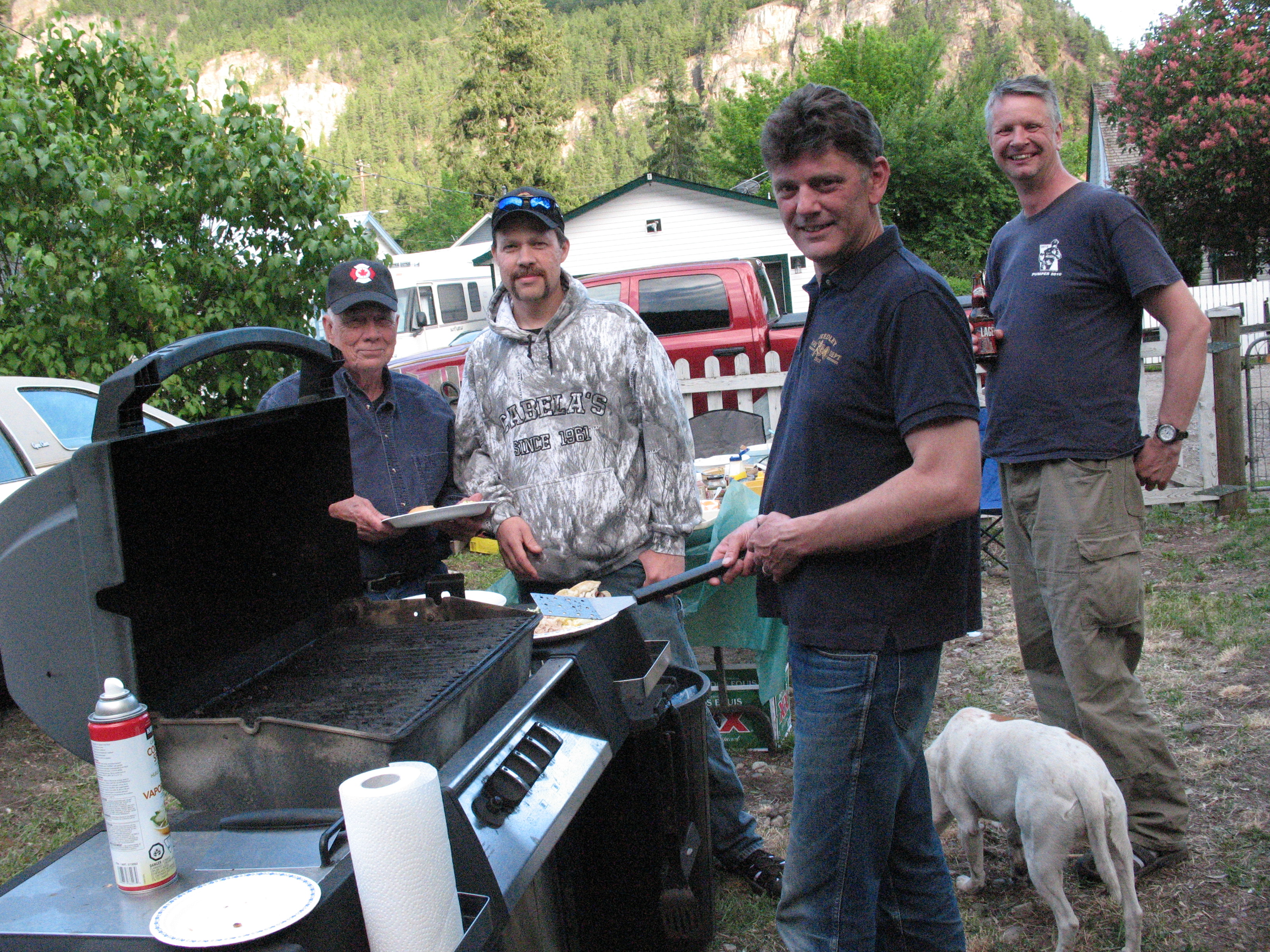 "There were seven or eight cars lined up when we started," Graham Gore, Manager of the Hedley Fire Department told me yesterday. "We washed about 20 cars and sold 40 to 50 hotdogs. Some people came just for the hot dogs. We made about $360, which will help with the operation of the Department. For us it's also an opportunity to connect with the people of Hedley and build relationships." He was talking about the Hedley Fire Fighter's annual Victoria Day car wash and hot dog sale.
In the evening the Fire Fighters and the Trustees of the Hedley Improvement District (H.I.D.) gathered for a barbeque at the home of Andy and Kim English.
Andy and Kim live across the street from Linda and me. I went over with my camera to get a photo record of the event. The buzz of animated conversation suggested there was a great sense of camaraderie. Simon Harris, a longterm fire fighter and easily the tallest man in the group said, "if any member was to have a problem, we'd all be there to help." Graham Gore added to this. "If anyone in the community has a problem, we'll all be there too."
The Fire Fighters turn out for practise each Tuesday evening. All of Hedley becomes aware of this when the siren signals the start of practise at 7 p.m. They are volunteers, giving their time and energy to making our town safe. Fire Department Chief Terry MacFarlane said, "We're always looking for new recruits. We have several women in the department now, and we would welcome more."
The Fire Fighters receive a small honorarium for each practise they attend. For a community of about 250 people, the Fire Department is well trained and reasonably well equipped. It has several First Responders who attend to medical issues in town and also to accidents on the highway. We are fortunate to have such a group of individuals committed to protecting us and our properties.
The post Fire Fighters Car Wash A Success appeared first on Living Significantly.
Source:: Living Significantly