By Art Martens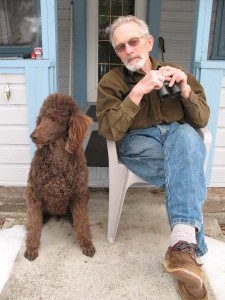 Observing Frank Schroeder and his chocolate brown Standard
Poodle on the streets of Hedley, it would be impossible to guess where he has been or what he has seen. His stature has been reduced 4 inches due to a curvature of the spine caused by osteoporosis. He and Teddy present such a peaceful picture it's unlikely anyone would think he had once been a gun carrying guard at the B.C. Penitentiary.
"Although the prison system was already changing during my 5 years at the Penn, many of the old line guards were still present," he said. "They revelled in telling us how things were done in the past, especially the floggings."
He recalls vividly the incident in which Mary Steinhauser, a prison counsellor was taken hostage by inmates. "Those guys were brutal", he said. "I knew Mary, she sometimes sat at the dinner table with me. When the guards rushed in to end the standoff, they shot her." She was liked and respected by the inmates and it was widely believed by them the guards deliberately targeted her. Frank doesn't agree with this view.
After 5 years at the Penn, he was transferred to Matsqui Institution. For three years he did night duty in one of the towers overlooking the prison fences. He was expected to shoot in event of a break out or riot. An experienced hunter, he was familiar with a variety of firearms, but he never shot at a prisoner. For the last 2 years of prison work he was a Living Unit Officer and this offered an opportunity to make a positive difference in some inmates. "I took one of the men skiing," he said. "He was doing time for murder and had been in prison for years. I taught him to ski. I also taught him how to order a cup of coffee in a restaurant. After a year I could trust him to ski alone." Years later, while camping in a remote area of B.C. he met the man. He was working in forestry.
"Wearing the uniform hardens you," he said. "I didn't care for the atmosphere so I took a real estate course on the side. On April 30th, 1977 I took the uniform off for the last time and put the prison system behind me. On May 1st I began selling real estate."
It wasn't Frank's dream job. He wished he'd been able to get a university education and become a meteorologist. Family responsibilities had made this impossible. He doesn't complain, though. "I made a pile of money," he told me, "and after 4 years I took time off to do some things I loved." He travelled, hunted, fished, and built a house at Lone Butte. A workaholic, he had for some years run a renovation, gardening, landscaping business on the side. Building a house was not a problem. He also earned a brokerage licence and in time opened offices in Lone Butte and 100 Mile House.
The osteoporosis struck him in 2002, but Frank hasn't allowed it to dampen his zest for experience and adventure. During the years away from real estate, he met Richard Canning, Director of the Canadian Bird Count. Canning is an author and a prominent authority on birds. Frank considers himself lucky to have done a number of bird counts with him since their meeting.
"My first encounter with birds actually happened when I was age 6," he recalls. "I taught a young swallow to fly. The parents were furious and dived at me repeatedly. It scared me." To date he has spotted 340 different birds and says, "I'm totally hooked on birding." He doesn't have a favourite bird. "If it wears feathers, it can come on my yard any time, in any number." Teddy, his faithful companion, shares his enthusiasm. Seeing Frank look through his field glasses, Teddy sits beside him patiently and looks too. "Sometimes Teddy notices a bird first," Frank said.
The man and dog have a special friendship. Both are congenial, but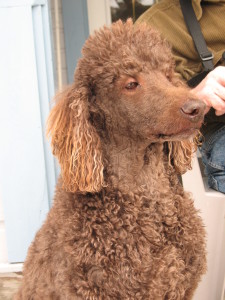 in different ways. Frank is calm and steady. Teddy's tail wags a lot.
Recently Teddy was seriously ill and Frank took him to a vet. When he was told his good friend might not survive the night, Frank slept in the kennel with him. Compassionate and caring, this former prison guard is a good addition to our peaceful little community.
The post Former Prison Guard At Peace In Hedley appeared first on Living Significantly.
Source:: Living Significantly