By Art Martens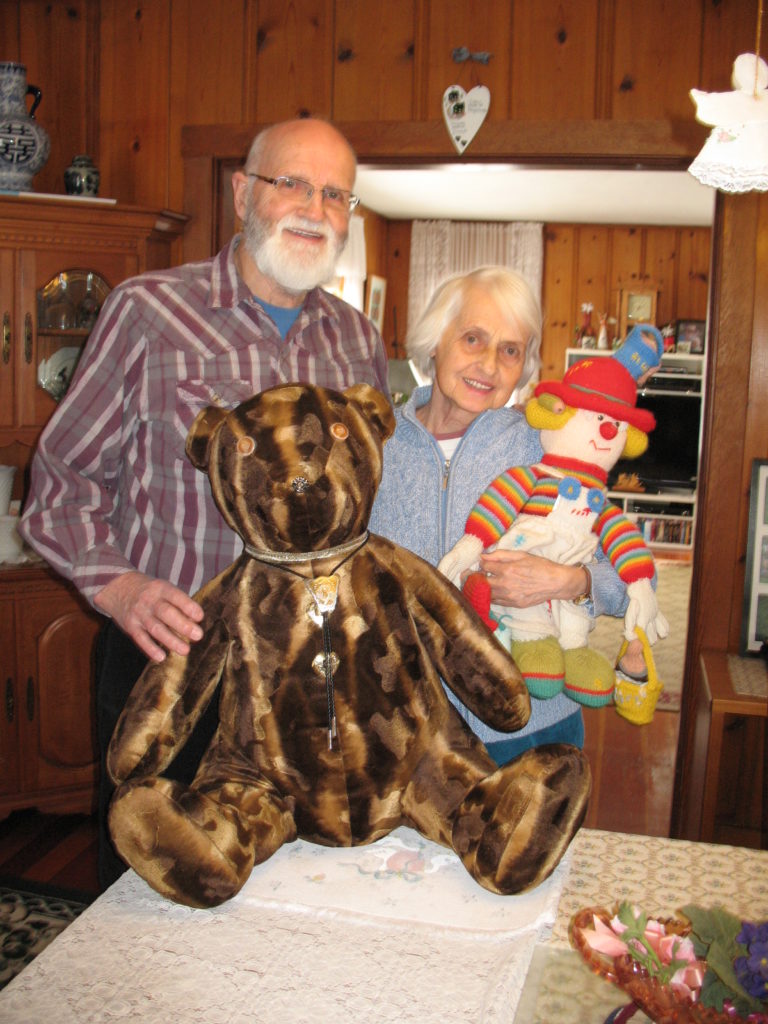 For me a relationship that has been tested by the storms of life holds a more riveting fascination than young, often transitory romance. Aware of the cloud overshadowing the marriage of George and Christina Thiessen, and with Valentines Day approaching, I wanted to hear their story. Last week they invited Linda and me to their spacious heritage home in Hedley.
For reasons that will be revealed, George did most of the talking. "We met in Reno," he began. "Christina was a passenger on the bus I was driving for Maverick Tours. The Tour Guide asked me what I like to do in Reno. I told her I'd probably go dancing. I just needed a partner. She introduced me to Christina, and that evening Christina was my dancing partner."
"She told me later she had not expected to hear from me again, after we returned to B.C."
George had been married twice. His first wife had borne 3 children, then died at a young age. The second wife had become a demanding, unruly alcoholic and the marriage had been a crushing failure.
Upon meeting Christina, George realized she possessed the depth of character he had been longing for. Smitten by her pretty, smiling face and evident kindness, he called her.
In time they moved in together. "Christina wouldn't marry me though," George said. "She had also been hurt in previous relationships and didn't want to commit again."
George continued to drive the tour bus, at times away for 11 days, with only a 1 day break between trips. Christina was working at the Surrey Memorial Hospital, cleaning operating rooms. George's driving schedule and their history of hurtful relationships might have made this a rocky union. Fortunately George's stability appealed to Christina and reassured her.
"When I lost my 17 year old son in a bike/automobile accident, it was a difficult time," he said. "Christina stood by me. Then my daughter passed away and again Christina was at my side, supporting me."
They saw an ad for a spacious home in Hedley and called the realtor. Entranced by the house and the large yard, they bought it. The house needed serious updating so George studied magazines, bought tools and set to work.
He began experiencing severe sciatic pain and Graham Gore, pastor of the Hedley Grace Church, drove him to Kelowna for surgery. After recovering, George and Christina attended the church on a Sunday morning to thank the congregation for their support. Liking the people and the atmosphere, they continued to attend. On May 30, 2009 Graham married them in a small ceremony on their park like grounds.
About 2 years later the aforementioned cloud appeared on the horizon, scarcely noticeable at first. "Tests were done and we were told Christina had a slow progressing form of dementia," George said, a note of deep sadness in his voice.
The diagnosis changed their lives. "Christina was always very talented in crafting," George said. "One year she made 30 teddy bears to give away as Christmas gifts. She inspired me to take up woodworking."
He pushed back his chair. "Come," he said, "we'll show you some of our creations. He led us upstairs to 3 rooms where we were greatly impressed by an array of Christina's stuffed animals lolling on chairs and George's intricate wood creations displayed on the walls. A beguiling aura of genius pervaded these rooms.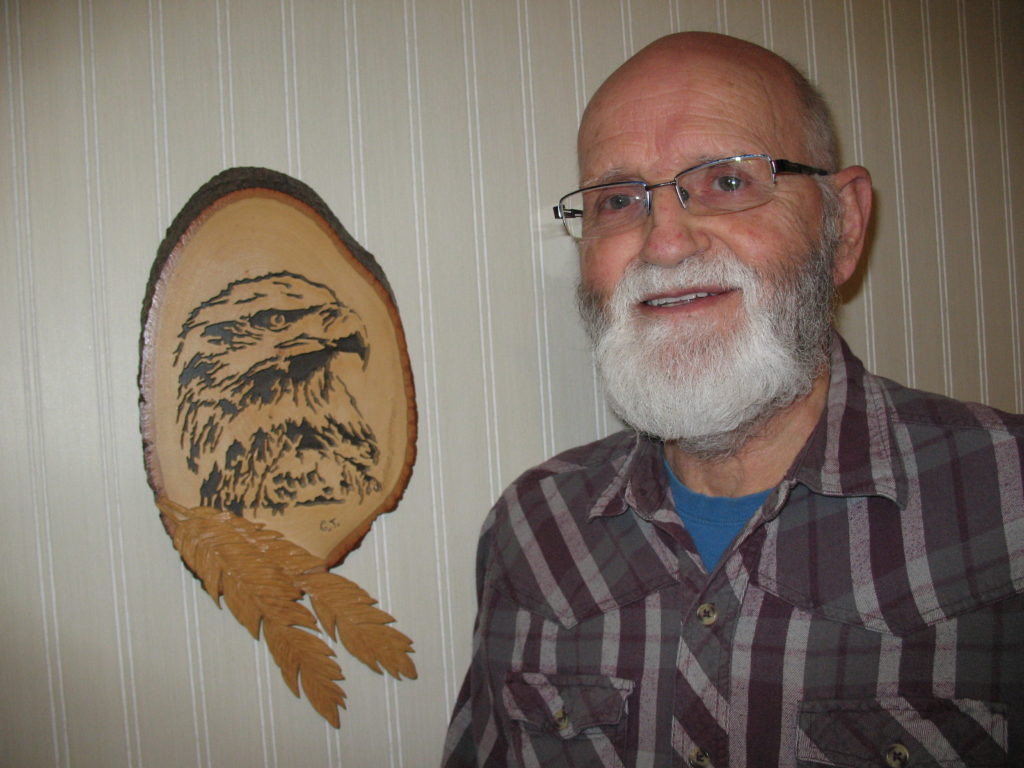 The dementia has caused this creative activity to cease. Their lives have become constricted. They still attend the church but participate only briefly in the coffee time afterwards. "Christina becomes anxious in groups."
George paused. "Sometimes when I'm doing yardwork she wanders off and I don't notice Fortunately, if she stays on the route we walk, she can find her way back. Usually when people see her alone, I get phone calls. People want to help."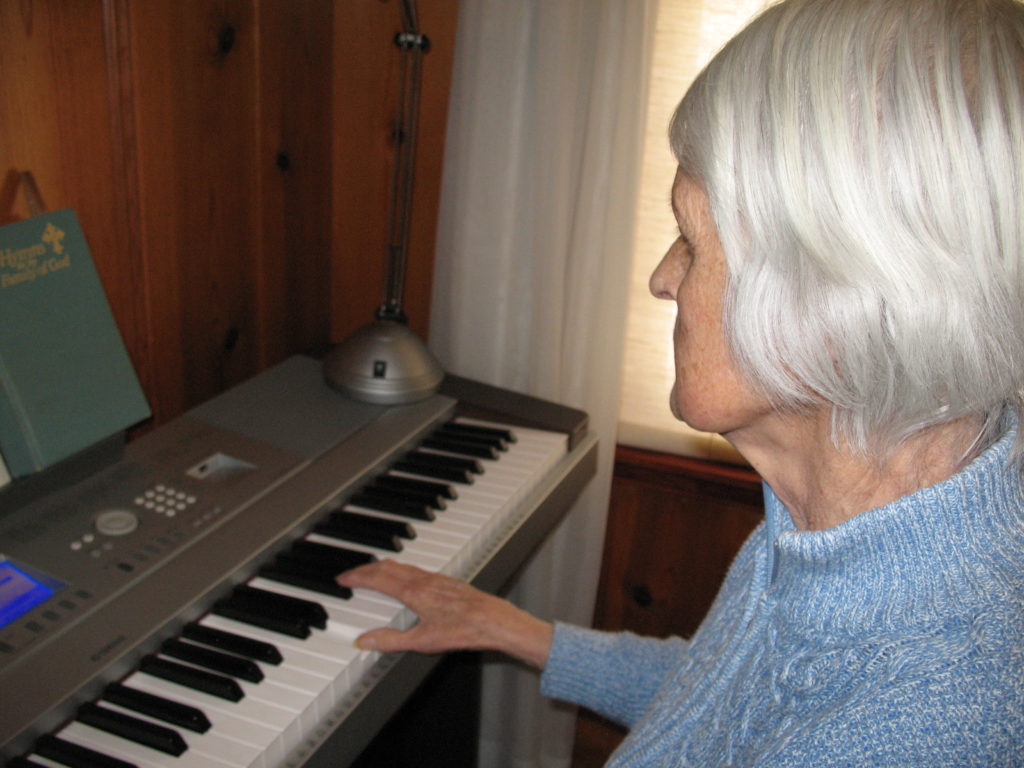 Not all is lost. Christina played the key board for us and her rendition of the Blue Danube Waltz was delicate and pleasing. Also, we had observed that while George was talking about the dementia, she sensed his distress and placed a comforting hand on his shoulder. When they go out, she requests his assistance in selecting appropriate combinations of clothes. Although her comprehension is limited, she is able to engage in simple exchanges.
"I love Christina and I'm committed to her," George said. "I won't place her in a home. We're in this together to the end." They're still Valentines.
The post George And Christina, Still Valentines appeared first on Living Significantly.
Source:: Living Significantly