By Art Martens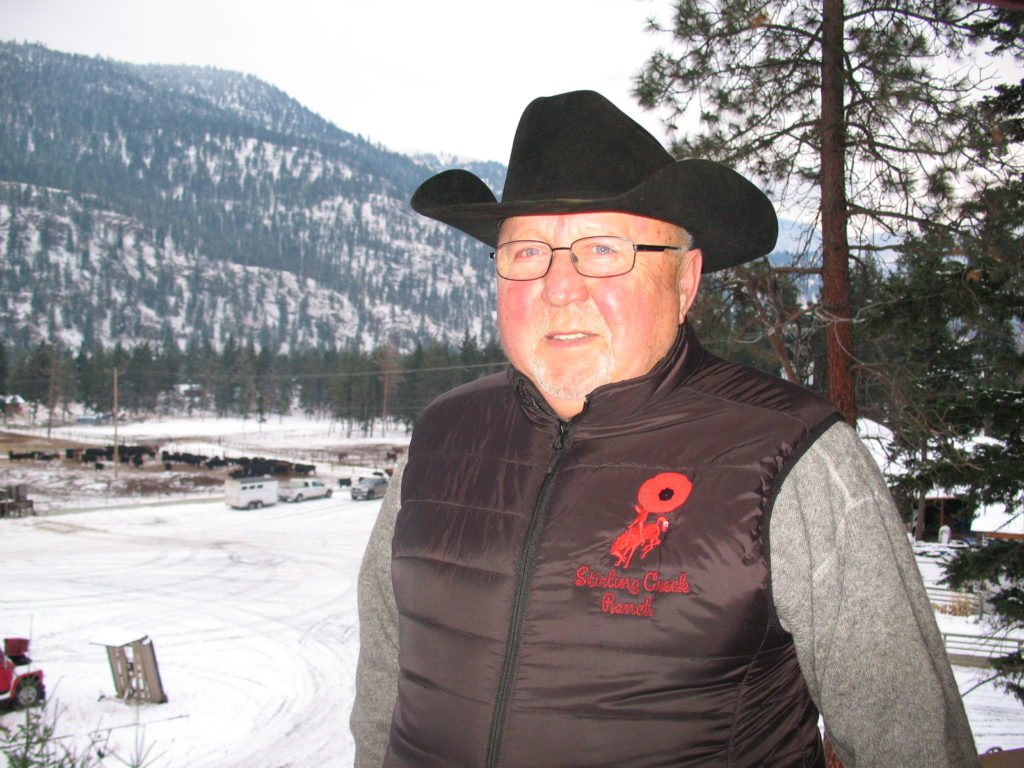 Former federal cabinet minister and Canadian Senator, Gerry St. Germain knows the feeling of being underestimated. In a conversation with Linda and me in his home at the Stirling Creek Ranch, not far from Hedley, he said, "many years ago I started dating a young woman. Her parents told her to stay away from me. He's got Indian blood in him they said, and he won't amount to anything." This turned out to be fortuitous. In time he met and married Margaret, who became his lifelong partner in many adventures.
"I was born in St. Boniface, Manitoba," Gerry began. "My parents were renting a small cabin. The night they brought me home it was snowing and windy. The next morning my blanket was covered with snow. We were poor."
He developed a way of looking at his circumstances that could be a beneficial template for youths today. "I got a lot of encouragement and help from the people in my life," he said with evident conviction. "My mom and dad, my grandparents, and the whole family were my mentors, my support system. I learned to accept their counsel and to change."
He also gives credit to the Grey Nuns and the Jesuits who educated him. "In one test," he recalled, "the passing mark was 50 per cent. I got 65. They wouldn't let me go home because I had not tried hard. I realized they were right. They were the best teachers."
Gerry began setting goals early. "I knew I wanted to be a pilot, I knew I wanted to be a policeman. I also wanted to own a cattle ranch one day."
At age 17 he enlisted in the Canadian Air Force. Not knowing he was being timed, he failed a written test. Even so, he told the officer he wanted to be an air controller. "No," the officer said. "You will be washing trucks." When he wrote the test again later, he achieved a high mark and went on to be a jet pilot. "It's the best life," he said. "I learned leadership skills that I wish we could impart to kids today."
He still felt the call to law enforcement and in time joined the Vancouver police force. "I was an undercover cop assigned to the 100 block East Hastings beat. I learned to be tough. That's what the people there respect."
In the 1970's, as real estate developers, he and his partner pre-sold several lots with a handshake for $40,000 each. When the prospectus came out, they were valued at $80,000. "We could have backed out, but I insisted we honour the deal. Word got around and it gave me a lot of credibility."
His impressive success in business attracted attention and in 1983 he was urged to seek the Progressive Conservative nomination for the Mission-Port Moody riding, an NDP stronghold. At a large political gathering, wearing his signature stetson and not dressed in an expensive business suit like many of those present, he told people he intended to put his name forward and win in the coming by-election. Bob Ransford, later his trusted assistant and lifelong friend, initially dismissed him as a country bumpkin. He drew aside a cabinet minister and asked, "Who is this cowboy and who does he think he is? He doesn't have a chance of winning."
Gerry did win and in Ottawa became a friend of Brian Mulroney. The PM liked his fluency in English and French. He was appointed Caucus Chair and became known for his ability to fix sticky situations.
Later in his political career, he was named to the Senate and it was here he became active on behalf of Indigenous people. A Metis himself, he used the prestige of his position and his personal credibility to help bands develop alliances to negotiate more successfully with large corporations.
Now retired from politics, he is active part-time on the ranch and energetically supports Indigenous causes.
Gerry turned 80 last week. Looking back he told us, "It really isn't about me. Margaret played an integral part in my achievements. People loved her. People took time to help me. Also, I have 3 heroes who inspire me to live with integrity and hope. They are Jesus Christ, Mother Teresa, and Terry Fox." For more about his numerous contributions to Indigenous people and all Canadians, I suggest reading his excellent biography, I Am A Metis.
The post Gerry St. Germain, Making A Difference appeared first on Living Significantly.
Source:: Living Significantly