By Art Martens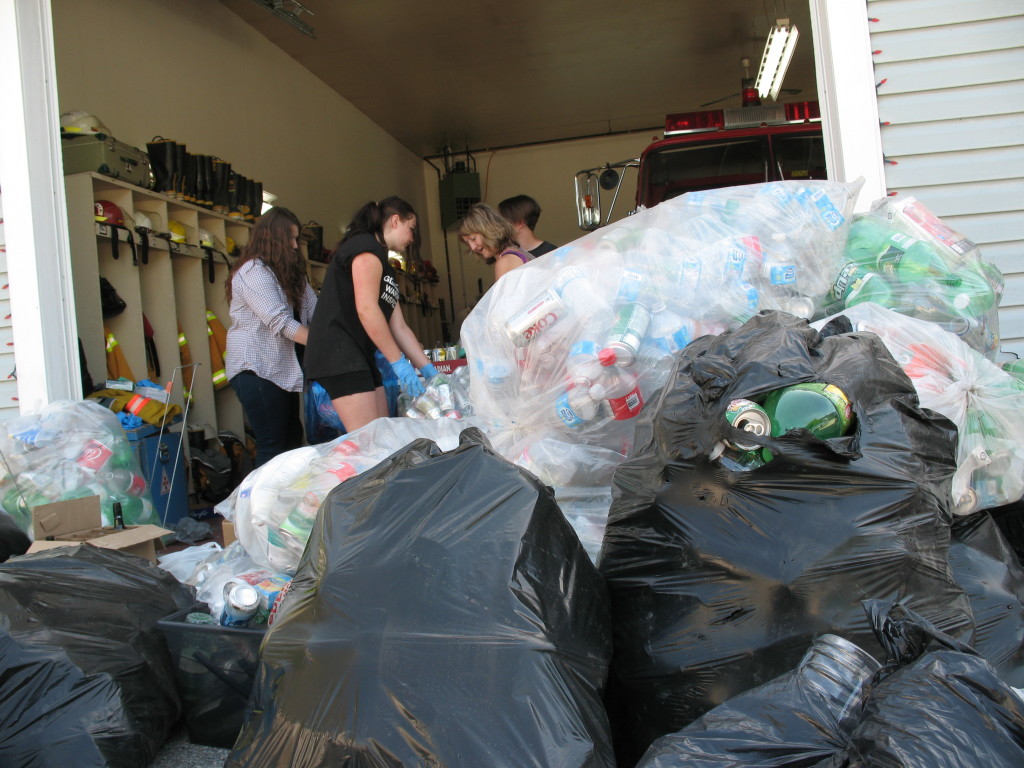 The recent Hedley Bottle Drive was a marathon event requiring great mental tenacity and physical endurance. Twenty-one volunteers worked tirelessly in the blistering sun at the front of the Fire Hall or battled pitiless, marauding no-see-ums inside. Sponsored by the Hedley Grace Church, bottle drives have been staged for a number of years for the purpose of sending local children and youth to Camp Tulahead, located on Highway 5A. Usually they are held in both spring and fall, but last year the one in fall was cancelled. This was the reason for the intimidating mound of cans and bottles in front of the Fire Hall and for the longer sorting time.
"Some people in the community contribute bottles and cans throughout the year to support what we are doing," Pastor Graham Gore said. "They consider it a worthy cause."
Last year the church sent 14 children and teens to camp. The bottle drive doesn't cover the full cost of $600 per child. "Contributions from people in the church make up the difference," Pastor Gore said. " Sometimes parents and others in the community also give money for this. We've never denied anyone the opportunity of going to camp." To this time they have 9 registrations for this summer's camp.
Pastor Gore expressed appreciation for the help of volunteers, some of whom are not connected to the church. Among those representing community organizations were Doug and TJ Bratt of the Community Club and the Country Market. They showed up with their son Jake and two grand daughters. Doug also brought 2 cases of pop. Beryl Wallace, president of the Seniors' Centre and an attendee of the church came. Linda Martens, vice president of the Hedley Museum Society was there. Dave Peers, Fire Fighter and a Trustee of the Hedley Improvement District ,volunteered his time and energy. Angelique Wood, currently on leave from the fire department and the local, federal NDP candidate, also helped. Lynn McKay, a member of several organizations, worked tirelessly as in past years. Also Steve, a senior who just wanted to do something for the community. Six teens participated. Julie, who was on duty at the Country Market, paid for apples and bananas to give workers a boost of energy.
Doug Nimchuk, representing the Fire Department and the church, was event organizer. His duties kept him there from before 9 am until 7:00 pm. Peggy Terry, a church attendee, looks after the financial matters.
At the end of the bottle drive there were weary backs and sore feet. The thoughts and emotions though, were positive. One teen summed up what most volunteers were probably thinking when she said, "this is the most satisfying day I've had in a long time." When people work together, good things get done.
The post Hedley Bottle Drive a Marathon Event appeared first on Living Significantly.
Source:: Living Significantly