By Art Martens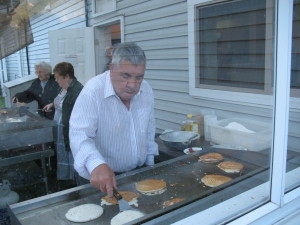 The weather in Hedley this past Sunday was exactly what the yard sale vendors were hoping for. Bright sun, clear blue sky, warm air. It certainly enticed people out of their homes. A number arrived from other places, especially Keremeos.
The day began with a Pancake Breakfast at the Seniors' Centre. This is invariably a popular event that takes place on the second Sunday of every month. For a mere $5.00 they serve 2 pancakes, 2 sausages
or slices of bacon, 2 eggs and coffee. As usual, George Koene was at the grill flipping pancakes. When Linda and I met him on our walk in the evening, he said, "I'm retiring from making the pancakes. All together, I've done it 7 years. It's time for a younger person to take over". He is in his early 80's. I was told they had served 100 patrons. Most of the seniors on duty are well into the seventies, some in the eighties.
At noon Doug Bratt, co-owner of the Country Market, fired up his grill and served his famous burgers. The Hedley Grace Church put on a delicious potluck. It really isn't entirely fair to subject our palettes and digestive systems to such an array of temptations on one day. However, we never object.
Walking the streets of town was an opportunity to check out the yard sale wares and meet people. I was tempted by MikeJacobs'exercise system. Unfortunately we just don't have the space for it. The only area that might be large enough is the 5 x 5 Hen House. I know "the girls" would be gracious and accommodating. Of course, they'd consider it a place to exercise their powers of fertilization. I contented myself with viewing it longingly.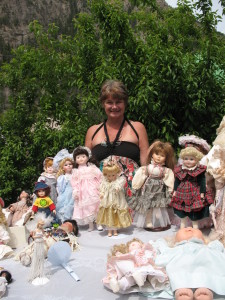 When Linda and I arrived at Fred and Linda Bell's yard sale, we were immediately entranced by their collection of dolls. They had been successful in bidding on the contents of a storage locker, and the dolls had been stashed in a trunk there. Most of them were priced at about $45, but they expected a couple of exquisite aboriginal beauties to fetch more.
Moving on from there, we found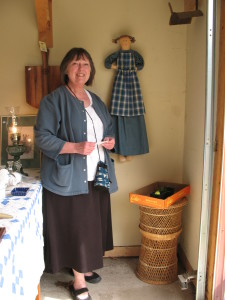 a handcrafted doll hanging on the wall of a garage owned by Jill, a recent newcomer to Hedley.
At the Community Club we talked with T.J. Bratt, the other co-owner of the Country Market. It was now 2 pm, pretty much time for the yard sale to wind up. There were still a number of items on the tables, but T.J. said a lot of people had come in and they'd had a profitable day.
The Hedley Historical Museum had already opened for the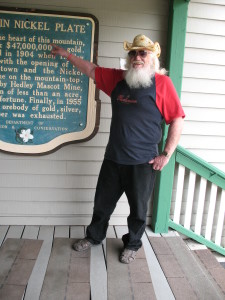 season on May 1st. Currently Jim Grey is on duty from Friday to Monday. He is essentially a volunteer but does receive an honorarium. Jim enjoys people and happily answers all questions. He also has pie and coffee or tea available in The Tea Room. This wasn't a strong business day at the Museum, but its yard sale did turn a small profit. Jim is confident more tourists will begin coming in soon. Traffic on the highway through Hedley is definitely increasing.
It's a delight to see Hedley awaking from its winter slumber. The lilacs are blooming. People are smiling, feeling upbeat. There is a sense of anticipation. It's definitely spring time in Hedley.
The post Hedley Opens Its Doors For Business appeared first on Living Significantly.
Source:: Living Significantly