By Art Martens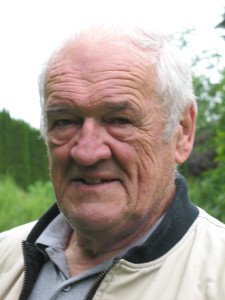 Elaine Cindrich told us her husband Joe is tenacious when he's battling a tough problem. "He's like a bulldog," she said. Joe's tenacity became absolutely essential several years ago when he realized invasive Japanese Knotweed had staked a claim on his neighbour's property.
"The Knotweed can wreak havoc," Joe told us when Linda and I recently visited at their home in the Township of Langley. He discovered at the outset the plant employs its luscious leaves and pretty white flowers to beguile unsuspecting property owners. When he informed his neighbour, an elderly widow, about the dangers of Knotweed she exclaimed, "Oh, but it's so beautiful. I just love it." Only his threat to sue if the plant invaded his property persuaded her to let him attempt to eradicate it.
"Ignorance of the issue has been a huge problem," he said. "I went to the Township for help. At first the council was skeptical and I needed to educate them. Once they understood it could cause mayhem on municipal lands, they developed a plan and took action." But it did nothing to assist him.
Now 75, in his work life Joe was a mechanic and then a manager with Finning Tractor in Vancouver. Later he established his own company, doing utility work. He realized he'd have to educate himself so he could keep the Knotweed off his own property and also inform others. His nature, and his work experience had provided him with the persistence required to deal with this unwelcome intrusion into his life.
Knotweed does not play by the usual rules. According to the Invasive Species Council of B.C., the root systems can go down to a depth of 2 to3 metres and extend 20 metres laterally. Authorities on the plant agree it can penetrate and undermine concrete foundations and blacktop surfaces. When engineers found it growing along the massive concrete footings of the Lions Gate and the Iron Workers Second Narrows bridges, they deemed it a safety threat requiring chemical intervention.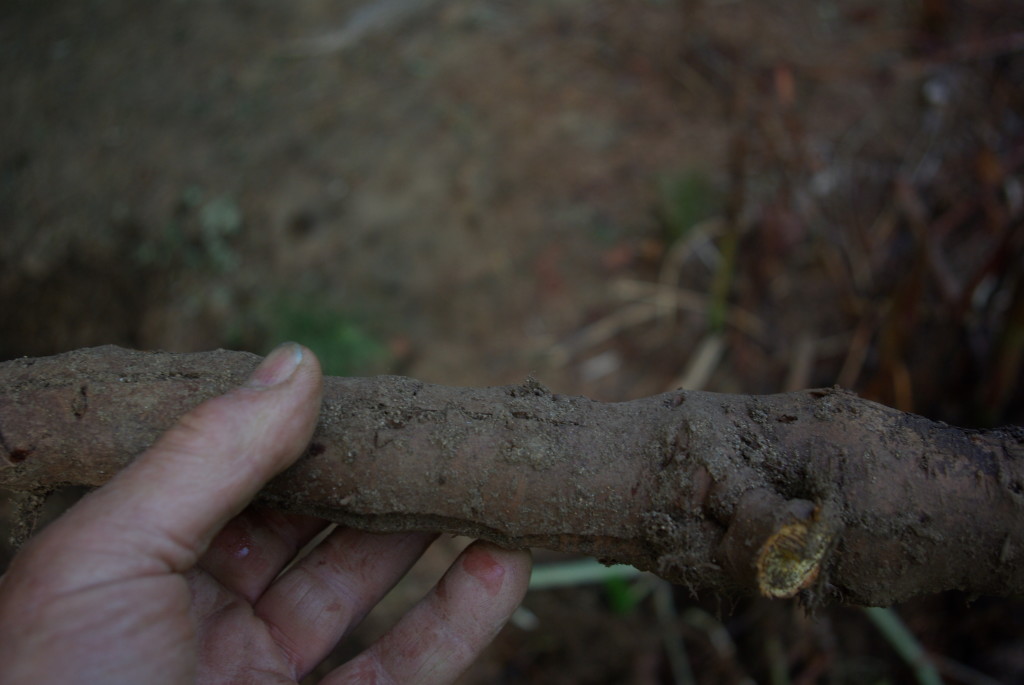 Digging it out just multiplies the weed. The District of Sechelt attempted to deal with Knotweed by digging down 3 meters and removing it. The weed reappeared the following year, having doubled in size. If even one centimetre of root remains in the soil, it can generate new plants.
The Okanagan and Similkameen Invasive Species Society (OASISS) states, "Knotweeds are very hardy and spread aggressively. They are capable of blocking access to waterways, reducing sightlines along roads and fences, shading out native plants, and increasing soil erosion." Their website says Knotweed has been observed in Penticton, Oliver, Keremeos and Summerland.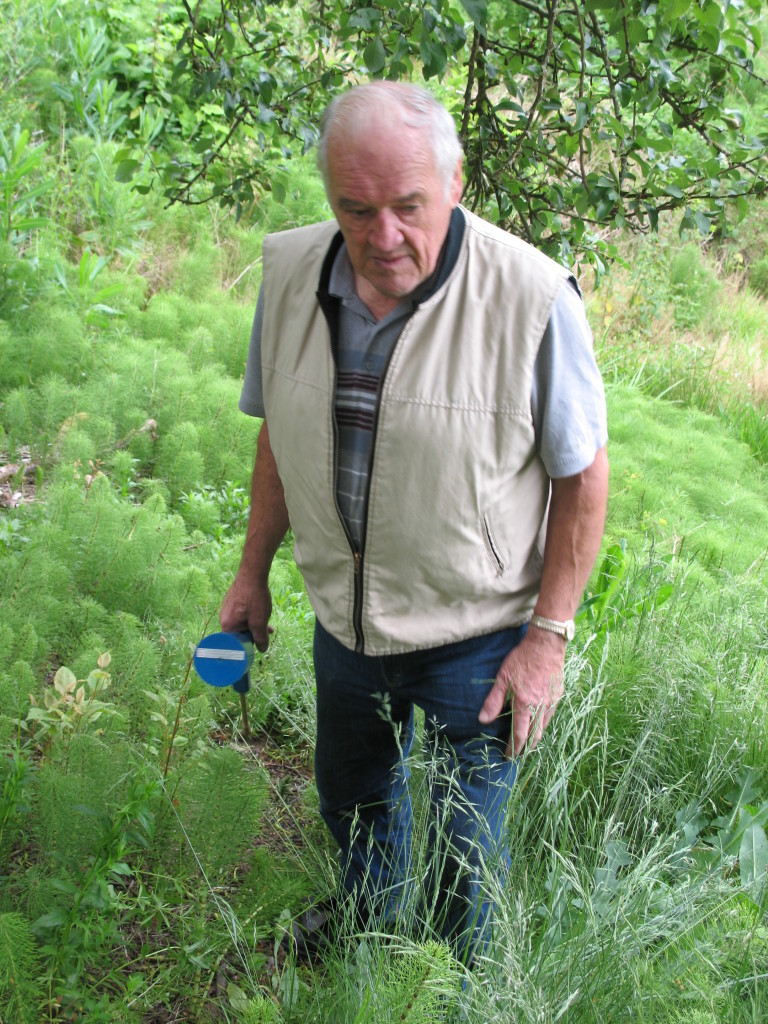 Joe booted up his computer and showed us photos of the formerly dense Knotweed growth on the neighbouring property. He then invited us to tramp with him through high wet grass to view the present state of the land. "I started spraying the small plants with 20 per cent Roundup in 2013," he said. Holding up a large ominous appearing bovine syringe he said, "I injected plants over 2 feet tall with100 per cent Roundup." In spite of his vigorous, disciplined campaign, we saw a number of young plants all over the property. The websites dealing with Knotweed pretty much all agree 5 to 10 years are required to eradicate the weed. If the program is halted before its all gone, the clever weed takes this as a cue to again thrive.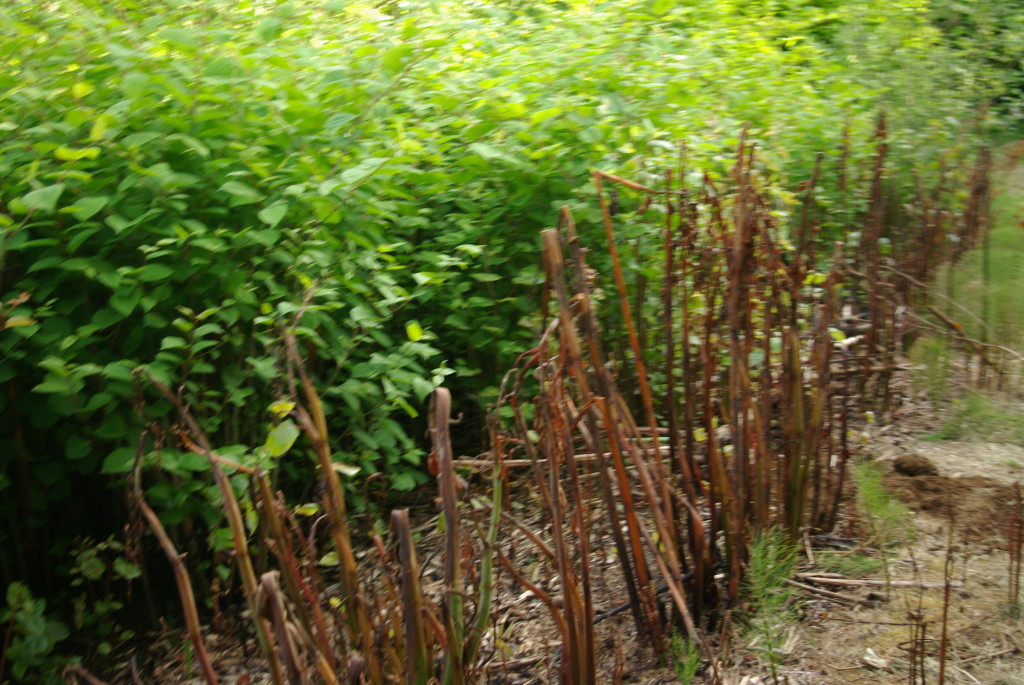 By now our runners were soaked from the deep wet grass, but Joe's willingness to share his knowledge made it well worth while. "It's a huge problem in Britain," he told us. "The UK government estimates that the cost of controlling Knotweed has hit the equivalent of $3 billion. If you have Knotweed on your property you can't get a building permit. In Europe you won't get a mortgage."
Various government departments, including the Ministry of Transport, have grave concerns about Knotweed. It is expensive and very difficult to eradicate. The BC Weed Control Act requires citizens to take action against invasive species on their property. An owner who fails to do this may have to pay for the eradication.
Ignoring Knotweed is to invite destruction of property. If it comes our way, will we recognize it? Will we have the tenacity, patience and determination to battle it for 5 to 10 years? Joe Cindrich has the endurance. He's that kind of man.
The post Japanese Knotweed, A Devious Adversary appeared first on Living Significantly.
Source:: Living Significantly