By Art Martens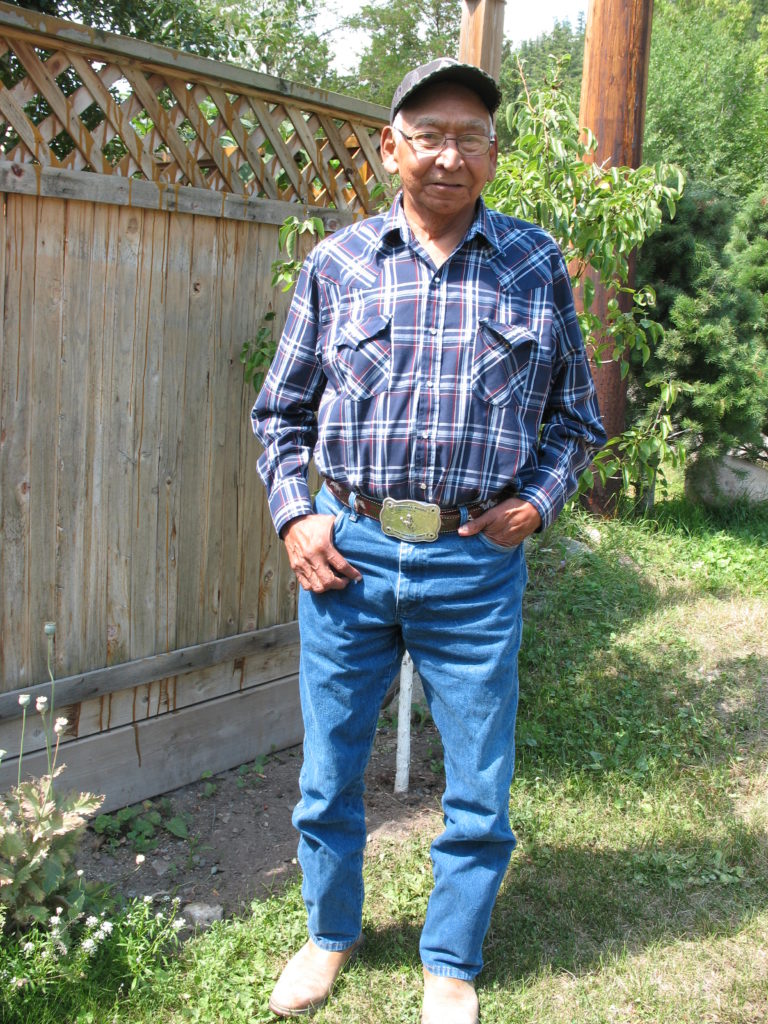 Part 1 of 2. John Terbasket's early life could have warped him to be bitter, angry, confused and addicted to alcohol. In a lengthy conversation with Linda and me in our home, he spoke candidly about his life as a member of the Lower Similkameen Indian Band, the people, experiences and understandings that made him a respected role model and leader rather than a disgruntled derelict. He expressed pride in his family and people, but didn't attempt to gloss over the issues still confronting the band.
"My father was an alcoholic," he told us. "When I was about 7, my mother died. I went to live with an older sister, then with an uncle and aunt. At age 10 I stopped going to school and started cowboying for my Uncle Barney Allison."
Wanting John to get an education, at age 16 Uncle Barney sent him to a residential school in Cranbrook. "They ran it like a prison," John remembers. "At night young children cried and I tried to comfort them. We weren't allowed to speak our language. If we did, they gave us a toothbrush and made us clean 3 flights of stairs."
Later the residential school experience gave him an understanding that helped him as a band leader. "I went to a reunion 15 years after leaving the school," he said. "Many of my former classmates had become alcoholics. Some were dead. I saw that the residential school had left the survivors feeling lost."
John married Delphine at about age 20. Many of their friends were enmeshed in an alcoholic lifestyle and for a time they followed the same path.
Fortunately he was blessed with several excellent role models. His uncle Barney Allison told him, "You don't have much education. You will have to work. Take whatever job you can get and learn as many trades as possible." John accepted this advice and for some years worked in logging, orcharding and cowboying.
At age 30 he agreed to take his brother and sister-in-law to AA meetings two evenings per week for a month. "When the month was over," he said, "they stopped attending, but I continued. I remembered how it had been in our home because of my father's drinking. Sometimes there were no groceries. I didn't want our children to grow up like that. My wife and I both turned away from alcohol."
His Uncle Bobby, also a successful rancher, told him, "things are going to change. We will need people with an education." When the band offered to send John to the Cody International Institute in Nova Scotia, he accepted. Not long after, he was appointed to be the band's first administrator.
"I came out of the orchard to be administrator," he said. "I didn't have the experience or knowledge to make things happen. The Elders helped me get a more clear vision of what was needed. Also, Uncle Barney had been elected band chief. He had a vision for our people. He got things started."
John grew in the understanding that the residential schools, in denying children their language and culture, had stripped away their indigenous identity. "People were confused," he said. "They didn't feel they were part of either culture. They turned to alcohol to escape the memories of abuse in the schools. When they had children, they didn't know how to be parents, so the confusion was passed to the next generation. There was dissension between those who had been in residential schools and those who had not."
The Elders advised him "you have to help our people with sobriety before you start bringing in a lot of money. Then the money will be used for good purposes."
Realizing he had much to learn, John listened carefully to the Elders. "Initially we emphasized education and jobs," he said. "Then we began to understand that to become resilient and confident, young people needed to become immersed in the culture of our people. That would give them an identity they could be proud of. Five years ago we revived the annual Pow Wow at the Ashnola Camp Ground. A lot of our young people are participating."
Now 78, John is grateful for his family and appears thoroughly grounded philosophically and emotionally. He credits his uncles and the Elders with enabling him to have a part in the positive band developments. Next week: the Ashnola Pow Wow.
The post John Terbasket Learned From Elders appeared first on Living Significantly.
Source:: Living Significantly