By Art Martens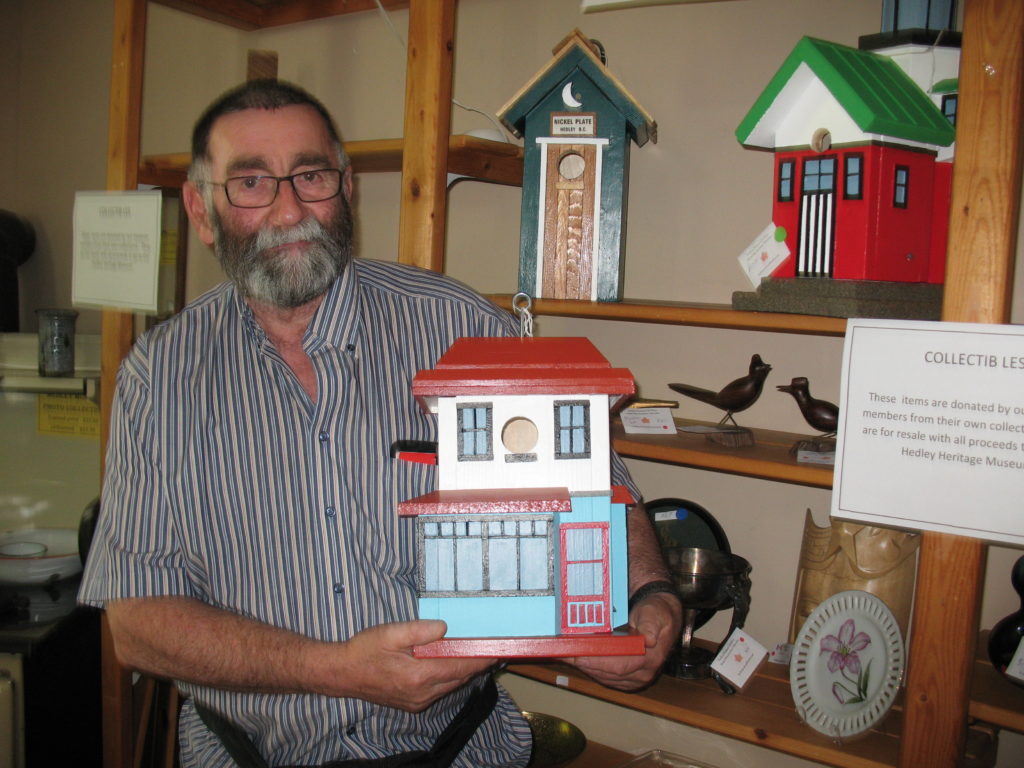 Until last week I knew little about Ken Knutson except that he is a retired mail carrier and his colourful birdhouses sell almost as quickly as gourmet hot dogs at a country fair. His mild, steady temperament seemed to suggest little need for change or excitement. I assumed this might have been the pace at which he had lived his entire life. My recent conversation with Ken helped me understand that assumptions are often a path to inaccurate conclusions.
I suppose Ken's life might have followed a fairly uneventful trajectory if he had not read The Other Side Of The Mountain, biography of Jill Kinmont. She was an exceptionally gifted skier, preparing for the 1956 Olympics. "When her neck was broken, her life changed, but she didn't let this defeat her. She said if you believe, you can do almost anything. I had failed grades 1 and 2 due to an undiagnosed learning disability. The book broadened my understanding of what was possible for me."
Thinking this ex-Postie lived within the confines of a fairly constricted comfort zone, my perception of him was profoundly challenged when he said, "I've run in 18 marathons, several in major U.S. cities. Often I trained on a mile long hill, running it up to 5 times."
I was further surprised when he mentioned a fascination with airplanes. "I've always been interested in airplanes. I learned to fly and bought a 1946 two seater Ercoup, a very safe plane. The plexiglass canopy was made to slide down so I could fly it open. It was like a sports car."
Another adventure led to the purchase of a 1973 Volkswagen Westphalia. "I wanted to see Mt Rushmore, Custer's battlefield, and the Badlands of North Dakota. I'm interested in history you can touch."
His passion for history prompted a visit to the Vatican. "They have the most incredible art work in the world," he said. In Buckingham Palace he was astonished by the age of the structure and the ostentatious display of wealth. He has been in the homes of painters Pascal and Matisse, both in Paris. In the Louvre he viewed the Mona Lisa.
Now in retirement, Ken's zest for adventure continues unabated. "I still plan to go to the Mesa Verde in Colorado. I very much want to see the ancient cliff dwellings there," he said. "I would also like to retrace the wagon trail from St. Louis, Missouri to Portland, Oregon. In places, the ruts are still visible." Another interest may be beyond his reach. "I always wanted to cycle across Canada, but I don't know if my body would take it now. I still dream of doing it."
Ken's wandering to places that intrigue him almost came to an abrupt end in August, 2017. He experienced a momentous life shift. "I had been feeling slow for about a week," he recalled. "Walking to the Cenotaph ceremony that day, I huffed and puffed and my arm didn't feel right. That night my arm felt numb and I got a ride to the Princeton Hospital. The doctor told me I should have come yesterday. They stabilized me and sent me to Kelowna. There they put in a stint. They don't put you under for that."
Looking back at the heart attack, he said "It was my Coke addiction that did me in. I've switched my diet. I eat more protein and vegetables, fewer processed foods and carbohydrates." He conceded there are frustrations. "I love Dad's oatmeal chocolate chip cookies. Now I only eat them occasionally."
His recovery program requires physical activity. I've seen him repeatedly walk up Hospital Hill in Hedley, up to 7 ascents. It's a test of stamina and will. "Initially I could walk only 10 minutes. Now I can walk one and a half hours easily. I've been surprised at the body's capacity to recover."
He is probably best known locally for his birdhouses. "The one depicting an outhouse is most popular. Everyone has been in an outhouse somewhere. Sometimes the birdhouses are a mission." Last week he completed his 900th birdhouse. "I didn't have children," he said. "They are my legacy." An assortment of configurations are available at the Hedley Museum.
Now 67, Ken can look back at the years of his life with justifiable pride. A learning disability, 2 failed grades, and a heart attack haven't deterred him. He has always found new adventures on the other side of the mountain.
The post Ken Knutson, A Surprising Life appeared first on Living Significantly.
Source:: Living Significantly