By Art Martens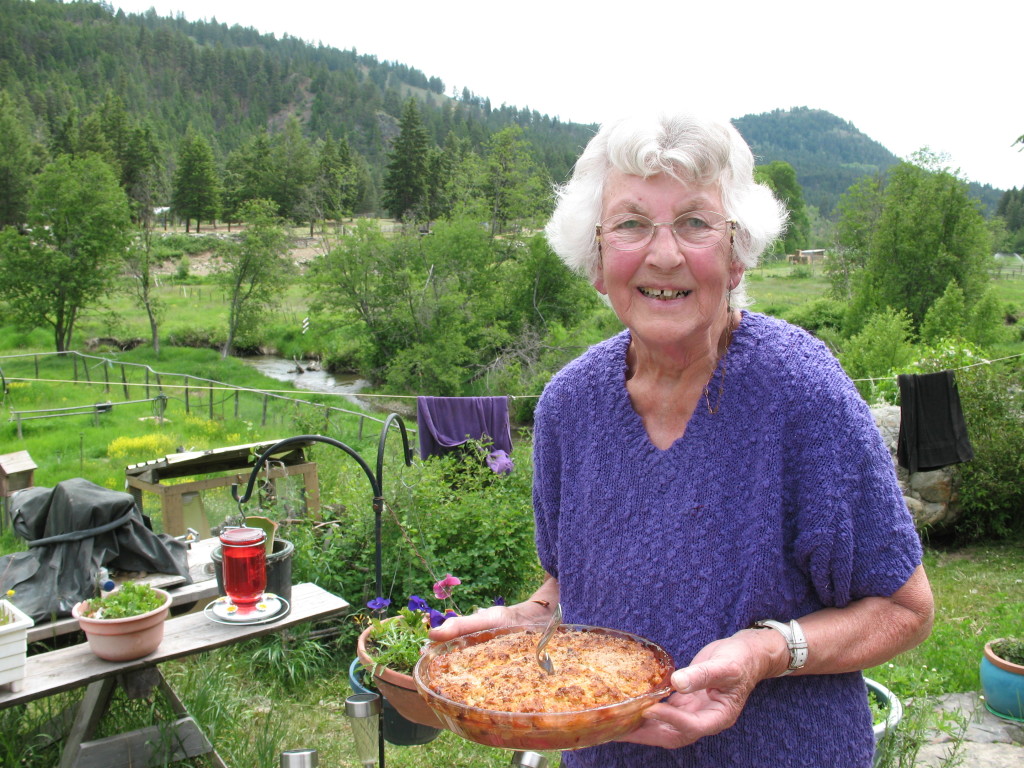 Sitting at a small table on Laila Bird's deck, Linda and I enjoyed her delicious coffee and the panoramic view of the valley. We had come to engage in a conversation about her life, but at the outset she attempted to dissuade us. "I don't know why you want to write about me," she said. "I'm really not interesting." She then produced the names and phone numbers of 3 acquaintances who she assured us "are really interesting."
I conjured up what I hoped was an engaging smile and asked, "where were you born, Laila?" Evidently convinced we really did want to know about her life, she said, "I was born on a duck farm in England. My maiden name was Laila McKenzie-Muncaster. We had nannies and housekeepers and mother drove a large American car." Those words launched her into an intriguing, and sometimes amusing account spanning 80 years. Her story was somewhat akin to entering a maze consisting of numerous side paths, some of which she followed and then inexplicably abandoned. We would come to understand that she's a lady of great resolve who has learned to embrace life, even in the midst of challenging circumstances.
Her father, an engineer, had a reputation for being knowledgeable about birds. This produced an early memory that is still fixed prominently in her mind. "One day Lady South Hampton asked him to come and advise her concerning her peacocks," she said. "He took me along and I expected her to be dressed elegantly, like a woman of nobility. I was astonished when she came out of her home wearing torn baggy pants and a sweater held closed by a safety pin."
Born in 1936 Leila has childhood memories of WW II. "My parents were requisitioned to civilian jobs the government deemed important," she said. "A machine gun was stationed at the bottom of our garden. The war ruined us."
As a young woman she got a job in the PR department of the Dutch Embassy and escorted journalists to Holland. Shortly after though, she became annoyed at Britain's involvement in the 1956 Suez Crisis. "We had just recently dealt with the hardships of war," she said. "I moved to Canada."
After several other jobs, she began selling Persian and Oriental rugs for "a man who was very, very lazy. He was an alcoholic and depended on me to take care of the business. He had started it as an auction but I suggested he open a store, so he did. It was a big success."
In her group of friends was a young man who became keenly interested in her. "He was always around," she said. "When I left for work in the morning, he was there. When I got home, he was waiting for me." They got married and started a pig farm in South Langley. "Twenty sows and two boars. We also had goats," she said. "While I was milking them one day I went into labour. I finished milking, strained the milk and then went into the hospital."
She recalls the pigs with great fondness. "They had the cutest little babies. Pigs are much like dogs in intelligence and if they're trained right, they will obey like dogs. They played with soccer balls and toys. They ate a well rounded diet, but not cucumbers."
A major crisis entered her life when her husband left the family and went to Central America. Responsible for 4 children, Laila needed to be strong. "I had young twins," she said. "I'd strap one in front, one on my back and go out to move bales of hay and alfalfa."
Then her life was unexpectedly interrupted by a serious automobile accident that crushed her pelvis. "My heart stopped in the ambulance on the way to the hospital. They got it started, but the doctors told me I'd never walk again. I had 4 children and I disagreed. One day I told a nurse I wanted to use the bathroom. She gave me a walker. Three hours later I got there." She persevered and today walks with no discernible limp.
Three years ago Laila received treatment for cancer. As president of the Hospital Auxiliary, she can't take time to feel sorry for herself. "No one wants the job," she said, "I have to carry on." On the drive home Linda said, "she hasn't lived an ordinary life."
The post Laila Bird, No Ordinary Life appeared first on Living Significantly.
Source:: Living Significantly