By Art Martens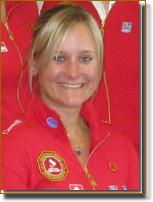 In a 2 hour telephone conversation from her home in Florida last week, paralympic gold medalist Lauren Barwick told me about her devastating accident and how it changed her life. Born in Langley, BC, she loved horses and riding. When a 100 pound bale of hay fell on her and broke her back, she lost all strength and feeling in her legs from her hips down. That day she also lost her dream of being a movies stunt rider.
"After 2 months in the G.F. Strong Rehab Centre," she said, "I returned to my home, thinking everything I had wanted to do was now impossible. Mom urged me to get on a horse, but I told her I wanted nothing to do with that."
Only 22 when the accident happened in 2000, she drifted into a state of deep discouragement and depression. A former coach visited, and against vigorous protests, put her on a horse. He talked about preparing for the 2004 Athens Paralympics.
"I had been doing a lot of reflecting," she said. "I knew I had 3 options. I could be miserable and make people around me miserable. I could end my life. Or, I could move on. I stopped asking 'why me?' Instead I now asked, 'Why would I not be able to win a gold medal?'"
She had trained briefly at the renowned Parelli ranch prior to the accident, but had not completely bought into their philosophy. Now she negotiated with them and returned to the ranch.
Having no lower back muscles and no feeling in her legs, she embarked on a vigorous, disciplined program to strengthen her upper body. Regular visits to the gym included throwing a medicine ball and a lot of time on pulling machines. Outside she did sprints, and also longer distances, in her wheel chair. She grew stronger and now does 10 kilometres a day 2 to 3 times per week. She found mentors and read inspirational books. "I needed to become strong mentally, emotionally and physically," she said.
The Parelli teaching was well suited to her physical circumstances. Pat Parelli emphasizes partnership without domination and willingness without intimidation. "Don't kick the horse to start, don't pull the reins to stop," is basic to his teaching. Lauren's philosophy reflects this understanding. There was evident joy in her voice when she said, "my horses catch me. I don't catch them. I don't force them to do what I want them to do. A horse can be an incredible partner."
For Lauren the relationship with a horse is important, even precious. "I treat a horse the way I like to be treated. I want to be my horse's first choice. I have to earn that by showing respect. It's the same with humans." She still stays up late to watch videos about horses. "Studying horsemanship has taught me about myself, morals, the way I live."
This understanding helps her focus on the good in her life. She is grateful, especially to the Parellis. While under their sponsorship they paid her competition fees and provided accommodation and food. "The Parelli's enabled me to obtain an incredible education." She also appreciates the assistance of Canada's "Own the Podium" program and Equine Canada.
Lauren's capacity to focus on her vision, her discipline and courage in the face of seemingly insurmountable obstacles, have earned her a place on the international equestrian stage. She has participated in some 50 international events, including 4 world games and the Beijing Paralympics, where she won silver and gold. She is also a much in demand public speaker, providing inspirational talks based on her life. Currently she is training for the Rio 2016 Paralympics.
A 4-star instructor in the Parelli Natural Horsemanship program, she operates her own farm and training centre at Reddick, Florida. She rides 2 to 5 horses a day, usually 6 days a week. Without use of her legs, this is tiring. For 2 to 9 hours a day she teaches horsemanship and conducts clinics and work shops. Her program, Bridging the Gap, attracts clients from diverse places like Germany, Norway, New Zealand, England and the U.S.
Lauren Barwick acknowledges that "since the day when that 100 pound bale broke my back, it hasn't been easy." Her parting words to me were, "We need to be open minded. That enables us to see the ideas and opportunities that may help us."
The post Lauren Barwick, Inspirational Equestrian appeared first on Living Significantly.
Source:: Living Significantly