By Art Martens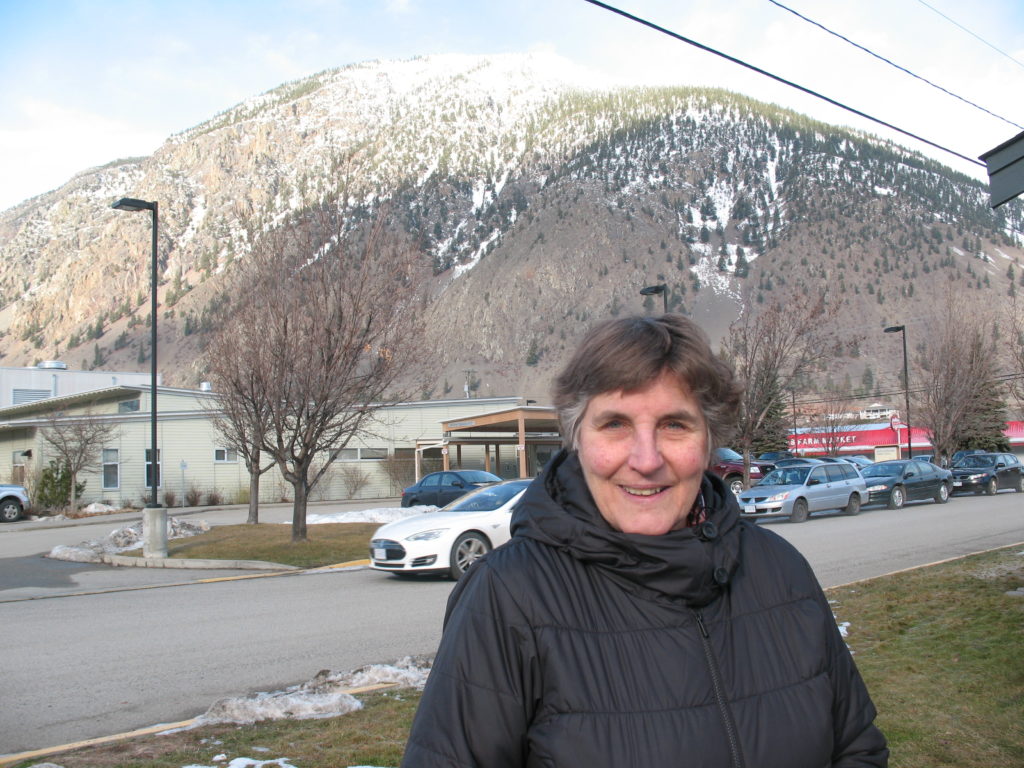 When Lee McFadyen arrived in Canada from Australia in 1967 at age 25, she planned to stay only 2 years. "I wanted to see the country, particularly the Canadian Rockies," she said. "I had a nursing degree and it was my intention to return to Melbourne and work there. Everything changed when I turned in to a farm in Cawston and asked for a drink of water. The owner of the farm was Mr. McFadyen."
Lee had been made aware at an early age that water is important for much more than drinking. "The only time my Dad ever swatted my back side," she recalled with evident amusement, " was when I threw out half a glass of water. He told me I should have poured it into the bucket we used to water the garden. We were in the midst of a serious drought."
She had grown up on the family farm in Australia. "We didn't have television or electricity. My early years instilled in me a deep respect for land and water and all nature. The aboriginal people taught us to look after the land. That became embedded in me."
Upon arriving in Toronto she initially worked in a hospital. "I didn't live comfortably in the city," she said. "I didn't like the smells and the noise." Requesting the glass of water led to marriage with Bob and a lifetime of organic farming and advocating for the Similkameen environment.
At that time their farm consisted of 250 acres. "I loved the sounds of birds, lightning and thunder, the river rising, a snake slithering in the grass."
Reading Sir Albert Howard's An Agricultural Testament provided the sound understanding she would need to become a force in organic farming. Sir Albert was one of the key founders of organic agriculture. Rachel Carson's Silent Spring significantly impacted her work in protecting the environment. The Rodale Institute also played a role in her education.
"My father understood the need to protect the land. He didn't use chemical fertilizers. At the end of his life he told me he had only one serious regret. He had agreed to let the government use a portion of his land for experimentation. They sprayed DDT on it. Years later this still saddened him."
Lee's environmental advocacy began some 40 years ago. She was asked by pioneer rancher, Mrs. C.C. McCurdy, for help in responding to the proposal to construct a Keremeos sewage treatment plant. "We weren't opposed to the plant, but the location was a serious issue for us. It required a lot of research. Fortunately I had learned to do research as a nurse. We didn't get everything we wanted, but in time we did get a better location and a plant more suited to future needs."
Her understanding was enlarged when she began noticing there were fewer birds. "It became clear to me that without cleaner agriculture, we can't have a cleaner environment. Everything we touch comes from the land. Land is life giving. "
There wasn't much information available concerning organic growing so she developed a course and taught it at the Keremeos and Penticton campuses of Okanagan college. She also developed a course that is now used by Canadian Organic Growers.
For some time Lee and others have been pressing hard for policies and practices to save our water shed. "Everyone can do something," she said. "We should all be very aware of the amount of water we use. Also, don't litter. Plastics are especially destructive. Bits of plastic migrate through the soil and end up in the watertable. The way we dispose of medications and cosmetics is also a problem for water."
Lee practises what she teaches. "I've never owned a clothes dryer," she said. "They use too much energy. Also, clothes last longer when they're dried on a line." She is concerned about the excessive amount of packaging, especially plastics. "When I come home with a new product, I sometimes write to the manufacturer about the excess. Letters have more power than emails. They take up space."
Consumerism troubles her. "Advertising programs children to want things. Consumerism causes enormous damage to the planet."
Lee still grows and markets basil and parsley, and seems surprisingly content. "I enjoy my grandchildren, the cycle of the seasons, seeing 5 nuthatches at my birdfeeder. I'm happy when a sick friend gets better." It started with a glass of water.
The post Lee McFadyen, Environmental and Organic Advocate appeared first on Living Significantly.
Source:: Living Significantly