By Art Martens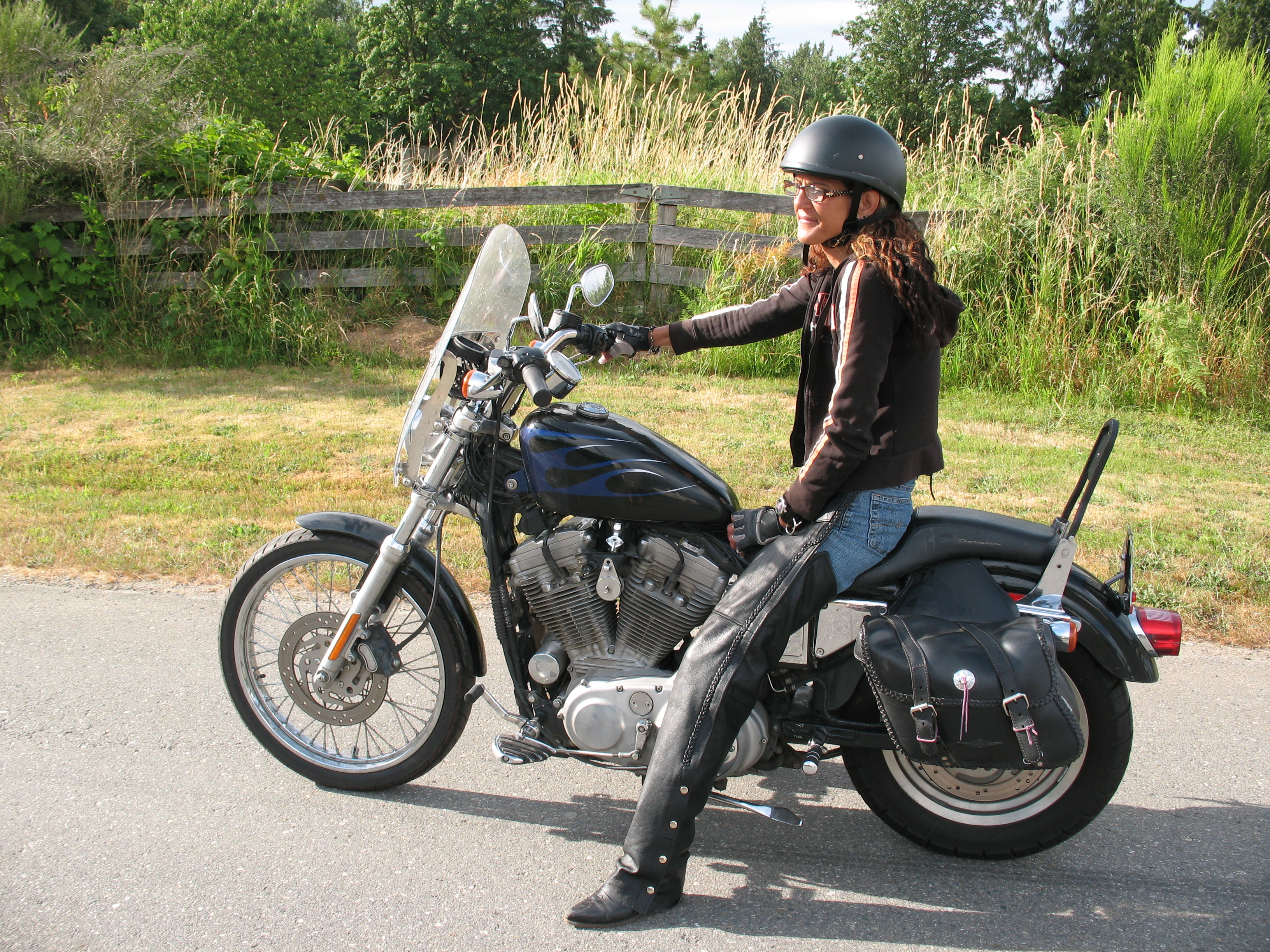 When Andrea Dan pulled into the gathering of cousins in Kelowna, the low growl of her Harley attracted my attention. I knew of her but we had never talked. Her chaotic lifestyle had permitted only limited contact with family. The motorcycle and her demeanor suggested an independent spirit.
The occasion was an annual event hosted by my Aunt Nettie, her effort to keep the family together. I don't recall Andrea ever attending previously. During a brief conversation, she agreed to meet with Linda and me in Abbotsford a few days hence.
Andrea was the offspring of a man of French descent and an indigenous woman. She was placed in foster care at 6 months. In her fourth year, Social Services placed her and 2 sisters temporarily with my Uncle Peter and Aunt Nettie, who already had 4 sons and a daughter. Ten days later at the court hearing, the mother didn't show up. The girls were left with my uncle and aunt, who attended a Mennonite church and practised a simple, conservative lifestyle.
"I was a rebel from an early age," Andrea admitted. "I didn't like the family rules and I refused to obey them. There were turbulent scenes."
Although she brought almost continuous havoc into the home, she came to think of her foster parents as mom and dad. "It got really out of hand when I stole Mom's engagement ring. She was deeply hurt and told me I'd have to live elsewhere until I was ready to respect the home."
For 3 years she lived with foster parents in 100 Mile House, then returned home, pregnant and in need of support. "Mom and Dad loved me and helped me through that time," she said. "I wasn't ready to settle down though. I was still a rebel. I still wanted freedom from rules."
"There were 5 marriages. I walked away from the first 3. My third husband tried to kill me in an automobile accident. I spent months in a trauma unit. Mom and Dad urged me to come home. They nursed me back to health. They saved my life."
Although she returned to her chaotic lifestyle after each disaster, she stayed in touch with the family.
"My fourth husband walked out on me. That was painful. The fifth marriage lasted 15 years, but only because I was too scared to leave. My husband was completely controlling. He told me when I could work and when I couldn't. It was always a huge fight when I wanted to visit family. I wasn't allowed to go out. I had no friends. Drugs and alcohol became my escape." Her desperate desire for freedom had brought her almost complete bondage.
She didn't want to be a mother. Even so, she had 3 children. "My sister Jean was more of a mother to them those years," she said.
Andrea's expression became serious. "Dad was my hero. When he became ill I managed to get away to see him in the hospital at the very end. He was already unresponsive, but when I greeted him he opened his eyes and recognized me. He gave me a big smile. The next day he died." She could not quite control the tears.
Eight years ago Andrea bought the Harley and rode across Canada with her husband. On the bike she felt free. A few months ago she found the courage to leave the controlling husband. "I waited for good weather. When it came, I jumped on the bike and rode from Vanderhoof to my sister Jean's home at the Coast."
Now liberated to ride as she chooses, she told us "I prefer to ride alone, and very fast. Other bikes don't pass me."
Reflecting on her life Andrea said, "I made bad choices. I don't blame anyone. Now my strength comes from my family. They kept me alive. They prayed for me and helped me see there was hope. Mom became my best friend when I had my third child. My sisters are very important too. I love my children and grandchildren. Since leaving my marriage, the drugs and alcohol have dropped away. When people ask who I am, I tell them I'm a Mennonite Metis."
Before mounting the Harley to leave she said, "I'm not bitter. My choices brought the trouble. Now I just want to live a good life." The Harley growled and she was gone, free at last.
The post Mennonite Metis On A Harley appeared first on Living Significantly.
Source:: Living Significantly