By Art Martens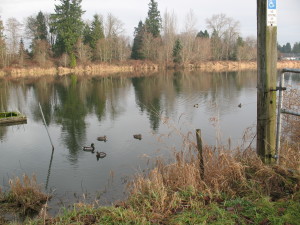 Early on Christmas morning, while many people were still sleeping off the effects of partaking too lavishly of wine and turkey, Linda and I walked through the Brydon Park wetlands. We hoped it might be a more effective strategy for coping with last nights' feast and preparing for another one in the afternoon. In Langley, the park is near the home of our daughter and her family where we stayed a few days.
Heavy rain at times causes flooding and makes the path impassable, except possibly with a canoe. This morning it was muddy in places but with watchful stepping, we were able to keep our feet reasonably dry.
A light mist shrouded the wetlands and the adjacent lagoon. At least
a dozen ducks were waiting for some thoughtful soul to throw them tidbits of food. It was a magical moment in a mystical scene and we were alone in this wonderland. The aura fostered thoughts of a pre-historic setting where humans rarely ventured and the environment existed untarnished.
I said to Linda, "I should have brought the camera."
"Should we go back and get it?" she asked, also enchanted by the pristine beauty surrounding us.
Fetching the camera and returning to the lagoon entailed at least a 2 kilometer walk. In the meantime the mist might lift and the sense of mystery would evaporate with it. We did make the trek through the muddy wetlands to the house though, and returned with the camera.
My concern had been justified. The mist had indeed lifted and the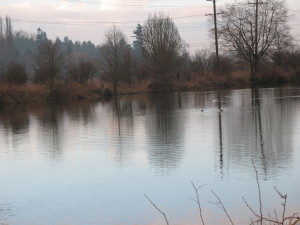 aura of mystery dispelled. For me it was a reminder of Napoleon Hill's statement that "success comes when preparation and opportunity meet." The scene had changed The sense of magic was gone. Even so, we did get some shots that please us.
The Brydon Park wetlands and the lagoon are a gem near the heart of Langley. Next time we venture to the coast, we hope to be given another opportunity to capture the sense of mystery when the mist again casts a shroud over the lagoon and the wetlands. It's worth waiting for.
The post Mist and Mystique at Brydon Park appeared first on Living Significantly.
Source:: Living Significantly