By Art Martens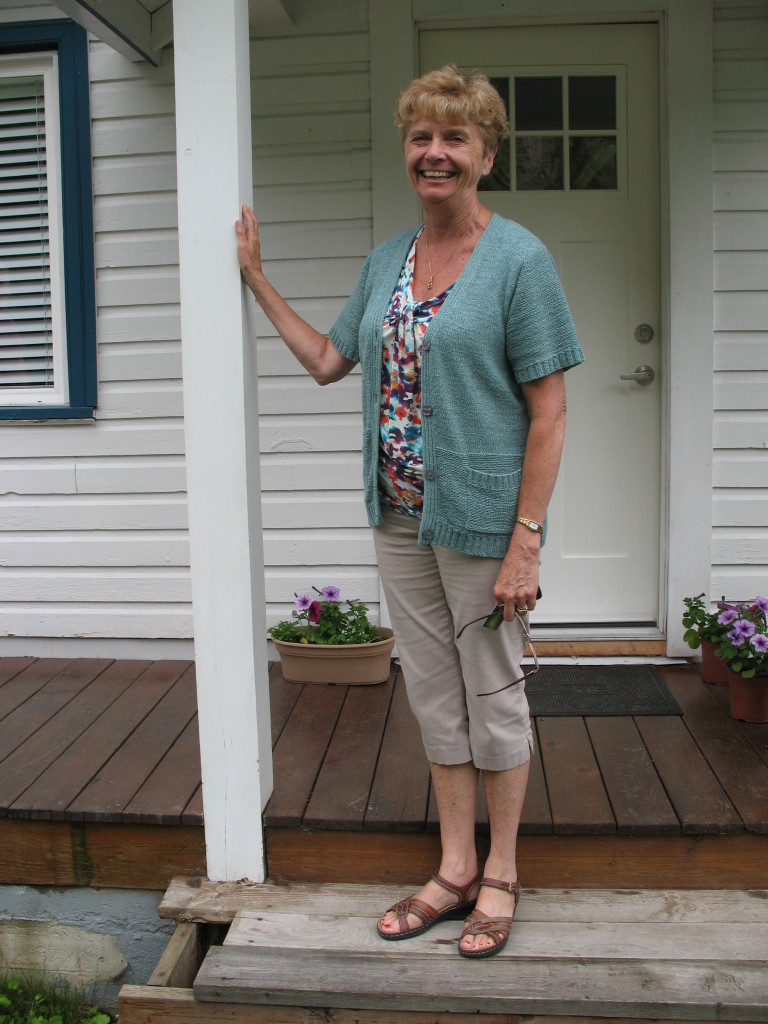 My purpose in meeting with MLA Linda Larson was to get a glimpse of who she is off the "political stage." Having a slice of my wife's home made brown bread with cheese, she appeared relaxed as she spoke about her early years and present political life.
"In my childhood, mom struggled to put food on the table," she said. "She baked bread. We had butter every 2 to 3 months. Other kids at school wore store bought clothes. My mom made mine." She now values this experience, believing it gives her greater understanding in her role as Parliamentary Secretary for Accessibility. "You have to have struggled to understand people who are struggling."
Linda met her husband when he came into the store in Powell River where she was a sales clerk. After marriage in 1970 they lived in several locations, then moved to Oliver in 1989. Commenting on their daughters, Marnie, Lynnet and Donna. she said, "In their teens, the girls were a handful," she recalled with just the trace of a smile. "Sometimes I didn't think I would live. But they're all doing well. They've given me four grandchildren."
For 6 years she was a stay at home mom and her husband, a Mountie, initially earned only $350 per month. Finances were tight. Their first home was a mobile, bought for $7000. Her grandfather gave them $1000 to make this possible. In spite of present success, Linda has not forgotten what it's like to raise a family on a meagre income.
She became an Airline Attendant with Pacific Airlines, working out of Vancouver. She also managed a large territory for Avon. "For nearly 6 months my husband was very ill. It was important for me to have an income."
In time she and her husband acquired a small business, Eastside Grocery, in Oliver. "It was long hours, seven days a week." When she became aware of unsettling decisions and practices at City Hall, she decided to let her name stand for Council in 1996. Before the election she was persuaded to run instead for the position of Mayor. "I didn't have a clue about being mayor," she admits, smiling. "I was totally amazed when I was elected." Now she enjoys the memory of "the fabulous people I met. I got to attend 100 year birthday celebrations." Another smile. Her 9 years in the Mayor's chair evidently convinced a lot of people she would represent them well in the provincial legislature.
She values the various earlier roles because they gave her experience with people. Looking back reflectively, she paused, then said, "everything I did prepared me for what I'm doing now."
In the realm of politics, she is pleased with the number of women her party has attracted. "We've made huge strides in that. I'd like to see us find more effective ways of also encouraging young people to participate in politics."
When I asked what is satisfying, she replied, "I enjoy meeting with small groups, like the coffee time at the Hedley Seniors' Centre this morning." She had arrived there at 7 a.m.
The annual prayer breakfast is also a positive for her and she appreciates the encouraging notes that follow. "Meeting people is one of the nicest things I do." The small wins that help individuals and communities provide a sense of accomplishment. The installation of a sidewalk in Kaleden is an example.
Experience has convinced Linda most people are positive and constructive. However, a note of regret crept into her voice. "Unfortunately, the negative ones are noisy. Some attack me personally. It's harder to stay on track then. I don't respond to them. It only perpetuates their destructiveness."
Linda spends about 6 months in Victoria, coming home Thursday evening and returning Sunday night. She says her husband makes her schedule possible. "My mom has lived with us 12 years. She is 94 and is falling more," she said. "When I'm away he takes her to appointments and prepares her evening meal. Tonight I'll take her out for dinner. I couldn't do what I'm doing without my husband's help."
In this "off stage" conversation, I found Linda Larson to be surprisingly candid and compassionate. I hope the often harsh world of politics will permit her to speak and vote according to the sound values I believe she exemplifies.
The post MLA Linda Larson "Off Stage" appeared first on Living Significantly.
Source:: Living Significantly