By Art Martens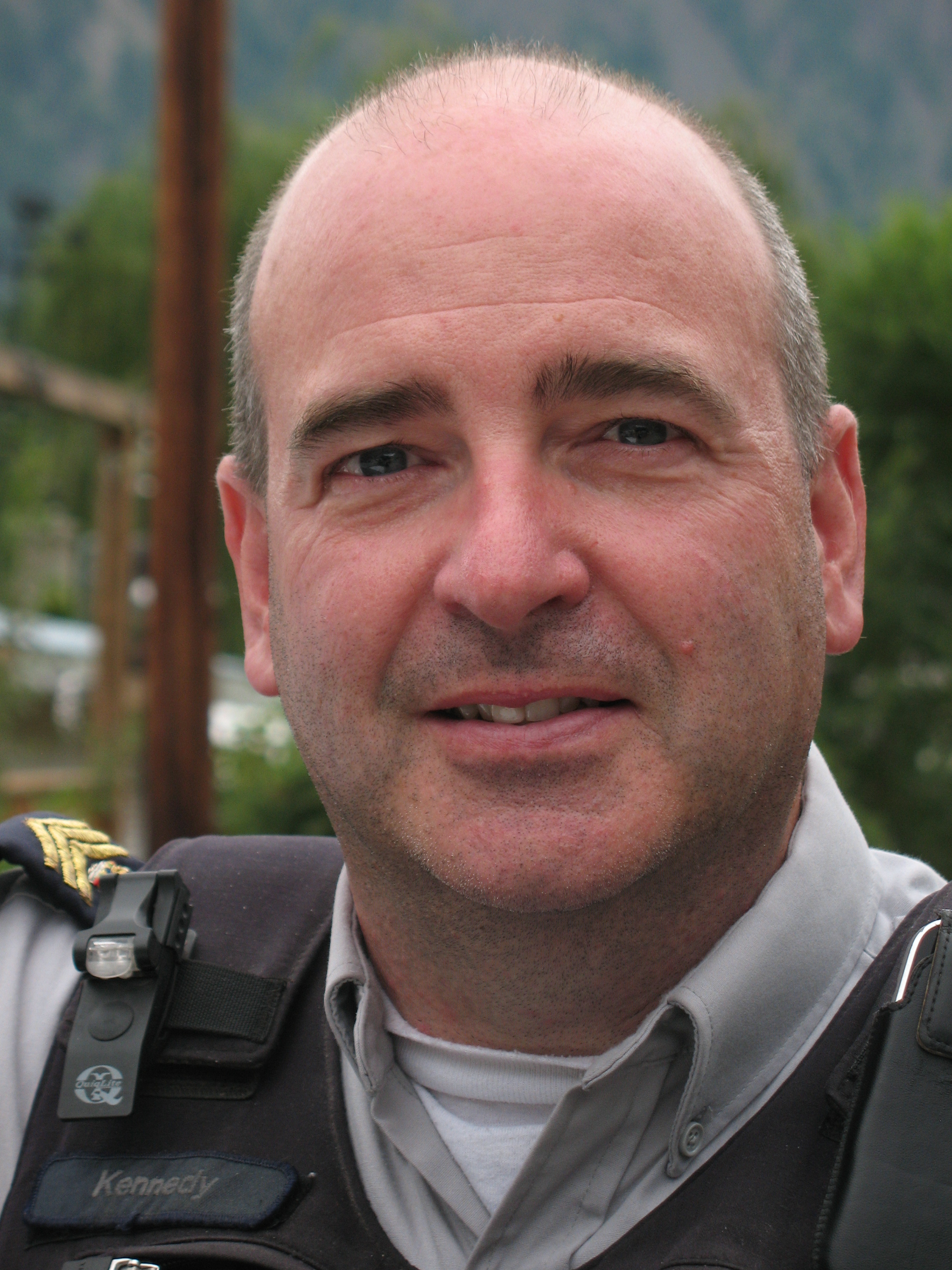 Sitting at our kitchen table last week, I asked Sergeant Barry Kennedy if he has ever needed to draw his gun in a dangerous situation. "Yes," he said, "I had been a Mountie only 6 months the first time. I was trying to handcuff a guy. He pulled a knife and slashed at me. Fortunately the knife caught only my clothes. He settled down when I pulled the gun."
He already wanted to be a police officer at age 10. Unlike most of us, he never let go of his boyhood dream. "My parents were very clear about right and wrong," he said. "That influenced me."
"I was only 140 pounds when I entered the RCMP training depot in Regina," he remembers. "Most recruits come out lighter than when they went in. I weighed 160." He now sports the sturdy frame of a stevedore at the Vancouver docks and seems at ease in his role of Detachment Commander in Princeton.
He welcomes change and has enjoyed a varied career in policing. In North Vancouver he was police liaison officer for 8 schools. "At first the students didn't want to talk to me," he said smiling. "By the end of the year they were saving a seat for me in the cafeteria at lunch time. In the malls they'd come up to me to chat."
Sergeant Kennedy enjoys horses and for 8 successive years he applied for a position in the RCMP Musical Ride. Only 12 officers are chosen each year and there are usually about 400 applications. Finally he was selected and he loved it.
"We were away a lot from May to November. I participated in events in Switzerland, England, the U.S. and Canada. It was an opportunity to meet people from a variety of cultures and ethnic backgrounds. We found a common ground with them."
I asked what role cannabis and other drugs play in policing. "A lot of crime is associated with marijuana," he replied. "Bullying and theft are a couple of examples. People not involved don't face the same issues." In regard to the drug house in Hedley which people are unhappy about he said, "to get a search warrant, we need to show the court there is repeated use of a drug. High traffic flow would be of interest to us." He welcomes information supplied by the community. The Mounties have a Regional Unit that comes out on request, when it has time, to assist with difficult situations.
Although he says, "I've always wanted to get the bad guys," there is a decided community emphasis in his thinking and actions. He has a longstanding interest in hockey and has played goalie at the major junior level. He refs Princeton Posse games and instructs in the rules.
"I encourage officers to participate in the life of local communities," he said. He cited the example of Corporal Chad Parsons being in the colour guard at a 100 year anniversary event in Hedley recently. "Community involvement and service is the legacy I want us to leave," he said.

When I asked what has surprised him in policing, he answered, "I'm surprised at the way the media blame the RCMP for everything." On a more positive note he said, "there is a lot of good that happens. Not everyone agrees with everything we do, but I get meaning from doing what is right for most people."
The message he likes to give is "this is your community. It will become whatever you allow. Parties on your street every night, fights, drugs, etc. If you see something that seems suspicious or wrong, call us."
The Princeton Detachment has only 7 officers to police an enormous geographic area that ranges from Nickel Plate Rd. east of Hedley to Manning Park. For a Mountie on patrol in an isolated area it can be especially dangerous. On one such occasion in 2013, Sergeant Kennedy pulled over a vehicle and the driver exited brandishing a rifle. "If he had pointed it at me, I'd have had to shoot," he said. For his wife and 4 children such incidents must be unnerving.
The next time we are annoyed at seeing those flashing lights appear unexpectedly behind us, we could remind ourselves that the Mountie in that cruiser has probably faced life threatening situations while protecting us.
The post Mountie Barry Kennedy on Policing and Life appeared first on Living Significantly.
Source:: Living Significantly