By Art Martens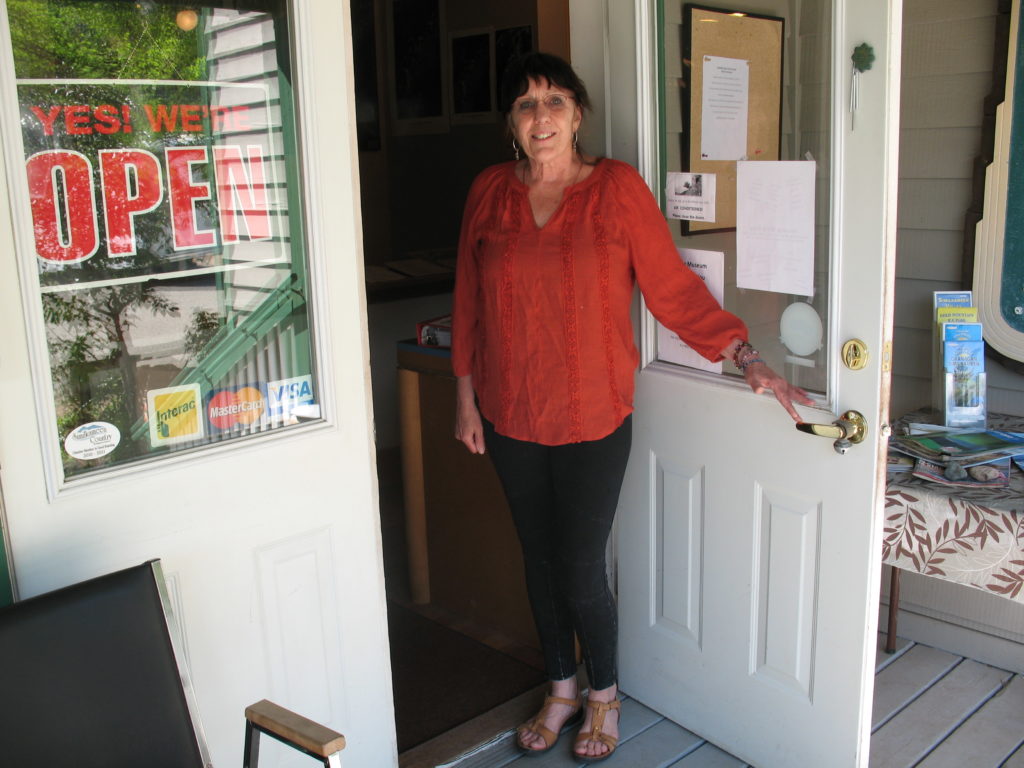 Community organizations must at times contend with sticky circumstances that may cause them to wobble. Since last September, I've had the equivalent of a front row seat as the Hedley Historical Museum grappled with the unanticipated resignation of its president. Having long been keenly interested in the dynamics of community organizations, I've given rapt attention to this situation. Also, with Linda intimately involved at the Museum, she at times has wanted my feedback on her thoughts.
Understandably, all members of the executive board were deeply reluctant to step into Jean Robinson's shoes. She had guided the Museum with a zeal everyone knew would be difficult to match. One of her strengths lay in organizing public functions, such as the Stamp Mill Day celebration.
I recalled that at two successive AGM's Linda was nominated for the position of vice president. Each time she said, "I'm willing to be vice president, but I'll never be president." She didn't have a vision of herself as a leader and her tone made it clear this was an unalterable decision. With no one willing to lead, it was suggested the Museum take a Sabbatical of six months to a year, then regroup.
It was a dilemma other community organizations have experienced, probably often because people feel inadequate. They fear failure and embarrassment. A reticence to commit time and energy may also be a factor.
In discussions in the privacy of our home, Linda expressed dismay at the Sabbatical suggestion. "If we do that," she mused, "it could be almost impossible to start up again. It would be harder than maintaining it now. We just can't close the doors for a time and hope eventually someone will be willing to lead."
I suppose her sense of civic duty was beginning to nudge her. Over breakfast one morning she quietly said, "I can't let the organization sink. Maybe I'll have to do it for one year." And so, though feeling totally unprepared, she made her decision known. I could almost hear the collective sigh of relief from the Board.
I began seeing positive change and growth in Linda. Necessity prompted her to step well outside her usual realm of comfort. She had already developed a friendship with Debra Pearson, new to the community and the museum. Sensing her interest, Linda said, "I think you'd make a very good vice president." Debra responded with enthusiasm and a smile.
The Museum also needed to replace long serving secretary, Jennifer Douglass. Well known for her research, writing and archival endeavours, Jennifer wanted to focus more on these interests.
Ruth Woodin, recently retired as Hedley postmaster, accepted this responsibility. Former bank manager Margaret Skaar readily agreed to continue looking after organization finances, including preparation of the income tax returns.
The Hedley Museum is a pretty typical example of the functions and people required to ensure an organization survives and flourishes. Among those who give time and energy at the Museum is Terry Sawiuk, a skilled carpenter active in maintaining the Museum structure. Bill Rube and Diane Poitras recently repaired the aging telephone booth, replenished visitor centre brochures, plus much more. Artist Karen Cummings set up a new website with links to Facebook and Instagram. She also worked with Vernona Slater and Margaret Skaar to organize the tea room. Lynne McKay has devoted many hours to rehabilitating the grounds after winter ravages. Historical photos are meticulously gathered, scanned, touched up and digitized by computer whiz Gerry Wilkin. Jean Robinson continues to be an active, supportive member. Debra Pearson, Jodel Burk and Frank Schroeder are serving as hosts. A few diligent individuals clean and do whatever is required.
On Saturday, May 26, this small contingent of dedicated citizens will welcome the Similkameen community to celebrate Stamp Mill Day. The Seniors' Centre will serve its popular pancake breakfast. Lunch of beef on a bun, salads and 5 cent ice cream cones will be served at noon at the museum. Maureen (Graham) Dirksen will talk about her family's early presence in Hedley. Music will be provided by the crowd pleasing duo, George Huber and Colleen Cox.
Whether leading or following, community volunteers acquire new skills and interests, plus expanded confidence. They develop satisfying (sometimes romantic) relationships. Also, they experience deep fulfillment from working with others. Almost certainly in every local organization in Canada, there are opportunities to help build a robust, vibrant community. And to become a more satisfied, complete person.
The post Museum Resignation Causes Conundrum appeared first on Living Significantly.
Source:: Living Significantly