By Art Martens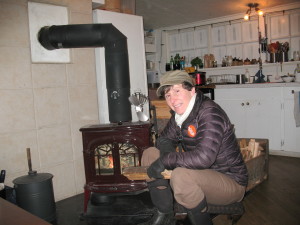 With a degree from the Emily Carr School of Fine Arts, how could
the outgoing Director of Area G possibly have had the understanding and practical experience to deal with the difficult issues confronting the RDOS? This is a question we might be tempted to ask about Angelique Wood.
Living on the same street, two doors from her home, I've had the opportunity to observe her at fairly close range. Professor Ashley Montague, formerly of Rutgers University, has said, "if you want to know what a person is going to do, don't ask them what they believe. Observe what they do." After being her neighbour several years, I've concluded that although the lady is certainly a visionary with ideas, she has a distinct pragmatic streak as well. She is quite capable of chopping her own wood, attending to plumbing problems, and building a work shop.
Over a cup of hot ginger tea at our kitchen table, I asked Angelique what had motivated her to get into politics, what had surprised her, what she had learned.
Prior to coming to Hedley she worked at the Museum of Anthropology at UBC, one of the biggest in Canada, largely devoted to aboriginal and ethnic art. She also sold aboriginal art for 7 years.
When she bought a small home in Hedley in 2005, it wasn't her intention at first to live here. However, she found Hedley increasingly alluring. After deciding to make this her home, she got involved with the museum. She painted the basement floor and installed glass shelves in the Tea Room. In 2007 she joined the Fire Department and got her air brake endorsement.
Turning to her time in the RDOS, she said, "I came to the role thinking that most politicians must be corrupted. I found though that I was working with 17 individuals who cared very much about their communities. Many were brilliant in their careers. They came with ideas to improve things. There was an atmosphere of respect."
Over time she came to the realization most people don't feel anyone is listening. To counter this, she and fellow Hedley resident Kim English created a forum. They invited speakers from other communities, politicians from the Similkameen Valley and interested citizens.
"We brought together a lot of grass roots leaders," she said. We wanted them to understand how to communicate with elected officials. We wanted to get people thinking, and talking to each other. We wanted them to be aware of what was happening in the rest of the universe."
She emphasized that "we need to nurture each other and make our organizations strong. People need to feel safe enough to express their views."
I have sometimes seen Angelique up very early in the morning, doing yard and garden work before attending to RDOS affairs. She feels a compulsion to get things done. It was a surprise to her that the wheels of government turn very slowly. "I learned that even working 40 to 70 hours per week, I could not speed up the functioning of government. Getting agreement of stakeholders takes time. It's important to stay focused on what you want to accomplish."
She reflected on this a moment and then added, " A lot of what you do as a politician is listen. Often when people have a problem, they are frustrated. Sometimes they begin with yelling. It takes patience to wait for them to calm down. Then we can begin working on their issue."
"Where did you make progress?" I asked.
"We signed a protocol agreement with 3 of the 4 Indian bands," she replied. "We wanted to open lines of communication between the bands and the RDOS. We came to understand we need to work together." She said the USIB is considering signing.
Angelique also cited development of a joint tourism strategy as an important step. This agreement includes both Area G Indian bands, Keremeos, Princeton and areas H,G and B.
What was gratifying? This question triggered an emotional moment and she picked up a kleenex. "The most gratifying thing about being an RDOS Director," she said, "is the many people who have said 'thank you. You did a good job'."
The post RDOS Director Says Goodbye appeared first on Living Significantly.
Source:: Living Significantly