By Art Martens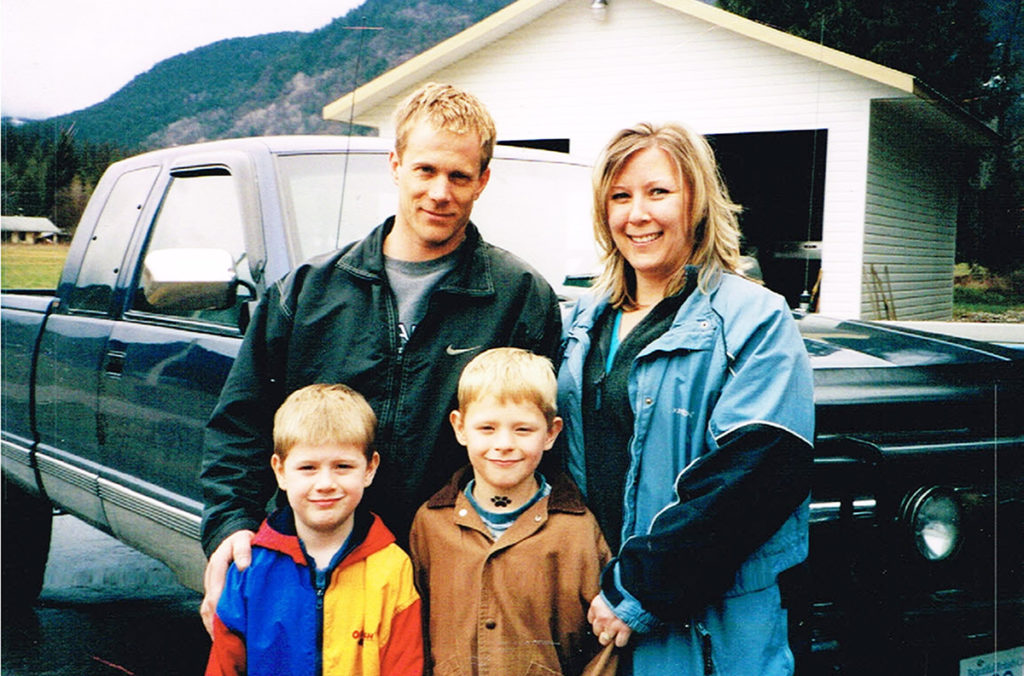 Having observed first hand the way abused children often turn out as adults, I've come to consider their redemption as virtually miraculous. This was certainly my conclusion after Jennifer told Linda and me the story of Dallas and Kurtis, the young sons of Shayne, her second husband. I feel her account might be of interest and benefit to others.
"Shayne was a trucker," she began. "He wasn't home enough to look after the boys and their 2 half- sisters, so they were living with their mother Cassia. There was a lot of alcohol in the home and Cassia's boyfriend was abusive to her."
Jennifer's face grew serious as she continued. "Cassia moved her family into a house with 16 people. Then she moved out on her own again, accompanied by the boyfriend. The boys' family life was chaotic and we suspected they were being abused. We thought the boyfriend might be a crack addict. I decided we couldn't just stand by and watch their lives being destroyed."
There was conviction in her voice and I sensed her keenly honed understanding of right and wrong. "We got permission to take the boys to our home for 3 weeks. This became a pattern for some time. Their bodies were usually bruised when they came. We always took them to be examined by a doctor when they arrived and before we returned them. The boys feared repercussions if they talked about their home life so they kept quiet about that."
During one visit, Shayne became troubled by something Cassia was planning for the boys. He threatened to not return them. A few days later, Cassia and a friend arrived from Prince George with a court order for their return. They waited down the street while the police went to enforce the order. The boys cried. Kurtis sat on the step and said, "I'm not going back!" "It was a terrible day for the boys and for us. We were powerless to prevent it."
When the boys were 5 and 6, Cassia agreed to let them live with Jennifer and Shayne for one year. Three weeks after arriving, they began to divulge the mental, emotional and physical abuse they had endured. "Things were bad with Dallas," Jennifer recalls, "he was diagnosed with FAS and ADHD. Being older, he had seen and experienced more."
Both boys were enrolled in counselling, with a good deal of play therapy. In their own way, each arrived at a unique understanding. One day the counsellor invited Jennifer into the play room and pointed to a play house. Opening the doors to the little house, she said, "Kurtis removed all the furniture and people. He even tore out the carpets." The counsellor explained that when he had completed gutting the house he shut the doors and said, "I'm moving out. I'm done." He was leaving his old life and memories behind.
About 7 months after the boys moved in with Jennifer and Shayne, Dallas asked them and also Jenae, Jennifer's daughter, to sit in the living room. Then he quite formally addressed them all. "Cassia isn't our Mom anymore," he pronounced. From now on we'll call her Cassia. Jennifer is our Mom."
After the agreed upon year, Cassia didn't show up in court to contest an application to give Shayne full custody and Jennifer guardianship over the boys. Since then Dallas has many times asked to see these papers, wanting assurance he and Kurtis would not be returned.
"Cassia has never even asked about them in our occasional telephone conversations," Jennifer said. "Recently she did request to speak with them. Dallas absolutely refused. Kurtis reluctantly agreed, but only by phone." As the day for Cassia's call approached, he wanted Jennifer to tell her he had changed his mind. Wanting him to grow strong, Jennifer told him, "I can't protect you anymore. You'll have to tell her yourself." Cassia didn't call.
Dallas is now 18 and has completed his first year in a construction electrical program. He is apprenticing with an electrical contractor. Kurtis is 17 and enrolled in an architectural drafting course.
Dallas summed up their experience recently. "If you hadn't rescued us, we'd have lived in foster homes and on the streets. I'd be in jail."
The redemption of Dallas and Kurtis came only with Jennifer and Shayne's love, patience, and unwavering commitment. It is indeed a miracle.
The post Redemption Of Two Abused Boys appeared first on Living Significantly.
Source:: Living Significantly