By Art Martens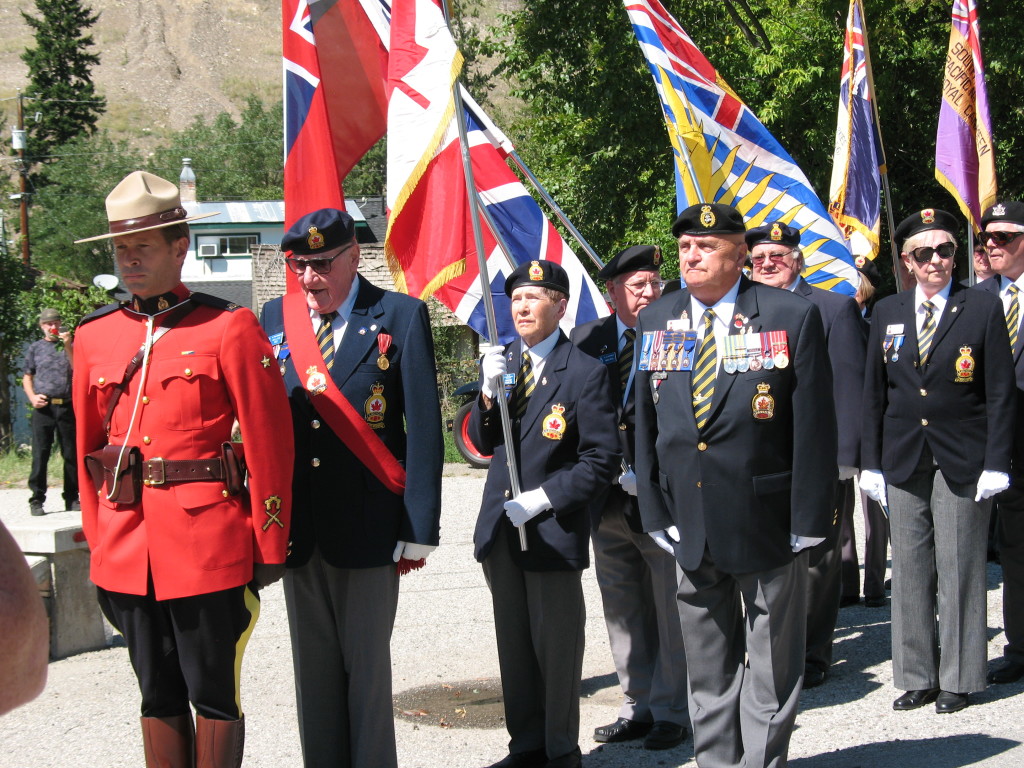 I have many times experienced a tingling of awe and reverence watching aging veterans solemnly marching in measured cadence to the Hedley cenotaph, a solitary piper playing martial music. Invariably, their visages are inscrutable, possibly remembering fallen comrades. On Remembrance Day we honour them, but unless we have hunkered down behind rocks in the mountains of Afghanistan under attack by the Taliban, or flown in bombing missions against ISIS, we cannot know the fear and danger many vets have endured.
I returned recently to the account of Louis Zamperini in the best selling book and movie, Unbroken. An Olympic runner, Louis' athletic career was interrupted by World War 11. The Green Hornet, in which he served as a bombardier, went down over the Pacific Ocean on May 27, 1943. He and 2 crew members inflated two rubber rafts and began floating toward Japanese held territory. Their only food was several thick Hershey chocolate bars designed to be unpalatably bitter A few half pint tins of water, a fishing line and hooks, a brass mirror and a patch kit were among their meagre supplies.
Near the equator, they endured heat during the day and cold at night. Sharks 6 to 12 feet long circled the rafts incessantly, rubbing against the undersides. Their clothes were growing looser.
Determined to survive, Louis and Phil, pilot of the Green Hornet, challenged each other and willed fear away. Mac, another crew member, became increasingly pessimistic and resigned. His body grew weaker, following his spirit. One night, immersed in depression, he ate the remaining chocolate.
Louis captured 2 albatrosses, which they ate. He and Phil devised an ingenious plan and killed 2 sharks. They ate the livers. Having no drinking water Louis, whose lifestyle had been thoroughly irreligious, prayed for rain. The next day there was a downpour.
One day 2 Japanese planes strafed them, damaging the rafts but not wounding the men. That night they fought off sharks while baling water and repairing the rafts. In the water, Louis thwarted a shark attack by punching it hard on the nose. He promised if God would save them, he'd serve Heaven forever.
On Day 47 , they landed on an atoll of the Marshall Islands. Mac had given up and died. Gaunt in their ragged clothes, Louis and Phil were taken prisoner by the Japanese. Their initial captors treated them well. When Louis was sent to "Execution Island" though, a new ordeal began. In a small cell he shared with rats, fleas and mosquitoes, he received 2 cups of water per day. Rice balls were thrown on the gravel floor. Guards beat and poked him with sticks.
"The guards tried to rob us of our dignity and self-worth," Louis wrote later. "I made a decision to not let them break me."
One guard, The Bird, singled out Louis for particularly harsh attention. He regularly clubbed him and punched him in the face. Sometimes he forced him to stand holding a long beam over his head. In the final weeks of the war, he told Louis to fill a barrel with water. "Tomorrow I'm going to drown you," The Bird told him. Only the end of the war prevented the prisoners from following through on a plot to kill this inhumane tormentor.
Free and back home, Louis could not escape the horrors he had endured. In flashbacks and nightmares, lice and fleas wriggled over his body. The Bird struck him with the heavy steel buckle on his belt. "I believed only The Bird could restore me, by suffering and dying in the grip of my hands." One night he woke up on his wife Cynthia, choking her. Alcohol was destroying their marriage.
Although he resisted strenuously, Cynthia persuaded him to a attend a rally of a young Billy Graham. Graham's words penetrated into the depth of his being and he was reminded of his promise on the raft. He responded to Graham's invitation to accept God's healing and never had another flashback.
In time he wanted to meet and forgive those who had tormented him. The Bird refused, but when Louis met many of the former tormentors in a Japanese prison, they warmly embraced him and his message.
For combatants, the inner battles don't always end when they are demobilized. As a nation we need to commit to their physical, mental and emotional healing.
The post Reverence And Awe For Veterans appeared first on Living Significantly.
Source:: Living Significantly