By Art Martens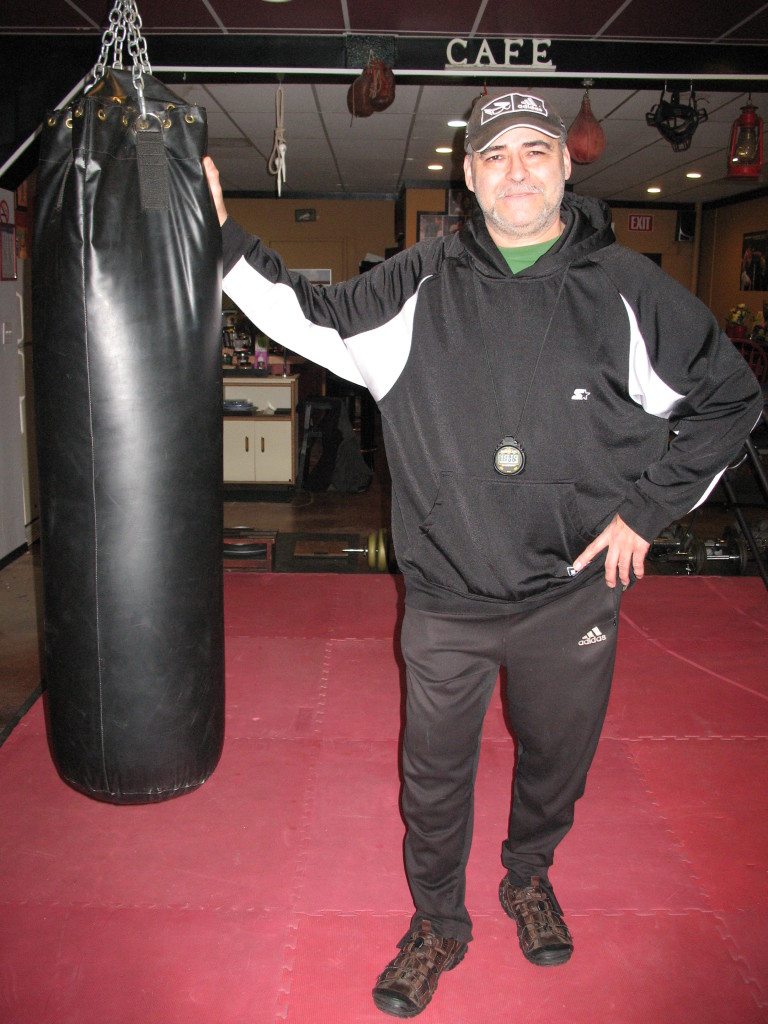 As an instructor in mixed martial arts, Rob Pelletier has for many years taught his clients how to inflict pain. As a Master Coach in Toronto he instructed in boxing, Muay Thai, MMA, Self Defense and sports conditioning. He also managed a gym with 22,000 members. Almost 3 years ago he and wife Donna established a gym located on the main street of Keremeos. Since that time their vision has altered radically and, although they still offer instruction in martial arts, Coach Rob has become known as "the mob boss of wellness."
When Linda and I entered their Main Event gym across from the liquor store, I was immediately impressed by the heavy duty punching bags suspended from the ceiling, the type that can withstand serious pummelling by powerful fists and feet. Rob walked toward us, exuding energy and enthusiasm. A big, well constructed man, I could easily picture him clad in shorts, engaged in high level competition.
We sat on stools at a small coffee bar in the rear of the gym and I asked Rob how he had got started. A palpable passion energized his voice and hand gestures as he began talking. "When I was age 8, my parents enrolled me in boxing. I had a lot of energy and they thought boxing would be good for me." That eventually led to a career in mixed martial arts. Early in his career he trained in the gym where 12 year old Lennox Lewis (later one of the world's greatest heavyweight boxers) was working out. Over the years he trained with numerous high profile fighters and knew five time Canadian Heavyweight Boxing Champion, George Chuvalo.
"When Donna and I moved to Keremeos we began doing private training in our home," he said. "We leased this building which was then vacant and in a state of disrepair."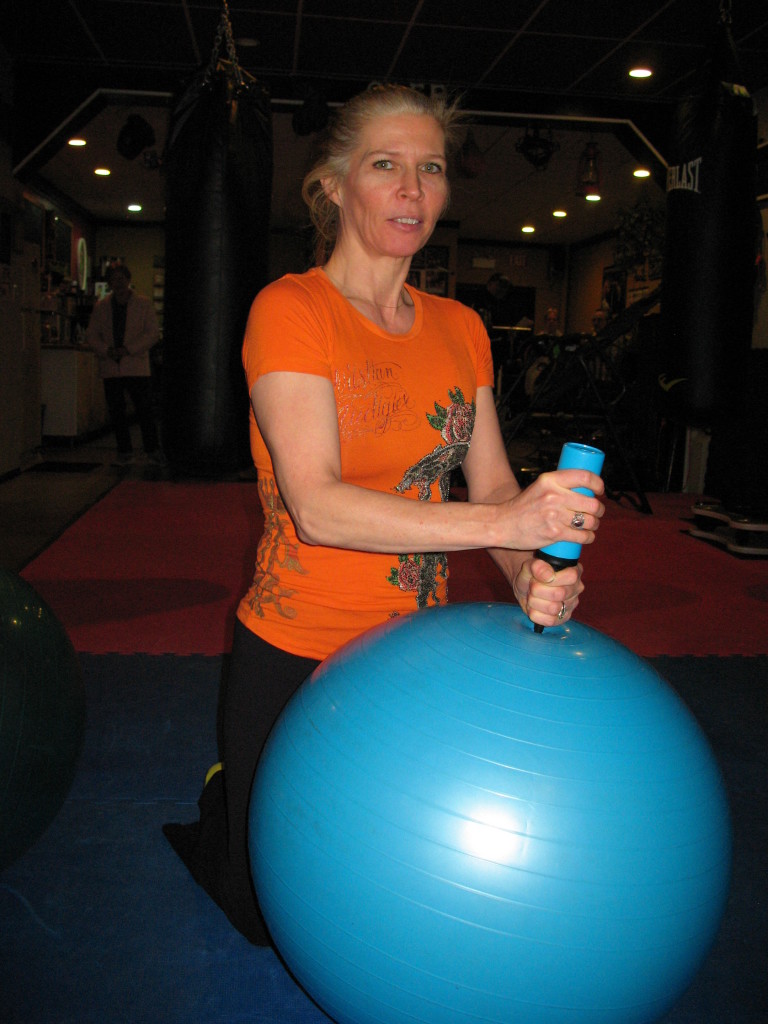 He now turned the conversation in another direction. "In the beginning Martial Arts was our emphasis, and we still do that. Donna teaches ladies kick boxing. However, retired people started dropping in. Some just wanted to have a coffee and talk. We began to realize their health was failing because many people are not physically active in retirement."
Their changing clientele prompted a shift to promoting wellness. This attracted individuals of all ages wanting to deal with a variety of issues. Rob's experience had prepared him for this transition. He had worked with sports psychologists and athletic therapists. He had also taken accredited courses in wellness.
Health professionals began recognizing the benefit of their programs. A cardiologist sent a man with a pacemaker. He had almost died, but is now working out on a treadmill at the gym. Physiotherapists are also referring clients. The Pelletiers are recognized by insurance companies. While we were talking, Don and his wife came in. Having had a shoulder replacement, he wanted help in gaining strength and movement.
"We're a safety net for people in aftercare," Rob said. "Some of our clients stop smoking. A wife told us her husband is drinking less alcohol. Some people report their medications are more effective when they work out here. Others rely less on prescriptions."
The Pelletier's have clients ranging in age from 5 to 80. Wanting to ensure that children from less affluent homes don't miss out, they at times provide free memberships.
Sometimes people say, "I know I should exercise," or "I should be more careful about what I eat." But they don't make the needed changes. "People rely on doctors and prescriptions to maintain their health," Rob believes, "but we need to accept responsibility for our health."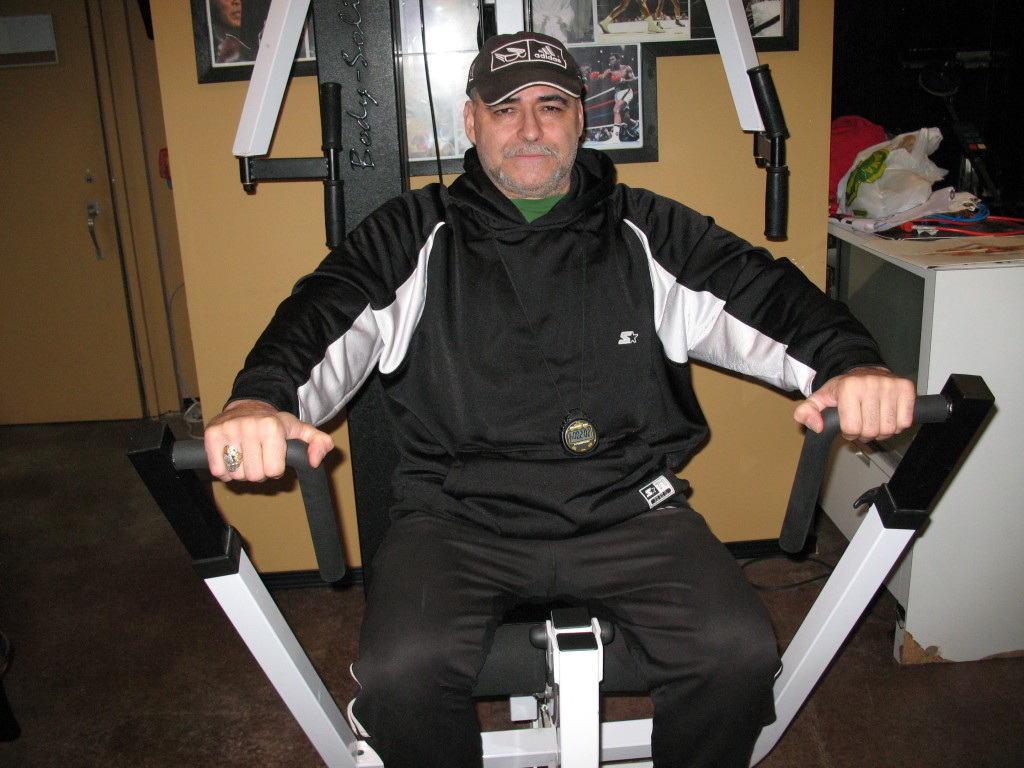 He stresses the role of our thinking. "It's important to focus on what we can do, not on what we cannot do. What we do here is a form of proactive medicine." He draws a lesson from physical combat. "If 2 fighters of equal ability and strength are in the ring, the one with a stronger attitude will win." He tapped his head with a finger to support his words. I began to understand that an emphasis on strong, positive thinking is at the crux of his philosophy.
As we were about to leave, Coach Rob said, "some people go across the street to the liquor store for what they think they need. Some come in here and begin a program of wellness that will change their lives."
The post Rob Pelletier, Mob Boss of Wellness appeared first on Living Significantly.
Source:: Living Significantly