By Art Martens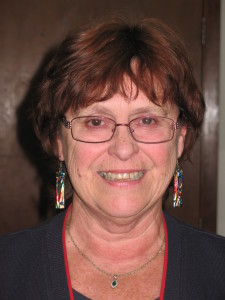 I used to believe happy, successful individuals must have received
more lucky breaks than the rest of us. Anyone who thinks as I did needs to have a conversation with Ruth Woodin, Hedley's congenial, upbeat Postmaster.
Most people would not guess that she has experienced traumatic, unnerving moments and days that could have pulled apart the seams of her life. An early tough break came at age 12 when her father unexpectedly walked away from the family, leaving her mother with 5 children to feed and raise. For Ruth the parting was not pleasant and it created memories and emotions that troubled her well into adulthood.
Her dream was to teach elementary school, but when she graduated, there was no money for university.
"My mom pulled out a newspaper and circled several help wanted ads," she remembers. "There was one for a Time Keeper/Clerk with a forestry company. I told her I didn't even know what that was."
"You're smart," her mom said. "You can learn."
Ruth had little confidence, but she applied. After writing the company's test she was told no one had ever completed it as quickly and accurately.
The company flew her to Pt. Alice on Vancouver Island. "The last lap was in a Beaver with pontoons," she said. "I was so scared I thought I would die. An elderly Chinese man reached out his hand. I grabbed it and hung on until we landed." She laughed heartily at the memory.
Initially Ruth didn't know how to operate any of the office machines. However, she quickly learned to keep time and prepare paycheques for a lot of workers.
On an excursion to Penticton she met Dwayne and fell in love. They got married in 1972 and in time adopted 2 children. When they moved to Hedley for employment reasons, Ruth considered the community small and isolated. The marriage ended unexpectedly in 1991. She had not seen the end coming, and was still bearing the scars from her father's desertion. The experience threatened to unravel her emotionally.
"My life descended into chaos," she said. "I was divorced. My daughter and I moved. During that time my mother committed suicide. Also, I still missed my mother-in-law who had recently died."
Ruth considers it fortunate she was working for the One Way Adventure Foundation. "Jean Roberts (co-founder with husband Len) held my hand through this time. We cried together and prayed. I didn't pray but she did. The people in the Foundation were wonderful. They sent me encouraging notes." With the undergirding of her 2 children, friends and co-workers, she experienced inner healing. When the Foundation began downsizing, she found part-time work with the Post Office.
One day a call came from Canada Post. "You are now Hedley's Acting Postmaster," she was told. This was the beginning of a new adventure that delights her to this day. "I love my job," she said, smiling broadly. "People talk to me, sometimes about their heartaches."
One day a young man told her she was fortunate to have a wonderful family. He felt unworthy because he and his wife were unable to have children. "My children are adopted," Ruth told him. "You can adopt too. Just do something." He and his wife now have 3 children.
I've had my share of hard knocks," she said, growing serious. "This helps me understand when people are feeling down. I've received a lot of love from people in Hedley. I want to give something to others. Love comes back."
Over the years Ruth has given generously of her time and energy. She belongs to the Community Club, the Seniors' Centre, is a Director at the Hedley Museum and is a Trustee of the Hedley Improvement District.
Recently Ruth's financial advisor told her he'd like to help her retire early. "I'm not ready," she said. "I love my job." She let it slip that if she stays another 4 years, she will exceed the longevity record of war hero and iconic Postmaster, TC Knowles (1937- 1959).
Often when people come in to access their mail box, Ruth can be heard singing on the other side of the wall. She has a pleasing voice and a positive spirit. In most places going to the Post Office isn't an uplifting experience. In Hedley, it often is.
The post Ruth Woodin, Hedley's Congenial Postmaster appeared first on Living Significantly.
Source:: Living Significantly