By Art Martens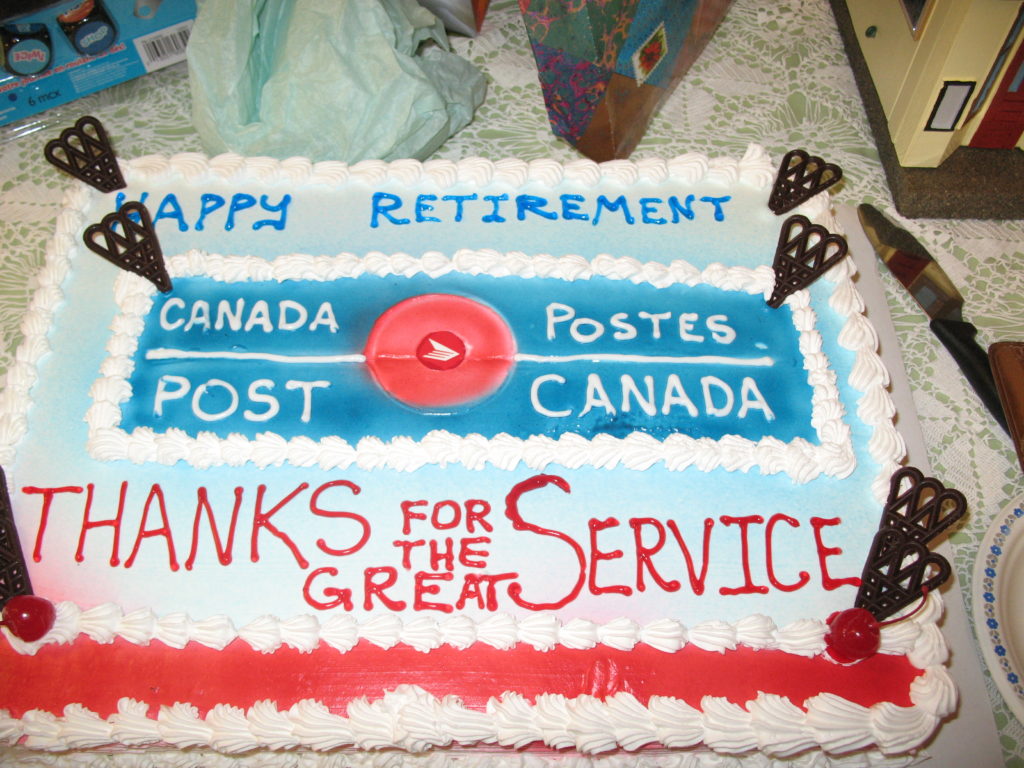 Ruth Woodin may still sing in her shower at home, but she won't be singing in the Hedley Post Office anymore. After 25 years behind the counter providing advice and cheer along with stamps and mail, she retired just over a week ago. Her outgoing personality, combined with wit and a no nonsense response to occasional cranky customers, made her an ideal Postmaster for this rural community.
"I stayed past retirement age because I loved the job and the people," she said. "Also, I wanted to pay off my mortgage and buy a new car." Because her postal career began as part-time and then as acting Postmaster, she didn't quite match the record of T.C. Knowles. Knowles was a local World War II hero and served as Postmaster from 1936 to 1958. "I feel good about letting him have the record," she said.
Reflecting on the years she told me, "It's like yesterday I started on the job and now it's over. Sometimes I felt like a bartender. A lot of people came to me with their problems. One woman told me she had discovered her husband in bed with a stepdaughter. Tears began trickling down her cheeks as she talked. I opened the gate in the counter and put my arms around her. She moved out of town, but a couple of years later I received a thank you note from her."
There were also miserable customers. "When I saw them on the street, I hoped they wouldn't come in. For some time there was a woman who complained about everything I did. Sometimes she yelled. She wondered who had trained me. In her mind, everything I did was wrong. After some years though, she mellowed and started coming in to chat. On special occasions she brought me cards and flowers. Now she is a friend."
One customer accused Ruth and her assistant of steaming open mail and reading it. He also said they were hiding mail. "That would have been foolish. We would have endangered our jobs."
Lost keys at times provided a touch of hilarity. "One customer said his dog had eaten a 2" by 2" piece of wood to which his mail key had been attached. It took 4 days for the key to pass through the dog's system and reappear."
Ruth didn't open the gate in her counter only to console. Sometimes she hugged a customer who had shared a significant experience. "I did get a little carried away occasionally," she admitted with a chuckle. "I sometimes chatted with the Greyhound driver who stopped regularly at the Country Market. Just before Christmas one year I spontaneously threw my arms around him and wished him a Merry Christmas. Then it occurred to me I hardly knew this man. It surprised me I had done this. I'm sure he wondered what that was all about."
Because Ruth handled all mail, she knew the people. "The Mounties sometimes wondered if I knew a person they were attempting to locate. I told them I know everyone in town. If I don't know them, they don't live here."
Along the way Ruth has been deeply involved in the community. "The celebration of Hedley's 100 years was a great event. I was on the planning committee and responsible for organizing the parade. I got lots of help. It was our best parade ever."
Her enthusiasm was evident as she recounted the participation of Similkameen communities. "The Princeton Rodeo sent a stage coach. The Princeton Marching Band came. Keremeos sent 5 really ancient tractors. Men on horseback and ladies in elaborate regalia came from the Lower Similkameen Indian Band."
What will Ruth do now that she doesn't need to show up at the post office each week day morning? "I'll do jigsaw puzzles and walk more. Also, I hold several positions in town including secretary of the Museum Society."
She has travelled extensively and has plans for more. "I've put my name in for a cruise down the Mississippi River," she said. When I remarked that Huckleberry Finn and Tom Sawyer had done this many years ago, she replied, "We better not be on a raft."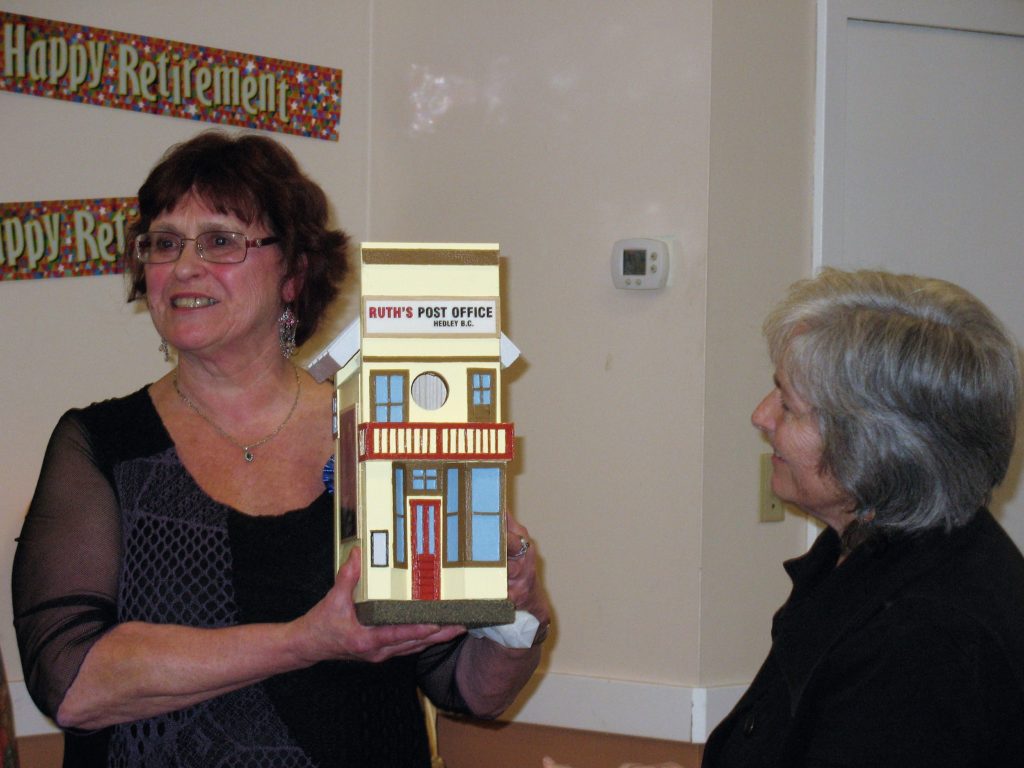 Last Friday approximately 65 appreciative friends celebrated Ruth's retirement with a sumptuous potluck dinner at the Hedley Seniors' Centre. The stories told about her produced many laughs and some tears. We really should have asked our singing Postmaster for one last tune.
The post Singing Postmaster Retires appeared first on Living Significantly.
Source:: Living Significantly