By Art Martens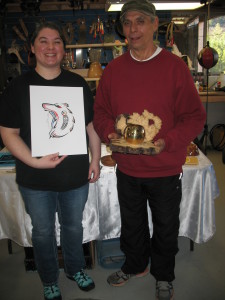 In the poker game we call life, some individuals believe they have been dealt a losing hand. Talking with Mike Jacobs, a Mohawk from Ontario, I quickly gathered that he gives a swift and decisive boot to these kinds of thoughts.
In response to my question concerning the impact of his early years, Mike wouldn't give me permission to write anything that could be interpreted as "snivelling," (to use his expression). He said only "When I was young I worked on farms. A couple were good, some weren't. Sometimes I had to get up at 4:30 to milk cows. Often I had to work until dark. I don't look back or complain. Those experiences prepared me for challenges later in life. They made me tougher and stronger. Life is what we make of it. I look ahead."
Mike and wife Marie live just outside Hedley on 8 acres, with a spectacular view of the Similkameen River. Mike's daughter Michelle lives in Hedley.
He became aware early of an artist's fascination with wood and for a time developed this interest. Within him lived a powerful drive to succeed financially though, and he turned to work that brought in money. His motivation far exceeded the usual. "From the age of 17 to 57 I always had a job," he said. "I was a workaholic. Even when I was young, while others were partying, I was putting a roof on someone's house, or installing doors. I partied when the work was done. Most of the time I had 2 or 3 jobs."
Mike's practical abilities enabled him to launch a home renovation business and also a pre-purchase home inspection business. He constantly scanned the horizon for opportunities to acquire new skills. "When I was working for the City of Burnaby," he said, "I took every course they offered, in case the job with the city didn't last."
He declined to list his various trades but did admit to being a journeyman carpenter. After an injury and the arthritis that followed, the city made him Coordinator of Maintenance.
In his youth Mike didn't learn the Mohawk language or culture. Later though, he looked into his First Nations heritage. "As a kid I never thought of myself as white," he said. "Our heritage should always mean something to us. But we don't need to be militant."
People sometimes tell him he threw away his gifting when he focused on work rather than pursuing his artistic interests. He responds with, "I didn't throw away my gifting. I passed it on to my daughter Michelle."
We were sitting at a work table in his shop, with Michelle listening intently. At one point she said, "Dad always had the Mohawk ability to work high above the ground. His sense of balance was off the charts."
Michelle has certainly inherited Mike's interest in artwork. While we talked she worked patiently, drawing a man wearing a wolf headdress. She also does beadwork. Although this isn't where she earns a living, much of what she makes is for sale under the name "Beadwork by Michelle." Some of her inspiration comes from the legendary Chief Dan George. "He had a modern life style and still taught the older ways," she said. "I've read a lot of his poetry."
Like her father, Michelle has practical working skills. She's a certified electrician, working north of Fort McMurray. She gets a thrill, she told me, "when a project is completed and we turn on the lights." When I asked if working with crews consisting primarily of men was intimidating, she said, "right now there are 4 females and about 180 men on the project. It doesn't bother me. I've worked with Dad a lot. I'm used to being around men on the job."
Mike and Marie arrived in the Hedley area in 2008. Since then they have become deeply integrated into the community. They belong to the Community Club and the Seniors' Centre. At the latter, along with others, they take turns hosting the morning coffee time. Mike supervised a complete renovation of the Centre and Michelle did the electrical work.
The Jacobs believe in contributing. "When people get involved," Mike says, "everyone benefits."
Mike has recently returned to his love of working with wood. On Saturday, March 28th he will display his and Michelle's creations at the Hedley Seniors' Centre Annual Craft sale.
The post The Jacobs of Hedley appeared first on Living Significantly.
Source:: Living Significantly