By Art Martens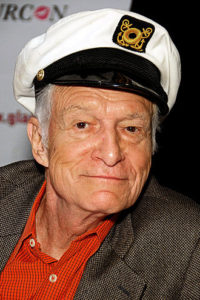 My friend John Boersma and Playboy empire founder Hugh Hefner had both attained the 9th decade when they passed away in September. This was pretty much all they had in common. John's exit received little attention outside his very loyal circle of friends. Hefner had a following around the globe and for a couple of days, local and international media avidly interviewed anyone who had ever known him. I wondered about the impact of their lives.
Hugh Hefner is principally known for his Playboy Magazine and the 29 room Playboy Mansion. The former was first published in December, 1953, with Marilyn Monroe on the front cover. It became famous for its centerfold. Each issue featured a dazzlingly lovely young woman sporting an exquisite, flawless, totally nude body.
When John Boersma was a young man, a woman exposing her body publicly was considered unseemly. This was certainly true in the conservative culture in which he lived. He attained a trade, worked diligently, got married and with his wife Theresa raised 3 children. They sought to instill sound values and modeled stability.
In the mean time, Hugh Hefner was embarking on an amazingly, hedonistic life style. He established the Playboy Mansion and surrounded himself with "bunnies," gorgeous young women he invited to live with him in the mansion. He dated up to 7 women at a time, had 5 partners over the years, plus numerous girlfriends. Into this confusing mix, he added 3 marriages. His third wife, Crystal Harris, was 26 and he was 86 when they married.
John Boersma was already in his 80's when I met him at a longterm care facility where he visited Theresa daily. She had drifted into dementia, which might have persuaded some men to part company. Not John though. Even when she lost all speech, probably didn't recognize him, and needed to be fed, he continued to call her "sweetie" and spend the entire day with her. When she rested, John cheered up other residents, encouraging them, often whistling a tune, adding his deep baritone to a musical group, sometimes taking a female resident's chair and dancing with her. His zest for life raised morale and brought joy.
Hefner's Playboy magazine lured men into a very different lifestyle. The centerfold caused their hormones to flutter erratically and dance in excited anticipation. I never did buy a copy but as a teen I occasionally slipped into the local pharmacy and surreptitiously viewed the beauty of the month. Payment of $25,000 persuaded many cash strapped lovelies to disrobe for the Playboy camera.
There's a meticulously crafted sense of mystique around the mansion, the magazine, and Hefner himself. The Playboy empire is deliberately portrayed as a glamorous, magical kingdom with Hefner in the role of Playboy Prince. The alluring imagery is calculated to lead people to believe they're missing something essential, and to long for that elusive ingredient.
As seen from outside the Mansion, it is indeed a glamorous and enticing lifestyle. According to several former Hefner playmates however, the reality was not as enchanting as the public image. Holly Madison, for 6 years Hefner's #1 girlfriend, presented a more somber view in Down the Rabbit Hole. In its promotion of the book, publisher Harper Collins wrote "What seemed like a fairy tale life quickly devolved into an oppressive routine of strict rules, manipulation and battles with ambitious, backstabbing bunnies. Life inside the notorious mansion wasn't a dream at all, and quickly became her nightmare."
In Bunny Tales, Izabella St. James, another former Hefner girlfriend wrote, " Every Friday morning we had to go to Hef's room, wait while he picked up all the dog poo off the carpet, and then asked for our one thousand dollar weekly allowance. He used the money to control us. We all hated the process." St. James described the mansion as decrepit. "The mattresses on our beds were disgusting – old, worn and stained. The whole business was built on the bodies of nude women."
There are always some who push the bar lower. Flamboyant individuals like Hugh Hefner are able to have a destabilizing impact on our society, because the media love to feature them and we are willing to be tempted. People like John Boersma do not exude the same charm or charisma, but they set for themselves a high standard of morality and decency. They are worthy role models for us all.
The post The Passing of Hugh Hefner and John Boersma appeared first on Living Significantly.
Source:: Living Significantly