By Art Martens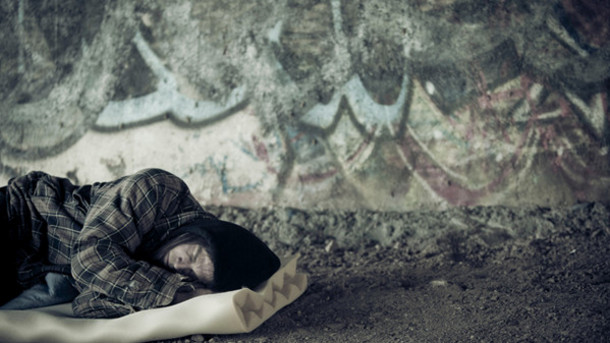 Some years ago, on a frigid day in early January, I came upon a young homeless girl huddled under a tree against the wall of our Abbotsford condo.
Surprised, and sensing her misery, I asked "are you OK?"
"Yes," she responded. Her voice suggested she meant "no."
"You look cold," I said, pulling off my thin gloves and handing them to her. She protested a moment and then accepted them willingly. Skinny as an anorexic fashion model, she seemed incredibly vulnerable. Giving her a pair of skimpy gloves was a meager gesture.
"Would you like to come in and get warmed up?" I asked.
She nodded.
In our condo, Linda turned up the fireplace. "Sit here," she said. "I'll bring you hot chocolate and a sandwich."
"Complexa" seemed eager to talk about her life. We learned she was only 16, and for the past year her home had been a couple of tarps and blankets under some trees. Without any prompting, she volunteered she had done some drugs, including crystal meth. "I haven't done a lot of meth," she said. "I don't have much money. I don't sell my body."
Still, we observed considerable twitching as she talked and ate. We attributed this to the meth.
Thinking she needed a thorough warming, Linda asked if she wanted a bath or shower. This thought appealed to her and she spent a good two hours in the tub.
We became concerned she might have taken drugs in with her and overdosed. Linda asked several times, "are you OK?"
Possibly the long stint in the bathroom was to forestall going back to the snow-laden streets.
We had a commitment that evening and couldn't leave her in the building alone, so when she emerged from her long sojourn in the bathroom, we attempted to help her find a place for the night.
"Does your mom live around here?" Linda asked.
"Yes," Complexa replied, "but we don't get along. I haven't seen her in over a year. Her cell number is out of service."
"Do you have a dad?"
"My dad faded out of my life quite a few years ago," she responded. "I don't know where he is." There was no indication of regret.
"Any brothers or sisters?"
"I have one brother," she said. "He's in prison."
"What about grandparents?"
They were separated and living somewhere in Ontario. We attempted to find a phone number for them, but without success.
I phoned Community Services, the Salvation Army and the Abbotsford Police. I learned that only one small facility took in young girls. No answer there.
In the end, Complexa asked to use our phone and someone agreed to take her in. This person frequented a "drug house" in our neighbourhood.
Before leaving, she ate a bowl of hot stew and a bun, then thanked us warmly. When she walked out of our door, she walked out of our lives. In more than four hours, she had not smiled once.
Living in a strata building with strict rules, I'm not sure we could have done much more for Complexa.
Although I was aware of our limitations, I felt great unease knowing this 16-year-old unsmiling girl must wander about with no hope, no real destination and no connections outside the drug scene.
The social ills that were already prevalent in Abbotsford at that time have also been creeping into the Similkameen valley. In Hedley, addicts freely visit the much complained about drug house on Daly Avenue. Several are reputed to be making drugs available to teens. It seems that as a society we are capable of building impressive edifices, but we do not know how to create a future for drug addicted,homeless youths. The recent provincial budget, in spite of its many spending promises, will not change this.
Can we do more than wring our hands over this condition that is festering in the bowels of our society?
If our community and our larger society are to be healthy and vibrant, we must make a serious commitment to individuals and families in trouble, before they walk too far along this perilous path to utter hopelessness.
In spite of the scarcity of resources, I'd like to say to the addicted homeless Complexas in our communities, "don't stop looking for help. It's always too soon to give up."
The post Visit From A Homeless Girl appeared first on Living Significantly.
Source:: Living Significantly