By Art Martens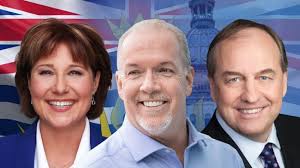 I'm certainly not the first to observe that politics can be a fickle, mischievous mistress. This is especially the case when politicians lose the trust of the people. In Searching For Certainty, Bricker and Greenspon suggest "trust is no longer given, but earned."
I respected and enjoyed Christy Clark's vibrant style as a popular Vancouver radio talk show host prior to returning to politics. My trust in her and the Liberals took a body blow though when she refused to order a Site C evaluation by the BC Utilities Commission. Like many B.C. citizens I feel such a massive project, estimated to cost $9 billion, should receive serious scrutiny by experienced experts. Some knowledgeable individuals not beholden to the government are saying the power isn't needed and will have to be sold at fire sale prices. I'm wondering if the Liberals have set us on a course that will put our children and grandchildren on an unnecessary financial hook for many decades.
My trust was further eroded by Clark's brazen inclusion of a number of NDP promises in her recent ill-fated budget. This seems at least a tad tacky when we consider the way she had earlier scoffed at the NDP program, claiming much of it was not affordable.
I still like Christy Clark's enthusiastic gung-ho style. Having been disappointed too often by charisma unaccompanied by substance and wisdom though, I'm experiencing anxiety as to her motivation. She appears focused on toppling the in-coming government and forcing an election. According to several big city pundits, the Liberals have already amassed a considerable campaign war chest. Large donations are mostly from corporations, which is troubling in itself. Campaign contributions generally come with expectations of favours. Ordinary citizens are rarely in line for such favours.
I realize the Liberals are not going to accept any advice from me. Possibly not from anyone else either. They seem to be thinking about how best to again grasp the reins of power. If they were willing to listen, I'd suggest before they trigger another campaign they consider the 1944 Saskatchewan election outcome.
Premier William Patterson and his Liberal party thought they could convince voters the CCF (now NDP) candidates were dangerous communists. According to Charlotte Gray in The Promise of Canada, "corporations contributed dollops of cash for fear mongering." Evidently the Liberals didn't believe Tommy Douglas and his small contingent of MLA's would be taken seriously. They didn't understand the trust factor.
On the campaign trail, Douglas made promises that would benefit ordinary people, not big companies. Although the CCF had won only a total of 11 seats in 1938, including one in a by-election, and had never been in power, voters liked and trusted Douglas. In the 1944 election, CCF won a surprising 47 of 52 seats.
In subsequent years, Tommy Douglas delivered on his promises and went on to win 5 consecutive elections. Among other measures of benefit to citizens, he introduced public auto insurance, the first in Canada. People quickly saw that they were saving money.
During his time in office the government renovated or built 33 hospitals. By 1954, Saskatchewan had gone from having the fewest hospital beds in Canada to having the most. The government also began paying for hospital care. Charlotte Gray says one major secret of Tommy Douglas' continued success is that he was bringing in polices and programs that made peoples' lives easier. They came to trust him.
Although it was expected then, as now, that the socialist-democratic government would pile up debt, provincial treasurer Clarence Fines was tight fisted. Over the years he brought in 16 balanced budgets. He also began paying down government debt. New services were provided only as they became affordable.
Undoubtedly we can expect high drama in the B.C. Legislature in coming days and weeks. Will Christy Clark be a constructive leader of the Opposition, or will she be in campaign mode? Will John Horgan and Andrew Weaver maintain a positive working relationship, foster a productive atmosphere in the legislature and not drive B.C.'s bank account deep into the red? For all 3 leaders it will provide an opportunity to prove we can trust them to do what is right, not primarily for themselves, corporations, or unions, but for the citizens who pay their salaries. Along with the rest of us, the fickle, mischievous mistress of politics is observing.
The post Which Political Leader Can We Trust? appeared first on Living Significantly.
Source:: Living Significantly