By Art Martens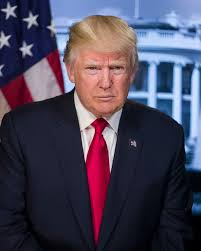 Donald Trump's perverse new tariff on aluminum and steel is causing much wringing of hands in Ottawa. As citizens of the Similkameen Valley, it's easy to feel somewhat sheltered from the president's fondness for erratic policies. Anyway, we know that Justin Trudeau and Chrystia Freeland have raised their (unfortunately puny) political fists and assure us they are vigorously defending Canada. Surely it's ok then for us to carry on with our usual activities, whether its playing with grandchildren or drinking beer and smoking marijuana (now that it's just about legal).
His considerable financial success seems to have persuaded the president he can unerringly shape world events with irksome tweets and boisterous outbursts. Certainly his influence is immense, but does he comprehend the potential havoc? In War and the American Presidency, Arthur M. Schlesinger suggests "history teaches us that the future is full of surprises and outwits all our certainties. Many of the pivotal events of our age were unforeseen."
I realize Donald Trump has a reputation for not valuing advice. Even so, if I had the opportunity, I would urge him to examine the results of President Herbert Hoover's attempt to protect America by imposing high tariffs in 1930. Stock markets had crashed in 1929 and America was already in the first stages of the Great Depression. Less than average rainfall was resulting in a serious drought.
Understandably, Hoover needed to do something if he hoped to serve more than one term. To him, raising tariffs by passage of the Smoot-Hawley bill seemed a viable solution, even though there was opposition. 1,028 economists sent him a petition against the bill. They understood such a tariff would produce unintended far reaching negative ramifications for the nation. Auto magnate Henry Ford spent an evening in the White House hoping to dissuade him. Some high ranking Republican leaders favoured the bill, however, and their wishes prevailed. Approximately 20,000 imports were impacted.
What was the result? According to Amity Shlaes in The Forgotten Man, "Smoot-Hawley provoked retaliatory protectionist actions all over the globe, depriving the U.S. of markets and sending it into a deeper slump. The Act, and the following retaliation were major factors in the reduction of U.S. imports and exports by half during the Depression." Nations that retaliated included Canada, France, India and Switzerland.
Political leaders tend to make decisions with the next election in mind. Certainly implementing high tariffs during an already financially and socially difficult time is not understandable from a business perspective.
In the midst of serious adverse social and economic circumstances, the Smoot-Hawley Tariff created a shudder of anxiety around the globe. Donald Trump's "America First" thinking has the potential to cause similar reverberations that may be felt even in the Similkameen Valley. Already Mexico is threatening to boycott U.S. apples. Will desperate Washington state growers dump their crop into our province, thereby causing huge losses for local orchardists?
Canada and other nations are getting set to apply tariffs against the U.S. This will raise our costs when we purchase those products. Arrogant and narcissistic, Donald Trump seems not to understand or care that by punishing us he may unleash a world wide trade war. He almost certainly will not be able to control the forces he is setting in motion.
I'm aware that at this point my concerns may be somewhat overblown. We are not in the midst of a drought or a "dirty thirties" depression. There are troubling issues, though. Vladimir Putin is seeking to unsettle the West by meddling in the Ukraine, the Middle East, as well as in democratic elections. ISIS indoctrinated fighters are returning. Over use of plastics is creating migraine level environmental headaches. Fentanyl addiction and deaths are a curse on our society.
I'm not looking for a cave to shelter in, but this seems a time for prudent decision making. On the national scene, are we wise to take on the Trans Mountain Pipeline when some reserves do not have access to clean drinking water? On an individual basis, avoiding unnecessary debt is probably wise. Do we really need that new SUV or the latest large screen tv?
Yes, I've become fiscally conservative. Unforeseen challenging surprises, sometimes referred to as "black swan" events, have persuaded Linda and me to consider the broader context before we risk. At the very least, until Donald Trump is impeached or defeated at the polls, it's a good time to be prudent.
The post Will Trump Hurt Similkameen Valley? appeared first on Living Significantly.
Source:: Living Significantly