By Art Martens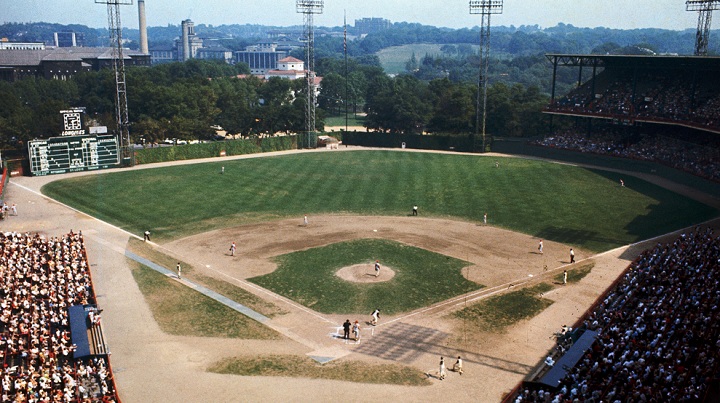 With baseball's World Series approaching, hordes of loyal Canadians are once again placing faith in the hometown Toronto Blue Jays. I'm not one of them, even though I'm aware die-hard Jay fans may deem me to be unpatriotic, possibly even treasonous. I just can't dredge up the fervour of my friend Abe who complains to his wife when they are invited out on a Jays game day.
For me baseball lost much of its mystique when the Brooklyn Dodgers moved to L.A. at the end of the 1957 season. Almost since childhood, I experienced a sense of awe and near reverence for them. Each year I hoped Duke Snyder, Jackie Robinson and Roy Campanella would lead a winning crusade against the hutzpah of the mighty New York Yankees. I got my wish only once, in 1955.
Recently my interest in baseball was somewhat rekindled by Jim Reisler's, "The Best Game Ever", an account of the 1960 World Series that matched the fabled, trophy rich Yankees against the underdog Pittsburgh Pirates. "Cinderella" teams like the Pirates still excite and inspire me, even though they aren't likely to win the championship. I like them for their grit and unwillingness (or inability) to acknowledge that their soaring hopes will be dashed in the end.
The Yankees came with a proud history. Their teams had already won 18 Series, beginning in 1923. The Pirates had last reached the famed pinnacle of baseball success 35 years ago. They had no players of heroic stature to give them the resolve to battle legendary superstars like outfielders Mickey Mantle and Roger Maris, catcher Yogi Berra, and pitcher Whitey Ford. The magical Yankees had a reputation for finding a way to win. The lowly Pirates could have wondered if, in placing them in the hands of this formidable team, fate had decided to punish them for some forgotten misdeed in their less than stellar past.
In spite of the intense psychological pressure that came with playing New York, the Pirates refused to quake or crack. They didn't think of quitting even when they went scoreless in two games. They didn't despair at the knowledge Yankee sluggers were hitting more home runs, 10 in total, compared to their 4. At times the lethal bats of the Yankees were driving in runs almost at will, seeming to portend impending disaster for the less powerful Pirates. Still they refused to fold.
I pay attention to the world of sports, at least in part, because at times there are lessons I can apply in my own life. In this David and Goliath contest, I'm impressed by the Pirates' capacity and will to battle tenaciously against a vastly more talented team. I'm reminded of the words of a black actress who had grown up in a big city ghetto. Personal experience had convinced her that "it's always too soon to quit." This is particularly true when we face challenges in health, relationships, finances or employment. As a friend once told me, "something unexpected can happen to change the odds."
In this epic contest the Yankees had 91 hits to the Pirates 60. Their team batting average was .336. The Pittsburgh average was a meager .256. Mantle's personal average was .400. Berra batted .318 Howard's average was .462.
The Pirates hit a lot of singles. They benefited from solid pitching and fielding, and an unflinching determination to battle on to the last inning and the umpire's final "out!" At the end of the sixth game, the series was tied at 3 games each. Compared to New York's hefty margins in their wins, the Pirates margins seemed anemic.
Now, in the seventh and final game, the Yankees had tied the score in the first half of the ninth inning. The pressure was intense as the Pirates' second baseman Bill Mazeroski strode purposefully to the plate. He was not known as a home run threat, but his bat connected solidly and he smashed a rising line drive toward the left field fence. Fans watched, scarcely breathing, as the ball soared upward and over the wall, the only game 7 "walk off" home run in World Series history. The Pirates erupted in wild jubilation at having won. The shocked Yankees stood in disbelief.
Later Mickey Mantle said, "We scored 55 runs to their 27. The best team lost." In baseball, and in life, "it's always too soon to quit."
The post World Series Provides Lesson For Life appeared first on Living Significantly.
Source:: Living Significantly