By Art Martens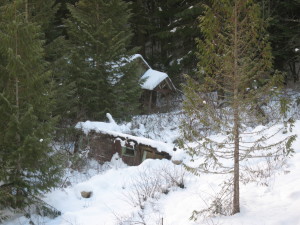 I first spotted Bill Robinson's cabin in 1976 when I began regularly
travelling the winding #3 Highway between Hope and Hedley. Nestled among trees and brush, and separated from the highway by the Sumallo River, the cabin seemed shrouded in an aura of mystery.
It appeared well constructed with a stone fireplace and chimney. Whoever built it must have planned to stay awhile. It's ravaged, weathered exterior had obviously already been exposed to many years of frigid winter winds and heavy snowfalls.
In addition to the cabin, there were two outbuildings, all apparently empty and equally neglected. I wondered what sort of individual had chosen to live in this remote mountainous valley. Had its inhabitant become dissatisfied with the expectations of civilization? Had he (I assumed it was a man) felt rejected by people? What had driven him to this place where contact with society must have been scant?
In the hope of satisfying my curiosity, I began seeking answers to my myriad questions. Bill Robinson didn't make my quest easy. He apparently didn't leave behind any account of his life. Michael Cluckner's " Vanishing British Columbia" did provide some useful information, as did comments on his blogsite left by others.
Robinson named his home Camp Defiance, probably because he was defying the wilderness. He was a prospector and the proprietor of Foundation Mines. I came across no record of him having hit pay dirt, but he must have discovered a bonanza in the realm of life experience.
It is believed Robinson was there from the end of World War I. In Vol. 46, 1982 of the Okanagan Historical Society, Joan Greenwood wrote that in August, 1926 a nurse, Mary Warburton set out from Hope by foot to pick fruit in the Okanagan. The #3 Highway did not yet exist so she must have been on the Dewdney Trail, which ran close by Camp Defiance. She knocked on Robinson's door but he was still in bed. By the time he had got dressed and opened the door, she was disappearing from sight down the trail. She got lost in the mountains and was missing for several weeks. Coming across the cabin owned by "Podunk" Davis, she lit a fire in the stove and accidentally burned the place. This drew the attention of Podunk and she was rescued.
In 1929 Rev. John C Goodfellow was walking from Hope to Princeton. He later wrote "After a while … we came to the first sign of civilization since leaving the Overland (car) at Mile 9 Bridge. This was Camp Defiance. We walked right in and received a royal welcome from a man named Robinson."
A couple of years later Bruce Hutchinson, a writer for the Province Sunday Magazine also walked the trail. In the August 10, 1931 issue he wrote, "Camp Defiance is almost the farthest thrust of civilization in these mountains. His little garden of strawberries, lettuce, and potatoes, 6 petunias and 8 Sweet Williams, in the narrow gorge between the mountain and the stream, are a welcome sight to those who have just come out of the wilderness. And so are the big firm trout Bill caught at his back door last night, and the pie made from his late ripening strawberries."
It is evident from the few brief accounts that Robinson was not deranged, a malcontent or a hermit. Rather he was gregarious and hospitable. Many years later Leo McIver worked along the Hope-Princeton Highway. Sometimes he visited Camp Defiance. His son Len wrote "Bill burned wood in his fireplace and coal oil in lamps. He and his cronies told stories, fished, drank and dreamed."
Sometimes men brought their wives, but I have seen no mention of Robinson having a wife. In this setting it would almost certainly have been mentioned if there had been a woman present. White men frequently had common law relationships with aboriginal women. Bill Robinson apparently did not.
The fact that Leo McIver visited Camp Defiance after the highway was built in 1949 indicates Robinson was there at least until then. In the end though, he slipped into oblivion as quietly as he had come. He left behind no diary so all we have are the minimal memories recorded by others. This winter Linda and I pulled over onto the shoulder of the highway to capture a few photos. Not much left of the cabin. Like Bill Robinson, it will soon be only a memory, still shrouded in mystery.
The post Bill Robinson at Camp Defiance appeared first on Living Significantly.
Source:: Living Significantly