By Art Martens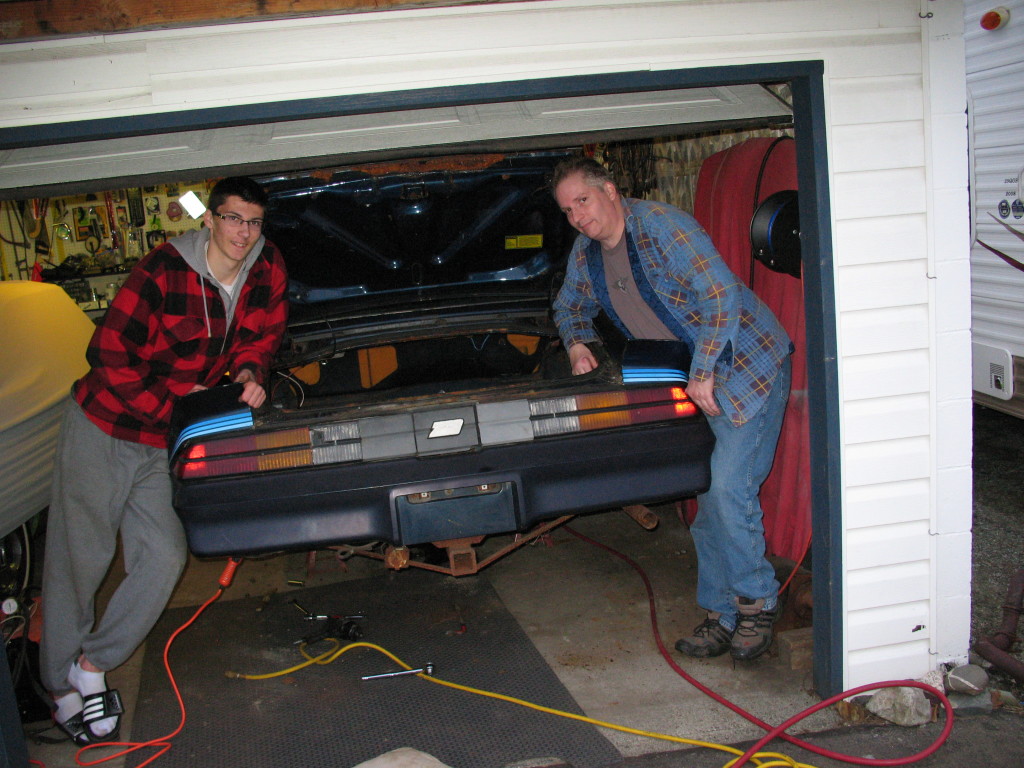 This 1981 Camaro has been thoroughly neglected for 15 years. Hasn't been driven. Hasn't even been started. For much of this time it has been parked on Mike's yard, the next door neighbour of our daughter Vivian and her family. No one demonstrated any interest in the car, except for one person.
For about 2 years our grandson Brandon has periodically said to Mike, "When are you going to give me the Camaro?" He was 14 when he began asking the question. Mike is about 40, a big guy with a big voice. He just laughed.
Maybe he was waiting for Brandon to be old enough to drive. Approximately 3 months ago he said to him, "O.K. you can move the Camaro onto your yard now. It's yours." Brandon will turn 16 at the end of June.
It's a Z28, with a 350 cubic inch motor, the biggest one available in this top of the line model. This is a lot of power for a driver at any age, especially a young man of 16. It has Granny a tad concerned but we know Brandon has demonstrated an ability to make wise choices. Even so, Granny will say some extra prayers once the car is road worthy.
Having stood idle so long, the car needs more than just some tender loving care. Fortunately Brandon's Dad, our son in law Troy, has plenty of experience with breathing life into classic vehicles. His restoration of a red 1970 Cuda convertible still produces a sense of awe in me. One of the Dukes of Hazard bought another car he had restored. He sets a high standard and gives meticulous attention to detail.
Most of Troy's working life has been in automotive parts outlets. Fora number of years he has been with Mopac Auto Supplies ("where power is everything"). He knows cars and is the brains behind the restoration of the Camaro. He gives the directions and Brandon does most of the work. They can be found in the shop long after dark.
In the photo at the top they are discussing the best means of removing the gas tank. Troy has an automotive scope camera that allows him a peek at the inside. "There is a lot of gunk in there," he said. The problem at this point is that someone put a hitch on the car years ago and it won't permit the tank to come down. It's hard to believe anyone would put a hitch on a Camaro.
It's actually somewhat amazing to see Troy working on a Camaro. From the beginning, he's been a loyal Chrysler Corp. fan. I'm certain he hasn't worked on a General Motors Co. product previously. It's good to see that his loyalty to Chrysler is outweighed by loyalty to his son.
There will be a cost to bringing this old lady to life. Fortunately Troy can buy at wholesale and he also knows people who have used parts. In a few instances, some individuals have taken an interest in Brandon's project and have donated parts.
Some years ago Chev General Manager Pete Estes said, "the name Camaro suggests the comradeship of good friends, as a personal car should be to its owner."
This Camaro is also deepening the comradeship between father and son.
The post Breathing Life Into a Defunct Camaro appeared first on Living Significantly.
Source:: Living Significantly