By Art Martens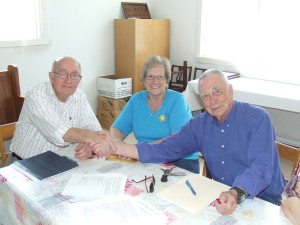 For Graham Gore, pastor of the Hedley Grace Church, this past
Wednesday, April 22
was no ordinary day. He and church treasurer Peggy Terry signed legal papers by which the Cawston United Church "sold" the church building to the local congregation for $1.00. At this time the land still belongs to the Crown.
From its earliest days, during the gold mining boom in Hedley, church work here was a collaborative effort. Historian Harry Barnes wrote that "afternoon services were conducted in a tent in Hedley by Rev. E.E. Hardwick. He was employed by the mine."
In 1902, the Methodists sent J.W. Hedley (not the Hedley the town is named for) and he held evening services, initially in the hotel and then in a tent. A year later, in 1903, a church building was constructed by Rev. Hedley on donated land. M.K. Rodgers, general manager of the Kelowna Exploration Company, gave considerable assistance to this project. They also built a home for the minister. Workers at the Stamp Mill supported the project financially, and also with labour. Rev. Hedley regularly visited the families at the town site on Nickel Plate mountain.
In 1903 Hedley's first school was opened, located in the rear of the church. The church building also served as headquarters for the Twentieth Century Club and the Library.
The United Methodists joined with other denominations in 1925 to establish the United Church. A further coalescing happened in 1969 when various denominations drew together to become the Keremeos Ecumenical Parish.
It was not until 2001 that a septic system was installed and water
lines were brought into the church for the kitchen and bathroom. Local Extras in the Jack Nicholson movie, The Pledge, donated some of their earnings toward this project. The Mennonite Disaster Service and the Kamloops United Church joined up to refurbish the interior and exterior of the church.
In 2008 the congregation joined the "Congregational Christian Churches of Canada" and adopted the name, Hedley Grace Church. Now, as in earlier years, the church is deeply involved in the life of the community. Each year it holds a bottle drive, with considerable support from the community, to raise funds to send Hedley children to camp. At Christmas it cooperates with The Country Market to provide hampers to needy families and individuals. Most of the adherents are also involved in other organizations in town. It's still a collaborative effort.
The post Gifting of Hedley Grace Church appeared first on Living Significantly.
Source:: Living Significantly