By Art Martens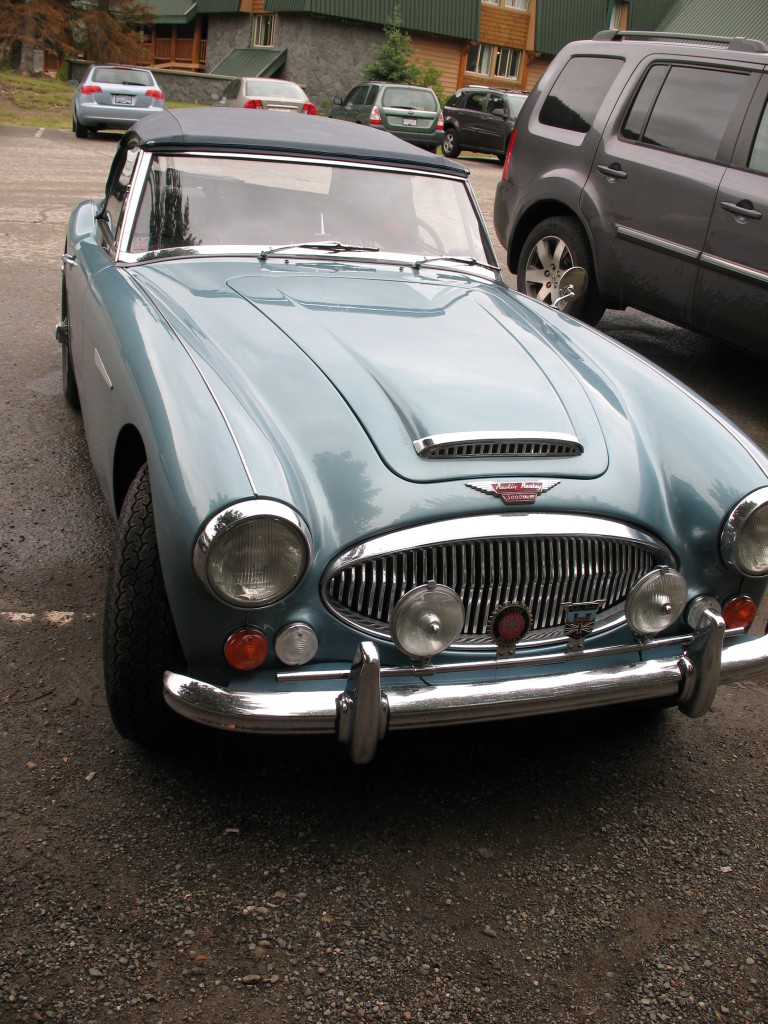 A few days ago Linda and I were traveling to the Coast when we overtook 8 vintage roadsters, mostly MG's. Immaculate and exuding charisma, they were cruising at a leisurely pace, like touring royalty, nearing Manning Park Lodge. I was intrigued and delighted. We stopped at the Lodge and I hoped they would too. About 10 minutes after we arrived, the roadsters began pulling in.
For me the Lodge isn't just a pit stop and an opportunity to pick up coffee to go. I'm constantly alert for opportunities to meet people who are doing something unusual or special. This is a marked change in my thinking. In the past, I hurried in and out, rushing too much to notice the possibly fascinating individuals all around.
Among the roadsters was one Austin Healey. I was impressed by the mint condition of the vehicles. These were attention capturing character cars, meticulously maintained by doting owners.
Camera in hand, I walked over to a couple sitting in their shiny red MG. From the moment they reached out to shake my hand and introduced themselves as Dave and Barb, I liked them. They had friendly faces and smiled easily. In response to the cool morning air, Barb had donned a hat and wrapped a red plaid blanket around her shoulders. Although they were already set to move on, when I asked if I could snap a few shots they readily agreed. They seemed quite willing to engage in a brief conversation.
"It's a 1953 TD," Dave said in answer to my question. "I've been driving it since I was 8 years old. That was on the farm. It's very comfortable and a lot of fun to drive." I gathered that his father had been the first owner and driver and had passed it on to him.
I asked if they are a club and Dave said, "We're an unclub. There is no formal membership or fee. There are about 32 of us. We were in Osoyoos for a few days. The others are sleeping in."
He then said, "I met my wife in this car. She needed a ride to the airport to fly home to her boyfriend. I offered to take her there. She never got on the plane. The boyfriend may still be waiting."
Barb chuckled when I asked Dave if she had been attracted to him or the car. "I'm not sure," he said smiling, "but I'm keeping the car just in case."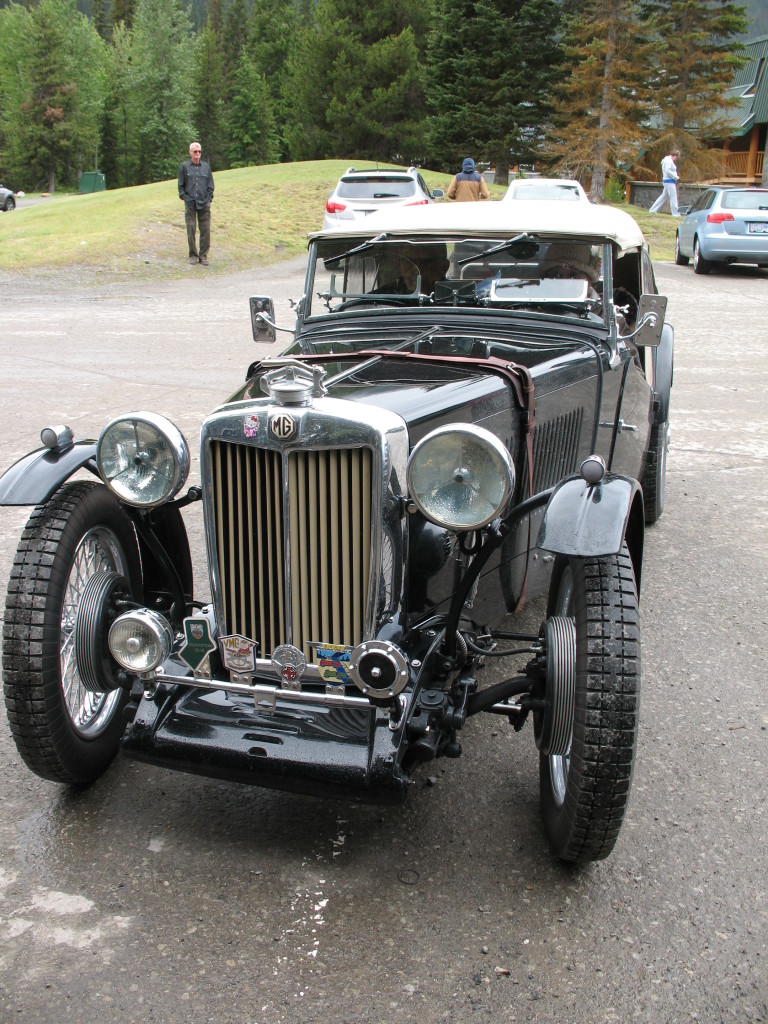 We shook hands again and they departed. I then noticed a black MG beginning to pull out of its parking spot. I hurried toward the car and asked if I could get a few pictures before they went. A woman was on the driver's side. She said "sure." After getting the pictures, I asked about the year of the car. "It's a 1948," she said. The man on the other side added, "it's a British model." I didn't immediately understand the significance of this. These early MG's were all made in Britain, weren't they? Then I realized the steering wheel was on what we consider the passenger side. That, of course, is where they are in Britain. Like Dave and Barb's car, this one appeared to be in flawless condition. I thanked them and they pulled out, the last car in the cavalcade. I waved, sensing a bit of nostalgia.
There is some lack of agreement as to the inception of the MG, but 1924 is a likely year. Until the company was sold to a foreign buyer, the MG roadsters were an esteemed British product. When we saw one, we tended to think of England. Unlike the proud Cadillac or Lexus, both of which are likely to eventually fall victim to a remorseless crusher in a scrap metal yard, an MG roadster becomes more iconic and precious with each passing year. The car exudes personality and the pride that comes from an uncompromising commitment to excellence.
For me the MG is more than a car. It is symbolic of the time when I was a boy and life was simpler. People seemingly understood better the importance of having sound values and maintaining relationships. Sure, I know I'm somewhat romanticizing the car. I may be giving meaning to it that only I understand. Beautiful classic vehicles tend to have that effect on me.
The post MG Roadsters in Manning Park appeared first on Living Significantly.
Source:: Living Significantly