By Art Martens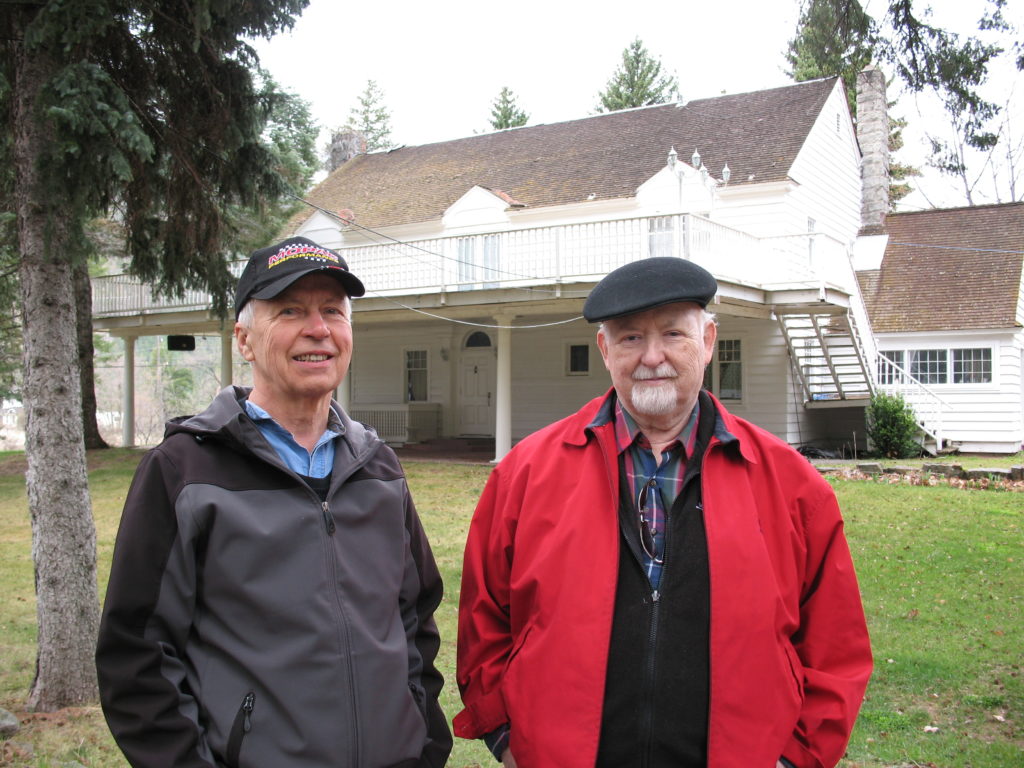 My experience with Len began on June 1, 1974. That morning he picked me up from our home in rural Abbotsford to go to Hedley for training. During our 3 hours together in the car, he gave me an extensive verbal tour of the organization's purpose, philosophy and methods. "We employ unique ministries to establish a common ground with the students. Our goal is to build relationships with them so we can share our life style, values and where appropriate, our faith." The next morning I received my first hands on experience with Len's "common ground" concept. Beth Hall, one of the wilderness skills instructors, asked me to join her and 3 girls to do rappelling.
I was behind the others as we walked across a field of brown grass to the rappel site. Observing these street wise girls in their tight jeans and blouses, I wondered if I'd ever be able to work effectively with kids like this. There seemed to be a wide gulf between me and them. They ignored me completely, as though unaware of my presence or existence. We made our way to the top of the high rock face down which we would rappel. I began to see the anxiety in their faces. They must also have seen it in mine. We feared the thought of descending on a rope down that sheer rock face. The rappel process required us to depend on each other for safety, and we began to talk. By the end of the morning we were no longer strangers.
Reflecting back on my years with the Foundation this past week, I began to understand more fully what Len had put in place, with Jean's consistent help. It was Jean who kept the wheels on the rails and the trolley on the tracks.
Initially there were 2 programs, both in Surrey. Each worker was assigned a "squad" of 5 students. Len recognized the need to burn off a lot of excess energy and the program consisted of such activities as swimming, roller and ice hockey, hiking and camping. Camp Colonial in Hedley was purchased and became the wilderness hub. This made possible rappelling, rock climbing, canoeing, map and compass, horseback riding, skiing, and wilderness expeditions like canoeing the Bowron Lakes circuit and back packing in Cathedral Park. During those years Len traveled between Surrey and Hedley on an almost weekly basis. He was away from home and family frequently. It was a huge sacrifice for Len and Jean, and their children.
In time they moved the Foundation headquarters to Hedley. They sold their home in Surrey and the family also moved. The Foundation became like a complex puzzle in which each piece was required to support the whole. Some students lived in staff homes and saw how a husband and wife team interacted with each other and their children. Many students attended the organization's school, taught by Ann Pinchin, who is here today. Len purchased the former store and reopened it, naming it The Mother Lode. Students were assigned there for work experience. Students were also assigned to the kitchen and dining room to learn culinary and public service skills. The emphasis was always on finding a common ground, developing relationships and winning the right to build positively into the lives of the students.
Our family and friends didn't understand why anyone would want to live in a hot, remote community that had almost nothing to offer. Amazingly, a lot of young singles came, and stayed, and also young couples with children. That is what kept the Hedley school open as long as the organization was there. They came in large part because Len was able to speak compellingly about his vision for the work. He couldn't pay high wages but he did offer a fascinating opportunity to make a difference in the lives of young people. And he offered an action packed program that was rare at that time, and still is. Young, inexperienced workers obtained work experience and developed skills they could later take elsewhere.
Len could be quite pragmatic. When Ruth Woodin, now the Hedley Post Master, applied for a job in the office, Len said, "I'm looking for someone who won't get pregnant and quit, or who won't get married and move away." He had experienced both. Ruth didn't do either, and she stayed to the end. She told me "when I was going through a very difficult valley in my life, Len & Jean stood by me all the way. Especially Jean. It was the best job I ever had."
Len didn't avoid the long hours and dedication he expected of us. When there was an AWOL, he was out late at night, patrolling the highway. Sometimes his quick mind made the difference. One day I was talking with several students on the top balcony of the Coach House. I noticed Eugene pacing agitatedly. He was an extremely intense, worried kid. I knew what he needed was attention. Before I could get to him, he slipped away and was running down the hill to the highway, obviously emotionally out of control. I went onto my radio handset to alert our workers. At the same time, Len was in his red toyota, coming down the hill from the Lodge toward town. He heard my call, pulled alongside Eugene and opened the door. "Quick get in before they get you!" he said. Relieved, Eugene got in and felt safe.
Did the Foundation make a difference? Ruth Woodin thinks it did. "A number of former students have come into the Post Office," she told me. Again and again they said, "I was a kid in a program here. It turned my life around."During the Foundation years, I knew Len as a boss and to some extent a friend. I understood his need to maintain some distance so people wouldn't crowd him too much. Everyone wanted to ask him a question.
When a new government closed the Foundation doors in 1993, Linda and I kept in touch with Len and Jean. We saw that this was a difficult time for everyone. For Len and Jean it was especially difficult. They had invested many years of their lives in this work, now they needed to wrap it up.
We moved back to Hedley about 4 years ago and our home needed improvements. Len offered to help with a plumbing project. Then he and a friend replaced all windows and doors. They also drywalled almost the entire lower floor. They did it at a price no one else could touch. He had once run a complex organization. Now he was willing to work with a hammer, wrench and screwdriver without grumbling. We felt he wanted to help us.
After returning to Hedley, our friendship with Len & Jean deepened. Over the past few years they had numerous medical appointments in Penticton, and they at times stopped in at our place on their way home. Over coffee, Len would regale us with details about medical procedures and interactions with doctors, nurses and other patients. We could tell that at times his sense of humour had made the appointment entertaining for those who dealt with him.
For many Len Roberts was rare and special. For Linda and me he became a valued friend.
And of course, we continue to value Jean as a dear friend.
The post Remembering Len Roberts appeared first on Living Significantly.
Source:: Living Significantly