By Art Martens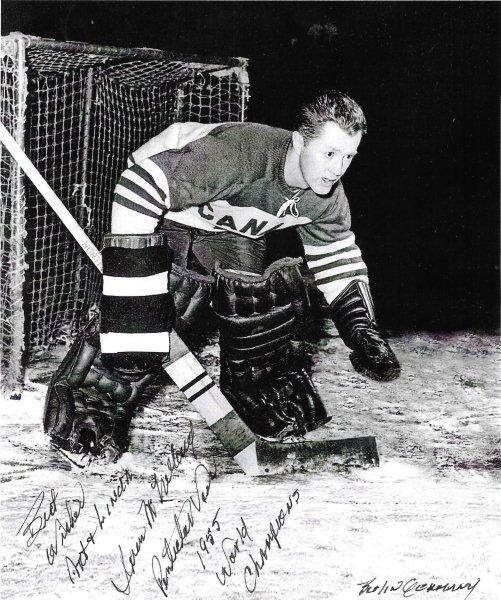 Although the Penticton Vees had won the coveted Allan Cup in 1954, a huge uproar ensued when they were selected to represent Canada in the 1955 World Hockey Championship. "Some at the top of the Canadian hockey scene insisted on an all-star team," Ivan McLelland told Linda and me during a 2 hour conversation in his comfortable Penticton home. "They complained that at 23 I was too young and inexperienced to be in the net. They wanted Harry Lumly of the Toronto Maple Leafs. Canada had lost to the Soviets the previous year and winning was a matter of national pride."
Born in South Porcupine, a small Ontario community, Ivan has experienced a good deal of success in his 85 years, but he certainly didn't get off to an auspicious start. "My dad worked away from home a lot," he said. "We lived in what was virtually a shack. With 14 kids, my mother's life was difficult. I got in a lot of trouble. When I was hauled before a judge it really scared me."
Fortunately, hockey attracted his interest at a young age. "We played on the ponds all winter," he told us. "When the ice melted, we played road hockey and baseball. Father Les Costello noticed me and asked me to try out for the local juvenile hockey team. Hockey turned me around." Like a lot of Canadian boys, he started thinking NHL. "Often I lay on the floor of our home, dreaming about playing at that level."
He wasn't a good student. "In grade 10 the principal suggested I quit school and find a job." He was hired by the local gold mine and worked underground. To help his Mom keep the family together, he handed over most of his earnings to her. For 2 years he played for the mine team, the Dome Porkies.
In the net he was agile, with quick reflexes. He was developing an ability to focus intensely on the puck. A New York Rangers scout noticed his skill and grit and he was sent to the Vancouver Canucks, at that time a New York "farm" team.
He smiled at this point. "I made the team but Gump Worsly was in goal. This was 1951 and there was no place for a backup goalie. Coley Hall, the owner, wanted to send me to Penticton where the Vees were being assembled as a team. He told me it was the most beautiful city in B.C. and the only place in Canada where I'd see girls in 2 piece bathing suits. He also told me I'd have to be tough minded because many of the players would be cast-offs from other teams, so we weren't likely to win a lot."
Ivan reflected for a moment, then said, "I was the first player to ever put on a Vees uniform. We were an assortment of disparate characters. Some quiet, some crazy partyers. That first season we won 15 of 54 games. The fans cheered us whether we won or lost."
"Goal tending is as much mental as physical," Ivan observed. "In 1954 we played 102 games. In the playoffs for the Allan Cup we were the underdogs. We shouldn't have been there. Every team was better, on paper. We had to come from behind at each level."
After winning the Allan Cup they were selected to represent Canada in the Hockey World Championship in West Germany. Wanting to squeeze them out, the top hockey people required the team to raise $30,000 in 2 months, a virtual impossibility. An Alberta radio DJ drew attention to this and said he was sending the team $10.00. People responded and in one month the money was in place.
Coach Warwick courageously insisted on taking the entire team and the players rewarded him with a determined, high calibre effort. Ivan confounded Canadian hockey brass, posting 4 shutouts, a record which still stands. He allowed only 6 goals. The Vees defeated the Soviets' "Big Red Machine" 5-0.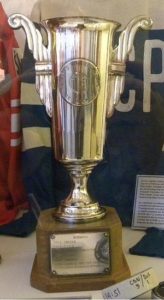 Ivan has received many forms of recognition, including induction into the BC Sports Hall of Fame (2005). His book "From Gold Mine to Gold Medal" sold out very quickly. He speaks to community groups 25-30 times a year. His awesome power to focus is still in place. "I'm telling the story of the Penticton Vees to inspire people to believe they too can rise above difficult circumstances and beat the odds."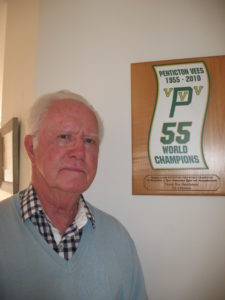 The post Penticton Vees, A Cinderella Team appeared first on Living Significantly.
Source:: Living Significantly