By Art Martens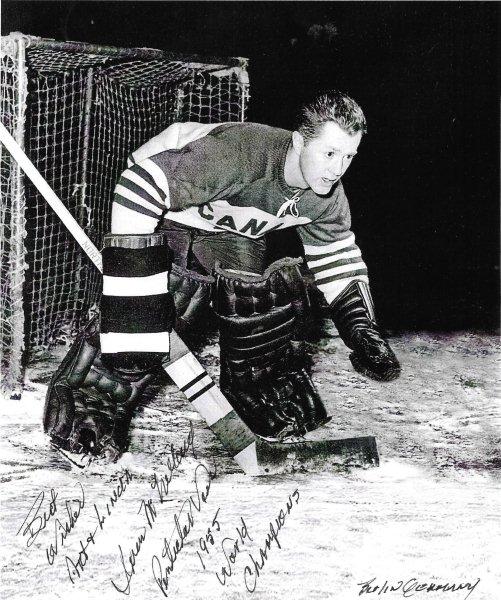 "Armand wanted to be a professional hockey player. He listened to National Hockey League games with his dad on the radio. He played hockey with his friends on the pond. He had the desire, but unfortunately, he really wasn't very good."
With these words, Ivan McClelland, legendary goalie with the 1955 World Champion Penticton Vees began a rather unlikely, but true, Canadian hockey story. Armand and the Vees should never have met. As a youth, he wasn't a bad kid, but he wasn't an attentive student. Poor judgment drew him into trouble repeatedly. On the advice of the school principal, he dropped out and wasted a couple of years. In desperation, his father suggested he join the Canadian army in the hope he might learn a trade. He did have an interest in working with tools.
After the initial training, Armand was sent to Canada's base in Germany. His habit of getting into trouble came with him and one night, after partying with fellow soldiers, he failed to return to the base by curfew time. He was assigned to guard duty from 11 pm to 7 am at the Berlin Wall, then a highly fortified barbed wire fence. He was constantly taunted by Russian soldiers doing similar duty on the other side. They tormented him with reminders that Russia had defeated Canada in the previous World Cup Tournament.
But now it was 1955, height of the Cold War, and West Germany was hosting the World Cup. In spite of huge misgivings on the part of Canada's hockey heavy weights, the Vees were there to play for Canada. After 7 games, both Canada and Russia were undefeated. The World Cup would go to the winner of one final Championship game between them. Canada's government purchased 4,500 tickets to be raffled off among the armed forces in Germany. Armand's name was drawn, much to his delight. An officer sent the soldiers off with the injunction, "You're representing Canada. Behave!"
The determined, scrappy Vees astounded even their fans. With 3 minutes remaining, they led 5-0. Desperate to not be shut out by the previously unheard of Vees, the Russians pulled their goalie, increasing their scoring potential. In quick succession, two Vees players were sent to the penalty box.
Then, with 20 seconds to go, Armand could not contain his excitement. He leaped onto the ice and fell flat on his back. The radio play by play announcer said, "O my goodness, there's a Canadian soldier on the ice! " Armand was quickly whisked away by the police.
Three days later the Vees travelled to the nearby Canadian army base for a game against their team. Learning that Armand was stationed here, waiting to go before a Tribunal for his impetuous misdemeanour, the players decided decided they would like him to attend the game. The request was made by the team doctor, a decorated and highly respected veteran who had served in several dangerous theatres. The commanding officer told him that would be highly unusual. "The boys would really like to have him at the game," the doctor responded. "They've all made mistakes. They understand." The Commanding Officer relented out of regard for the doctor's combat record.
Armand watched the game and then sat with the team at a special dinner. He was presented with a hockey stick signed by all players.
Ivan got out of hockey and this might have been the end of the story for him. But in 2008 while leaving the restaurant in the new Penticton arena, a woman approached him. She said, "Mr. McClelland, do you remember the soldier who jumped onto the ice in Germany?" For Ivan everything stopped when he learned she had been Armand's wife, before he passed away from cancer. She had come from Quebec, hoping to meet a Penticton Vee.
"It was the high point of his life," she said. He told everyone, even if they didn't want to hear it. When he and his friends went hunting and sat around the fire in the evening, he always told this story. They threatened to leave him behind next time, if he told it again. What the Penticton Vees did meant everything to him. It changed his life."
As we celebrate our nation's birthday, this story is a reminder that a generous spirit makes us strong as a people. Happy Canada Day to the Penticton Vees and to all Canadians!
The post 1955 Penticton Vees Embody Canadian Spirit appeared first on Living Significantly.
Source:: Living Significantly