By Art Martens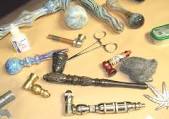 When I recently heard about the assassination of Gisela Mota, a Mexican mayor, I considered it of little concern for myself and my neighbours in the Similkameen Valley. Surely, I thought, our society will never spiral downward to where drug cartels are able to kill politicians almost at will.
Maybe I was a tad overly complacent. A conversation with Monica a couple of days later caused me more than a twinge of concern. After moving from New Brunswick with her daughter Curly, and 2 younger children, her anticipation of a peaceful life here was shattered. Sixteen year old, musically gifted Curly began hanging out with youths skipping classes and smoking drugs. She started dating older guys doing cocaine and heroin. Soon Curly too was hooked on hard drugs.
Understandably, Monica fears retaliation from the traffickers and asked me to not use her real name. "Curly is behind in paying for drugs," she said. "She's been warned there will be serious consequences. I know she's taking things from my home and selling them to pay. Now they expect her to be a drug runner. She's scared, but it's a bit late."
A note of deep despair crept into Monica's voice. "The police and government people are sympathetic, but their hands seem to be tied. I'm trying to persuade my daughter to go into a rehab facility, but it's like all she can think about now is getting drugs. She doesn't understand these people are wrecking her future. I can't get help anywhere." A single tear trickled slowly down Monica's cheek. She's fighting a lonely battle.
It's alarming that as a society we don't grasp the extent to which drugs have infiltrated the lives of our next generation of citizens and leaders. We seemingly don't possess the will or know-how to deal with the curse of illicit drug use. In Hedley we have a dealer who does a pretty brisk business. Customers go to his house in broad daylight. Some are selling to youths. People are appalled that this is happening in our community.
Some years ago in another setting, I received a lesson about how a community can oppose those who seek to bring harm to citizens. Our opponent was a powerful, air polluting US corporation. Several individuals were so spooked they wrote letters to the local paper advising us to back off, because we were like dwarfs against this corporate giant with its deep pockets and high priced attorneys.
We began with a committee of about 10 concerned individuals and invited a couple of community leaders to meet with us. Realizing we needed to educate people regarding the health implications for their children and grandchildren, we asked a reporter with the local newspaper to attend our next meeting. She was a firebrand and began researching the issue and writing about it. We wanted people to understand this was a danger that would impact them personally.
Our small committee quickly grew into a group of approximately 30 committed citizens. We wrote a letter to the National Energy Board (NEB) and set a goal of having 10,000 individuals send copies of this letter to the Board.
Increasingly, people became aware of the serious implications for their own health and that of their children. Many picked up copies of the letter and urged their family, friends, and co-workers to sign it.
Initially, the mayor and city hall welcomed the corporation but as the community pressure against it increased, the mayor realized he'd have to join us. Our local MLA provided paper and extensive use of his office copier to produce thousands of letters. The head of the Downtown Business Association did the same. She also provided a booth at the town's summer festival.
All told we generated some 20,000 letters to the NEB, as well as other documentation. We sent so much material, one of the NEB fax machines burned out. It was a tough fight over several years, but in the end we won.
Just wringing our hands will accomplish nothing. However, with leadership, a comprehension by the community of the personal implications, a plan that people can participate in, and dialogue with police, there could be a significant push back against those who are destroying the lives of young people like Curly. This is not a total answer, but community ownership could be an important first step.
The post A First Step To Combat Drug Problem appeared first on Living Significantly.
Source:: Living Significantly