By Art Martens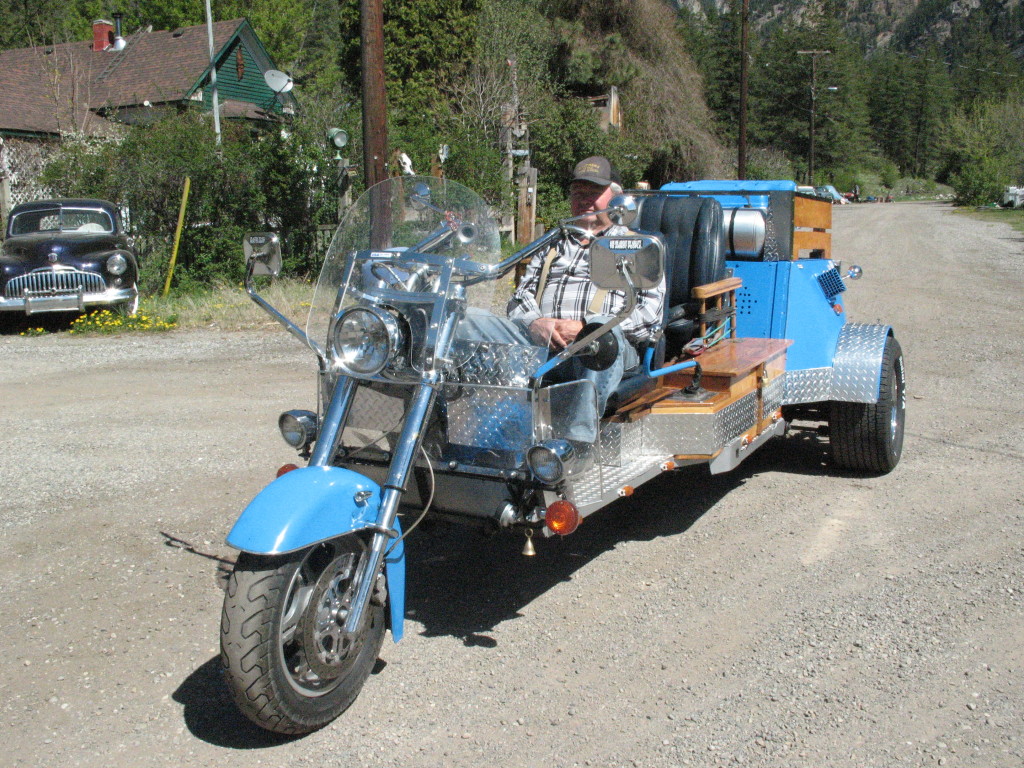 Bob, my neighbour two doors away is a committed triker. When I asked him recently about the comfort level of his trike he said "if you compare a Cadillac and an Austin, this is the Cadillac. Having the motor in the rear gives it a great ride."
This trike has been driven from B.C. to Nova Scotia, although not by Bob. About half a dozen years ago it was owned by Rick and Jean Mackie, who also live on Kingston Ave. It didn't have a seat for Jean so Bob helped Rick extend it by about 3 feet. It was the Mackies who made the cross Canada trip. All went well. Not long after they returned, Bob bought the trike.
Now in his mid-seventies, Bob is a likeable, comfortable man to talk with. No matter what he's doing on his yard, he always has time for a visit.
He didn't start out that way. "When I was 14," he told me, "I stole a car with another guy. That landed me in court."
Possibly the judge saw potential in this youth. "I can send you to a young guys section in Oakalla where you will do nothing," he said, "Or, I can send you to an adult section where you'll work."
Without hesitating Bob said, "send me to where I will work." For the entire 11 months and 21 days of his sentence he worked on a gym construction project.
"That straightened me out real good," he said. "I never got in trouble again. I just wanted to get out and get a job. Four months after getting out of the can, I was talking with a guy who worked on tugs. He said I should apply. The person who took my application asked,'When can you start?'"
When Bob was 17, he began building and racing stock cars. "I had all the safety equipment, like a helmet and a parachute."
He has slowed down some since then and very much enjoys the trike. His little dog has its own compartment and rides everywhere with him.
I asked Bob about the cost of trikes. "To have one built privately would run about $12,000. – $15,000," he said. "The price of a new Harley would be about $60,000. Bombardier makes a great machine for less. It has warm seats and handgrips."
Bob retired from the tugboats when he was 60. "My wife was sick," he said. "She wanted me to retire. That's when we moved to Hedley for her health." A note of sadness crept into his voice. "She lasted only four months."
Observing Bob today, I still see vestiges of the once robust tug boat worker's physique. He doesn't need that former strength for riding the trike, of course. With a 210 hp Pontiac motor, the trike now provides the power. He is retired after all, and enjoying the quiet life in Hedley.
The post Bob Enjoys His Trike appeared first on Living Significantly.
Source:: Living Significantly