By Art Martens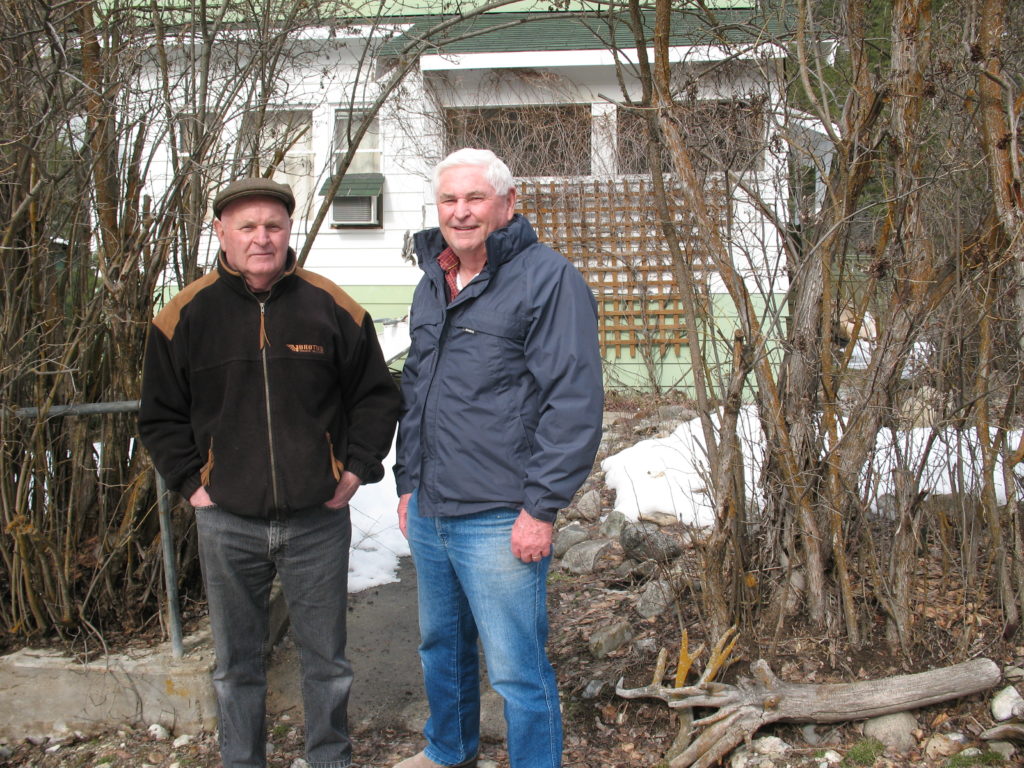 Listening to Jim and Doug Cade talk enthusiastically about their boyhood adventures in a much more rustic Hedley, I was reminded of Tom Sawyer and Huckleberry Finn. Mere boys when the family arrived in Hedley in 1947, they remember which family lived in almost every house, where the 6 hotels once stood, and which businesses burned.
"Dad was a logger at the coast, a high rigger and boom man," Jim told Linda and me. "He wanted to own a sawmill so he scouted this area and found a suitable stand of timber. He loaded our furniture onto a 3 ton truck and squeezed 3 of us kids into the cab. The Hope Princeton wasn't completed yet so we took the Canyon route, crossed over to Princeton and picked up Mom and our 3 sisters. They had come by train. Upon arriving in Hedley, Mom quickly expressed her displeasure. Dad was in his glory."
Their father, Art Cade, was enterprising and unwilling to accept defeat. Photos of him in the Hedley Museum reveal a calm visage and a rugged logger's physique. He built the first mill on Burr Mountain and initially used horses to drag logs. This mill was moved to the site of what later became the Hedley ball park. In 1952 it burned to the ground.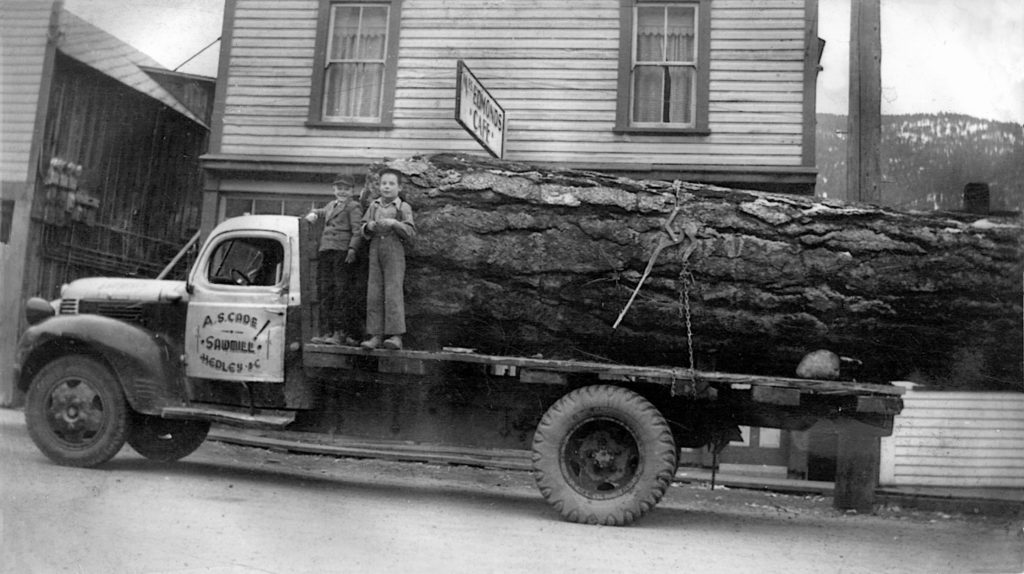 "Two days later," Jim recalled, "Dad was in Vancouver buying equipment to rebuild the mill. He supplied the mines with timbers to shore up their tunnels and delivered lumber to the coast in his early 1940's International truck. He sold this mill and built another one on Old Hedley Road."
The brothers have numerous memories of their father's exploits. "Dad could do anything," Doug said. "When the cable on the Nickel Plate tram line broke, he spliced it together. When the flood took out the bridges over 20 Mile Creek in 1948, Dad rebuilt all 15."
"Many homes in town had sawdust burning stoves," Jim recalled. "Dad delivered the sawdust from his mill and Doug and I shoveled it into bins. Often Dad bartered sawdust and lumber for meat, eggs and other things. Our basement was full of cans of fruit and vegetables from the cannery. They didn't have labels so we went by the code stamped on the tins."
Entertainment was simpler. Many boys belonged to the local Boy Scouts. Jim went on to become a Queen's Scout, the highest award. "In summer we played a lot of scrub baseball and road hockey. In winter we tobogganed down Hospital Hill. We really took our lives into our hands racing over the bridge. Drivers would honk their horns before coming up the hill."
There were few restrictions. "We'd grab a frying pan, a loaf of bread, some butter and coffee, and a fishing line," Doug said. "We'd go into the woods for a weekend and our parents didn't worry about us. Sometimes we hiked far up the creek to where Hughie Glenn had a cabin and vegetable garden. He often fed us venison roast and onions. Everyone knew us and took care of us."
People played card games and monopoly a lot, especially in the Moose Hall. "When tv came, " Doug said, "the wind would often shift the antenna on the mountain. We'd drive up and turn it back so we could watch the hockey game."
The Hedley School offered grades 1-12 until 1951. When the new high school in Keremeos opened, students in grade 7 and higher were picked up by bus.
"I wasn't very interested in school," Jim admitted. "In grades 7,8, and 9, I missed an average of 33 days each year. I completed grade 12 but didn't have enough credits to graduate. I worked for Dad one year, piling lumber and driving truck. One day on Kruger Hill the brakes failed. I got going pretty fast. I knew this wasn't the kind of work I wanted to do and started thinking there must be something else."
For Doug, the path ahead was simpler. "None of my group graduated," he said. "We went to work. I worked as a heavy equipment operator and also drove logging trucks and highway rigs." Jim, who had not accumulated enough credits to graduate, went back to school and became a teacher. For 24 years he was a principal in Merritt.
The brothers live in Penticton now, but it seems their hearts are still in Hedley.
The post Boyhood Adventures In Hedley appeared first on Living Significantly.
Source:: Living Significantly