By Art Martens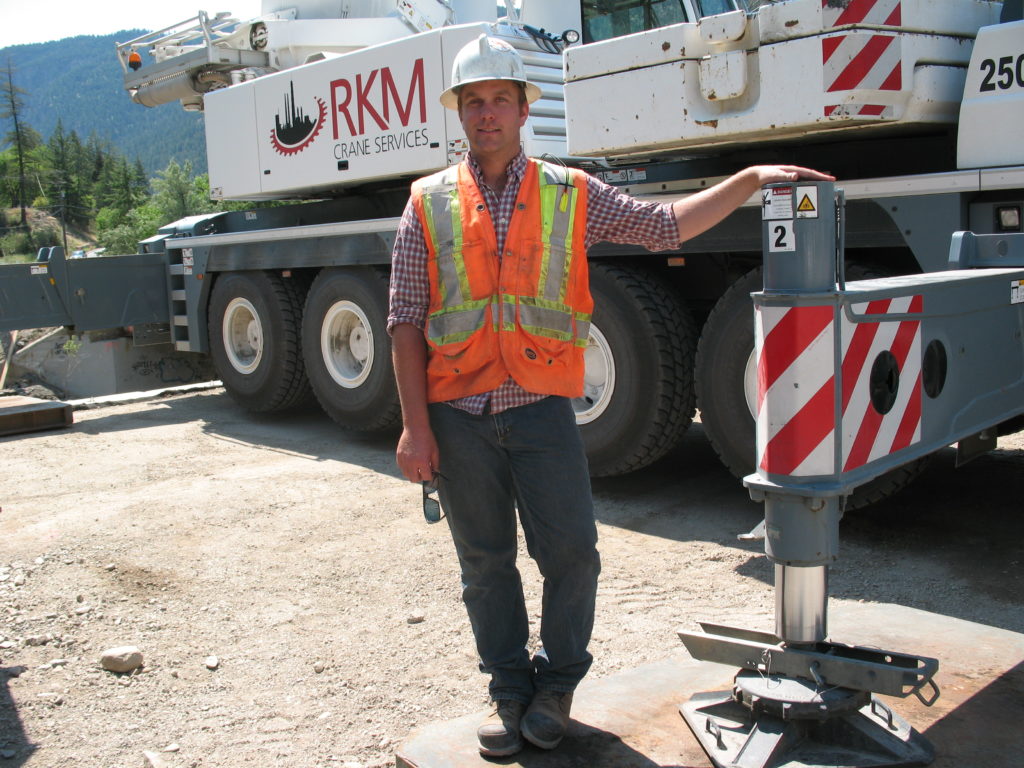 After enduring the crossing of countless vehicles, including heavily laden highway rigs, the bridge on Highway 3 in Hedley is in the early stages of being replaced. With the appearance of a 250 ton crane, an excavator and a heavy duty forklift, it became evident to me that this was a project requiring meticulous planning and smart decisions. I wondered what sort of individual had the experience and wisdom to take on this responsibility. Hoping to get answers to my questions, I invited superintendent/project manager Derrick Bisschop to our home.
On a Saturday morning, over black coffee and Linda's freshly baked oatmeal cookies, Derrick talked about his life and the intricacies of bridge building. He's living away from his wife's cooking so Linda's cookies seemed to please him.
"As a kid, still in school, I worked on the family dairy farm, haying, milking cows and doing whatever was needed. Dad was pretty practical. I learned about the importance of producing a quality product. He wanted me to learn from others as well, so I also worked for a respected farmer in the area. It was from the farm experience that I got my work ethic."
He is blessed with the sturdy frame that is well suited to the strenuous work on farms. His dad certainly wanted him to continue with the family enterprise after graduating, but it wasn't in the cards. "I found it tedious," he said. "I got a job with a construction company. I also enrolled in the UFV carpentry program and became a journeyman carpenter."
While in the carpentry role, he participated in shifting the 400 ft. Capilano bridge 70 feet to one side. "We had 36 hours to get the traffic moving again. We did it in 12 hours. I learned a lot on that job." Working on bridge building projects stirred his interest and he grasped that greater challenges and responsibilities were possible. He observed and learned.
Four years ago he was hired by Doroshe Construction, his present employer, to help the company transition more into bridge building. Still only 30, he exudes the quiet confidence required to guide a complex project to a successful completion.
Turning now to the local bridge project, still in its infancy at the time of our conversation, he talked about some of the planning and decisions. "When we decide to bid on a project, I have 28 days to submit a bid. I draw it out step by step, according to how I will actually build it. I have to be able to look ahead and see what it will look like."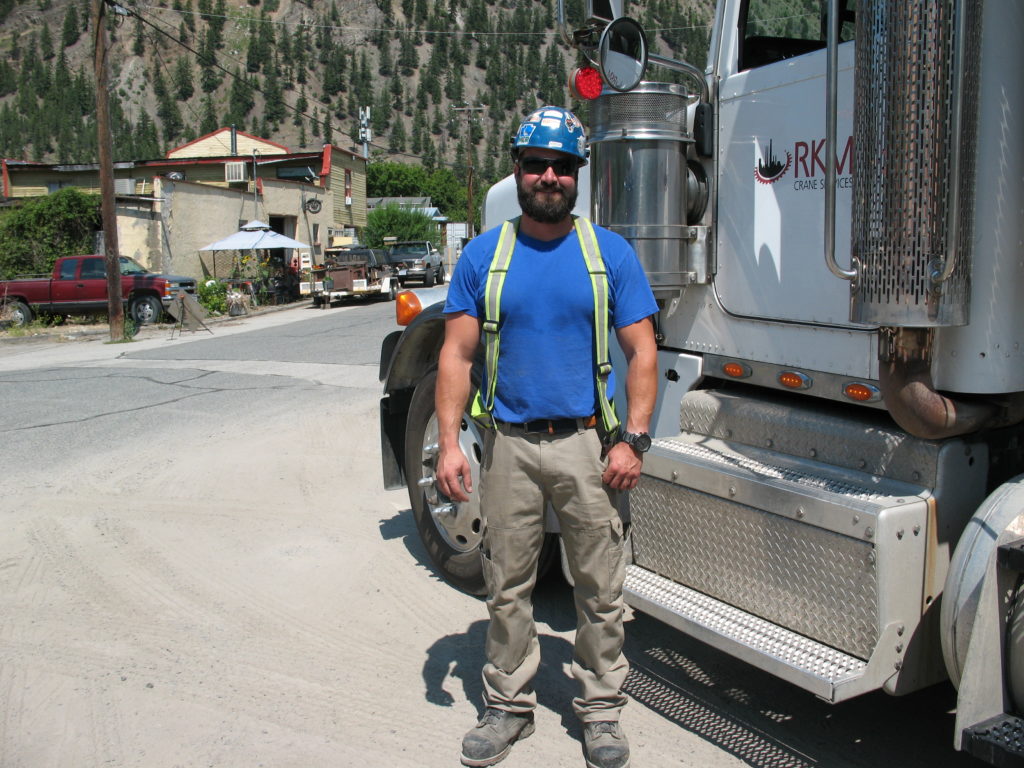 "Coordination is a challenge," he said. "We will install a temporary bridge. I will bring in a crane capable of lifting 250 tons. It will place the girders, which weigh 56,500 pounds each. The crane costs us $650 an hour. I have 4 trucks coming with 20 concrete panels for the deck. The items we use on the temporary bridge will all be returned. We rent them."
Derrick feels very positive about his crew and the contractors he hires. When I asked if he has had mentors, he replied, "yes, I still have a mentor. His name is Art Lindeberg. He has built 180 bridges over 40 years. I can call on him if I need to. The Ministry respects him highly." This is fortunate because looking over Derrick's shoulder is a Ministry supervisor. He shows up every day.
It may all sound well ordered but there can be glitches. Several days after the conversation in our home, the crane was to begin lifting pieces of the temporary bridge in place. One of the two trucks hired to deliver counterweights didn't arrive, due to a flat tire. Without these the crane would topple forward. Derrick remained calm even though this wasn't helpful to his schedule. The next day the truck showed up and the crane operator very expertly placed the girders precisely where they were intended to go.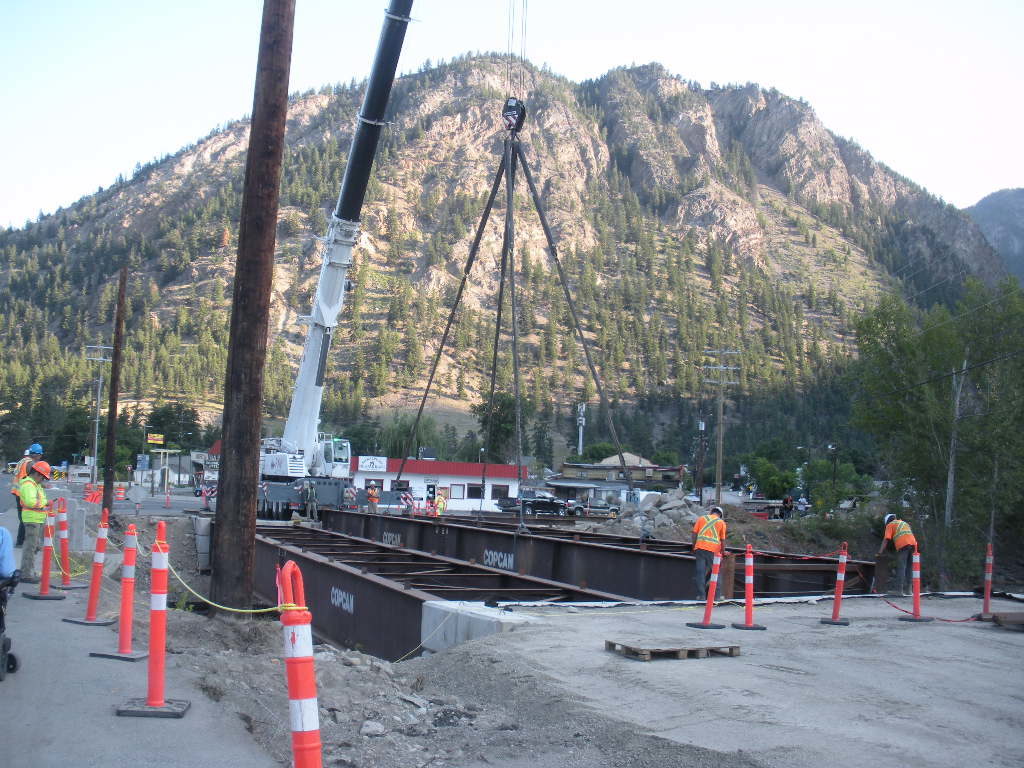 Now, 2 weeks after the initial conversation in our home, traffic is flowing smoothly over the temporary bridge. Our faithful 70 year old bridge is being dismantled and its complete demise is imminent. We will likely miss it for a time, but I am confident that when Derrick and his capable crew are done, we'll be happy with our new bridge. Completion is set for mid October, 2018.
The post Derrick Bisschop, Building Hedley Bridge appeared first on Living Significantly.
Source:: Living Significantly